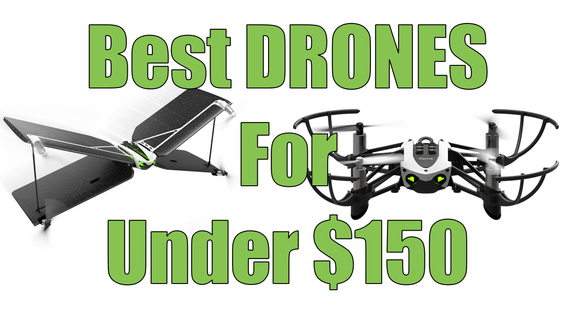 Having reviewed over 100 flying, driving and racing RC toys on our YouTube Channel, we are often asked the question -
What is the best drone I can buy?
To which we always reply - What is your budget and what do you want to do with a drone?
While we certainly have people looking for high end drones for aerial photography, the most common answer we get to our question is - Something under $150, fun and easy to fly.
For 2016, the Parrot Mambo ($99) and Parrot Swing ($119) definitely fit the bill of under $150, easy to fly and maybe most importantly - FUN!
Of course when talking about drones, you want to see them in action, so please watch our hands-on video of the best drones for under $150 in 2016 -
Parrot Minidrones Add Play Value to The World of Drones
We want to fully disclose that we were compensated for our review of the Parrot minidrones, but all opinions are ours. As you can see in the video, the Parrot Mambo and Swing are just flat out fun to fly.
The Parrot Mambo Introduces A New Play Pattern To Drones
The Parrot Mambo, right out of the box is easy to fly. Press a button and the Mambo takes off and holds at about 3 feet off the ground. Use your phone or the Parrot Flypad (optional accessory) to easily have the Mambo race around, do flips and take still photos. Let go of the controls and Mambo stays incredibly steady in the air, which is impressive for a sub $150 drone.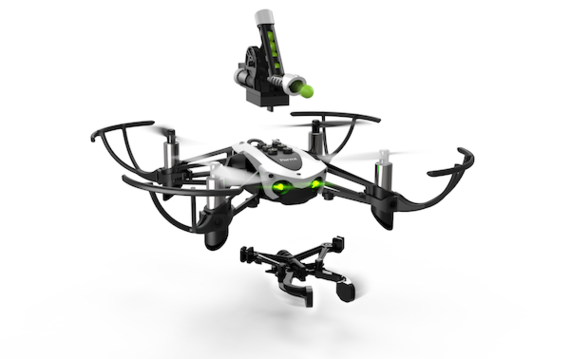 Of course, the real fun starts when you attach the grabber or cannon. Suddenly playing with a drone is not all about flying, it is about target practice and dropping marshmallows out of the sky and grabbing toy figures without knocking them over.
Here are the key features on the Parrot Mambo -



High Performance Sensors For Stability


Easily Do Flips and Stunts With the Push of a Button


Remotely Fired Cannon With 6 Shot Capacity (1 Shot every 1.5 seconds)


Remotely Triggered Grabber That Can Carry Up To 4 gram objects


Ability to Toss To Takeoff


Pilot with Free iOS or Android App


Fly With Optional Parrot Flypad


65 Foot range with Smartphone, 200 Foot range with Flypad


1 Year Support and Assistance Warranty


With The Parrot Swing, Flying A RC Plane Is Now Fun
Flying an RC plane is normally not for the faint of heart. Planes don't stop on a dime and turn 90 degrees with the push of a button...unless your plane happens to be the Parrot Swing.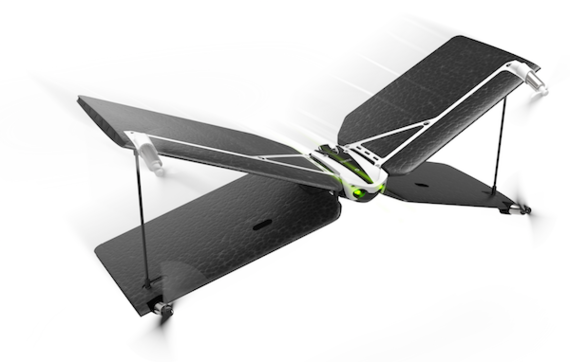 We loved the vertical takeoff and landing of the Parrot Swing and the incredible speed (18 MPH) when you put the Swing in full plane mode.
Perhaps most important for beginner plane pilots, when you see your Swing heading straight for a tree or a wall, just click a button on the included Flypad and the Swing switches to quadcopter mode and sits still in the air.
Here are the key features of the Parrot Swing:



High Performance Sensors For Stability


Unique X Wing Design


Vertical Takeoff and Landing


Remotely Change from Plane Mode to Quadcopter Mode


Fly Up to 18 MPH


Pilot with Free iOS or Android App


Precision Flight Control With The Included Parrot Flypad


65 Foot range with Smartphone, 200 Foot range with Flypad


1 Year Support and Assistance Warranty


Parrot Has Gone Minidrone Crazy!
While our hands-on review focused on the Parrot Mambo and Parrot Swing, there are plenty of other choices from Parrot in the sub $150 range. You can check out the full list of Parrot Minidrones here.
This holiday season, if you are looking for a frustration free and fun drone, that won't break the bank, definitely check out the whole Parrot Minidrones lineup.
Calling all HuffPost superfans!
Sign up for membership to become a founding member and help shape HuffPost's next chapter