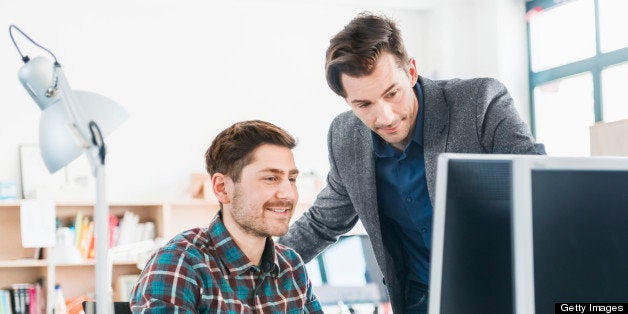 Tethered, dirty, dazed and publicly paraded are the images of Latino immigrants through media portrayals and political debates. These images create a harsh and one-dimensional perception of the immigrant journey. The truth is much brighter: These immigrants are living the American dream, driving innovation and solving real world issues. In the process they have continued to build this nation and using that same spirit of success help their friends and families do the same in their native countries. However, the immigration-to-innovation continuum does not come without considerable difficulties.
Recent news has highlighted the challenges the immigrant entrepreneur experiences. According to the Ewing Marion Kauffman Foundation, "Immigrant-led entrepreneur activity peaked in 2010 during the economic slowdown and has since fallen to 0.43 percent." Yet, despite this research, there are shining examples of young Latinos launching technology companies for "good," becoming social entrepreneurs.
Enter a modern David vs. Goliath story, disrupting the big boy money transfer companies and a half-trillion dollar industry to deliver a more modern approach to global remittance.
Regalii was founded by three Latino millennials from the Dominican Republic, Colombia and Mexico who were determined to make sending money back home safer and more efficient, putting an end to the relentlessly long lines and removing the inherent danger their families face when collecting their money. Edrizio De La Cruz, Regalii visionary, co-founded what is now a mobile cross border payment company, that aims to give roughly 26 million immigrants in the U.S., many between the ages 18-30 years of age, a more effective way to support their families throughout Latin America and Asia. De La Cruz stated,
Latin America and Asia are important regions to driving our continued business growth and where we are squarely focused on leveraging our cultural affinity and insights to drive growth throughout these burgeoning commercial regions.
Rapidly evolving technology remains the key to opening these borders, while the immigrant experience fuels innovation and problem solving. The combination of these driving forces enables startups like Regalii, to drive revolutionary ways of solving the global remittance challenge across borders. With Regalii, electricity, water, gas, education and telephone bills in Latin America can be paid directly from a mobile phone in the U.S. Without having experienced the fear and worry inherent in the collection of remittances, it would be impossible to understand the dynamics well enough to develop a successful solution. This is innovation fueled by the immigrant experience, and it is the face of immigration at its best.
For these immigrants, like immigrants of generations past, sending money to their families is an important element of their American dream. "When you're able to live and start a company in the US, you feel a greater responsibility to give back", said De La Cruz. "I feel many immigrants are heroes, because they are caring for more than themselves, they are changing, improving the reality for their entire families in their native homes."
Startup lessons from a millennial immigrant:
Know your life's purpose and stay on that road: Remember your "why" and remain focused on your purpose.
When I launched Regalii I mastered multitasking and yet nothing seemed to get accomplished. That was the problem; I had lost sight of my main purpose. I encourage new entrepreneurs to stay focused on a singular task and not fill your time will a lot of activity that does not get you closer to your goal.
It's ok to raise your hand: Don't believe those stories that tell you the entrepreneur did it alone. Achieving winning results is a team effort and every startup needs a successful mentor, coach or advisor. In fact, there is plenty of advice available from experts willing to offer support if people would only raise their hand and ask for help. "There's no recipe to launch a startup and without strong support it's like running a sprint in the fog, you need someone next to you, who's done it before".
Make new mistakes: Einstein once said "insanity" is doing the same thing over and over again and expecting different results. Accept that you're going to make a lot of mistakes along the way-just make sure that they are new ones. Figure out quickly what's not working and why, and then pivot, applying those lessons to your next activity.
Opponents of modern immigration often forget the powerful lessons of the past. Companies like Regalii remind us that this nation was built on the innovation and ingenuity of immigrants from all corners of the globe. Their contributions remain the basis of our nation's competitive edge. We must continue to pave the way for the contributions of the immigrant. History tells us that they will be the fuel that drives our future outcomes. So let us embrace this truth and warmly welcome these immigrants who continue to enrich the fabric of our great country.
REAL LIFE. REAL NEWS. REAL VOICES.
Help us tell more of the stories that matter from voices that too often remain unheard.