The modern-day woman is a marvel: She's juggling a full-time job, raising a family and squeezing in a workout session. My wife, Soula Marie is my ultimate muse and before she takes off for a jog in Runyon Canyon, she applies a smidge of makeup. For her, it's not just about looking presentable, but that little bit of coverage gives her that extra surge of motivation while running along the canyon trails.
From tennis to kick boxing, the goal of exercising is to feel great and it's only motivating to look like a glamazon while doing that. The proof is in the huge success of fashion and sport collaborations like adidas Y-3 by Yohji Yamamoto or Kanye West for Louis Vuitton. Typically, hitting the gym with a full face of makeup isn't ideal. But it's nice to have a little bit of coverage, especially if you want to avoid the splotchy complexion during a vigorous session with your personal trainer. If you're going to wear makeup while working the treadmill, I recommend keeping it light with products that are water resistant and won't clog your pores. Some go-to products for that natural-looking coverage starts with La Prairie Anti-Aging Concealer and then a lick of my Luminous Lip Veil in In the Flesh. With these quick fitness makeup tips, you'll have that healthy work out glow from start to finish.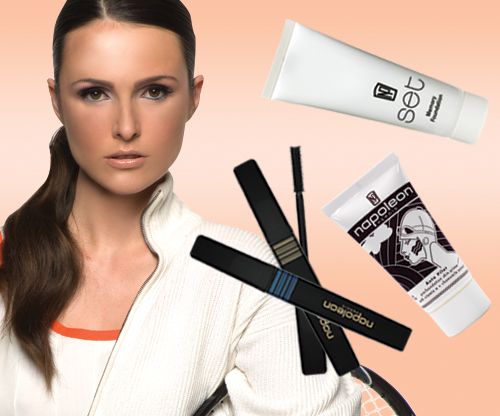 Workout beauty must-haves: NP Set Memory Foundation, Auto Pilot Pre-Foundation Primer and Mesmer-Eyes Mascara
Head Check: Use a cotton headband or bandana to keep sweat out of your face. Think of it as a practical extension of the stunning turbans seen on the runways. This will make a world of a difference when it comes to minimizing the shine factor that develops on your complexion during a workout session. Plus, it keeps your hair out of your face.
No Sweat: Before you begin your sun salutations, use a pore minimizer like my Auto Pilot Pore Minimizer and Mattifer. Apply just a dab to the areas that get particularly oily to significantly reduce the shine factor.
Tinted Moisturizer: Opt for a tinted moisturizer instead of your regular foundation. I suggest my NP Set Memory Foundation, it's easy to apply and allows skin to breathe. Skip on the blush and bronzer since your workout will give you that natural glow. If you do use a regular foundation, make sure it's a water resistant formula like my Boudoir Mist Spray Foundation.
Mascara: Raccoons eyes are never a desirable look, especially when you're amping up the speed in an exhilarating spinning class. Be sure to use a waterproof mascara like my Mesmer-Eyes Mascara. All you need is just one coat to brighten the eyes, and it won't run off either.
Lips: Use a tinted lip balm to moisturize and hydrate lips and give a little color. My Auto-Pilot Lip Service is perfect for that light touch of color. While the gym is not the proper place to try out your new purple lipstick, it is important to keep your lips conditioned and protected. Look for a balm that will also keep lips cool and refreshed.
Locker Room Makeover: Before you leave the gym, freshen up with a 5 minute locker room makeover. Load up on Clarins Beauty Flash Balm, and then mix a creamy bronzer with a primer like my Auto Pilot Pre-Foundation Primer. You can also mix it with moisturizer and use on the shoulders and arms to emphasize those for your Pilates class. Now you're in shape and gorgeous -- a winning combination.