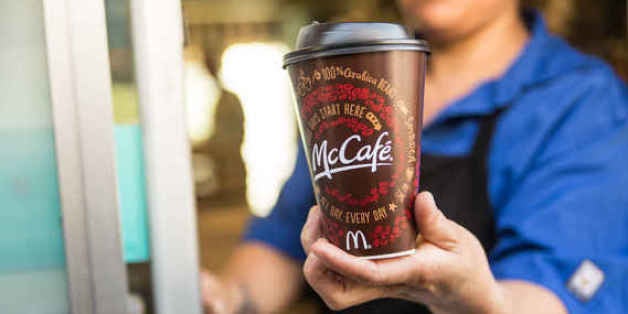 No matter whether a drive-thru is peddling McMuffins, chicken biscuits, or donuts, the cornerstone of any respectable fast-food breakfast is a cup of coffee you try not to spill on yourself as you're driving. And because we want you to order only the best morning joe, we put six of the biggest fast-food brands' coffees to a taste-test.
How we judged every chain's coffee
For this test, we visited Taco Bell, Burger King, McDonald's, Wendy's, Dunkin' Donuts, and Chick-fil-A. Starbucks and the like were left off this test because they're coffee-focused chains, rather than just fast-food establishments. Dunkin' Donuts was on the fence, but since breakfast food is their primary offering (and people love their coffee), we decided to let them compete.
Each coffee was ordered during traditional breakfast hours to ensure relative freshness and drank black, without milk and sugar. Those additives might have made the coffee more palatable, but we went without it in order to get the clearest impression of the flavors.
Although I'm far from a certified coffee judge, I tried to use the same descriptors as the pros by consulting the Specialty Coffee Association's flavor wheel (so language like "mineral oil" and "cucumber" isn't just me being fancy). Read on to find out which of these coffees deserves to be more than just a vessel for waking up.
6. Taco Bell
As one might expect, Taco Bell's "Live Más" mindset also applies to their coffee. It has más body than anything on this list, but is also más bitter. Mucho más bitter. The back of my throat contracted in protest. It is a little chocolatey, but the richness is overwhelmed by astringency and woodiness. The aftertaste is a sourness that I usually associate with the type of mega-sweet sugar substitutes that (***vague spoiler alert!***) killed that woman in that TV show about drugs on AMC.
The beans: "Premium Rainforest Alliance certified coffee made with 100% Arabica beans"
The price: $1.49
5. Burger King
The BK employee was excited to tell me that this was Seattle's Best, but sadly there's nothing best about this. Maybe they messed up the brew ratios? It's got a hard texture that makes me think of gas station hot plates and/or mineral oil. There was also something savory in there that reminded me of the mushrooms you find on cheap frozen pizzas.
The beans: "Our Smooth Roast Coffee from Seattle's Best Coffee® is a 100% Latin American Arabica blend characterized by sweet, nutty and chocolaty notes that delivers a balanced mild flavor and pairs perfectly with both sweet and savory menu items."
The price: $1.39
4. McDonald's
Removing the lid made me think of entering an attic, because I was hit with a strong whiff of nostalgia, dust, and a pronounced lack of action figures (although that's my fault for not ordering a Happy Meal). You get a quick hint of roasted hazelnut, but not without a seriously skunky wet soil note. It's the most watery brew on this list, but still manages to maintain a strong ashy flavor profile that's immediately recognizable, for better or worse.
The beans: "Made with 100% Arabica beans and freshly brewed every 30 minutes."
The price: $1.29