We all had our favorite board games growing up. We remember Candy Land from when we were little, Monopoly when we got a bit older. Life, Operation, the list of classics goes on and on. Better yet, they're all still available today, so we can share them with our kids as well.
Great games don't expire; there's no shelf life on the fun and bringing friends and families together. That's exactly what games do. They also bridge generational gaps -- parents and young adults enjoy a game with their kids in a whole different way than groups of adult friends who can join in and add a little wine to the fun!
It's easy to bring all of your old favorites home for the kids, but it's important to not ignore all the new games that you pass on the shelves. They're just as exciting as the classics, and will even become some of your new favorites. Here's a rundown of some of my top picks for this year: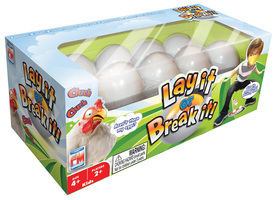 Lay It or Break It
The concept of this two-player game is simple: Move your eggs from the frying pan over to the nest without breaking the egg. Sounds pretty easy, right? But wait! The real challenge is that you can't use your hands to move the eggs. Players attach a clip with a magnetic chicken head hanging on it to the back of their pants or pocket, squat down and try to get an egg on their magnet, then squawk your way over to the nest and lay the egg down without dropping it. But hurry up--it's a race! If your egg drops, it will crack open and the (plastic!) egg will fall out. If you think you'll look ridiculous, you're right! Did I mention you have to wear a beak?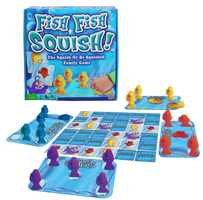 Fish, Fish, Squish!
First, I just love the name of this game. And, just like the name says, the fun of this game comes from squishing fish! Players begin by using the included dough to mold five fish each. Then players take turns flipping over the cards one at a time. If you flip a card that gives you three fish of a different color in a row, you get to squish another player's fish! The player with the last unsquished fish is the winner!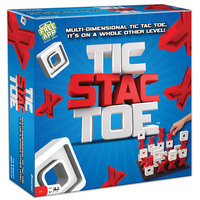 Tic Stac Toe
We all know how to play Tic Tac Toe, whether it's at home or on napkins at restaurants. But Tic Stac Toe takes this classic game to a whole new level, bringing the X's and O's we all know and love into 3-D. Place one of your pieces on the game base or on top of any piece that's already been played. In this extreme version, the player who stacks four in a row vertically, diagonally, or horizontally on any level wins. And in this version, there's no chance for a tie!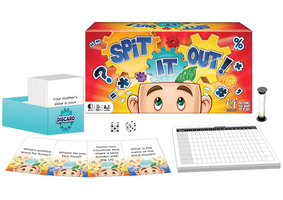 Spit It Out!
In this game, players are challenged to trick their brains into answering fast, but not always correctly. Spit It Out! is a party game that asks players to answer six fairly simple trivia questions within the 30-second time limit. However, they must answer all of the questions incorrectly, except for the two questions determined by a dice roll, which they must answer correctly. Not only do you have to come up with wrong answers fast, you also have to keep track of the number of questions to make sure you answer the right ones correctly. This trivia game is crazy, backwards fun for players of all ages!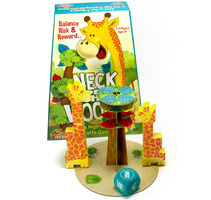 Neck of the Woods
This game is made for our preschoolers, but older kids and parents will have a blast joining in on the fun. The goal is to grow your hungry giraffe's neck so he can reach the leaves on the trees. On each turn, players must roll the dice to decide which block they must stack next, then use a steady hand to balance that block on their giraffe as high up as they want to go. They can take a leaf from the first level, or take a risk and build higher to gain more points. But be careful, if your giraffe tumbles, you have to start all over again!
One final tip: Unlike the usual toys you want stored away in a storage closet, it's always great to leave a few games in the kitchen or in the family room. That way, family fun can just happen spur of the moment!
Laurie Schacht also known as The Toy Insider Mom, has been covering the toy industry for more than 20 years. The Toy Insider produces an annual holiday gift guide in Woman's Day magazine, and also serves as a trusted resource for parents all year round at TheToyInsider.com and through social media.