It's that time of the year when you are racking your brain thinking what to get to that friend or family member that practically has everything and is always the hard one to gift. They are always on the road, you can barely keep track of their whereabouts and they have done a pretty good job gifting themselves some cool gadgets. So what to give them? A card?
This is a legit list, I would love to be given any of these items, so take note mom and dad, here are some suggestions I've found very attractive or I have already gifted myself. If you have more ideas, please leave them in the comments below!

1. How To Pack Like a Rockstar, Book - $9.99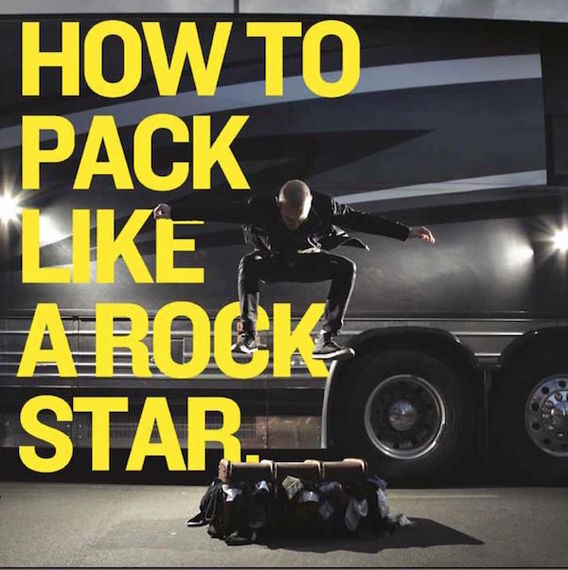 This 7'' x 7'' book created by musician Shaun Huberts offers an interesting take on how to pack your bag. Having been on tours for 10 years, he can share a few tips on how to best optimize your packing job. He also invited other artists to give their tips like Rostam Batmanglij from Vampire Weekend or Andy Hull from Manchester Orchestra. Definitely a gift for your nerdy musician friend.
I have yet to try Away, but everyone around me that has tested it swears by it. They recently launched, but the best feature everyone is talking about is that it comes with a charger, meaning, your luggage can charge your phone! No more hassle to find a plug in the airport that is not taken, imagine that!

3. A little wanderlust - Hayo - $16 / $30
If we are talking about travelers, this is the most obvious one! Help them get inspired for their next adventure, discover new places or learn something new from a place they have already been to. Hayo magazine recently launched its first print issue "Hayo No. 1: South" and it's full of adventures and stories from experienced travelers and locals alike. We also released a "Holiday Special: One Subscription" + limited-edition signed and printed art piece by Kazakhstani / Canadian artist Ola Volo.

4. Woodlot Mists and travel soaps - $19
This Canadian brand was born with the interest of producing toxin-free products. Clean-burning candles, petroleum-free coconut wax, and all their body products are made in small batches with specially selected ingredients. Their Lavender Bergamont Refreshing mist is ideal for warm summer nights and this Cascadia Package makes a perfect holiday gift!

5. LSTN Headphones - $49.99 - $199
We all know there's no trip without a soundtrack. I have the Troubadours headphones and the earbuds, but I'd rather travel with the earbuds because they occupy less space. LSTN is also a for-purpose company, for every purchase, they help provide hearing aids to a person in need through their charity partner, Starkey Hearing Foundation. Look good while doing good!

6. Casamigos travel size tequila
It's always a good idea to carry your own travel size tequila for when you need it the most, like when the flight attendant refuses to give you a second bottle for your long flight, or you want to toast atop of a mountain after a long hike, or, like pictured, you need a size you can take with you to special events. Casamigos, or House of Friends, has also created a community first, and us, young people, love that.
It might not be the sexiest thing in your packing list, but if you are a photographer and have to deal with image and file storage constantly, this is a solution to your problem. I bought a different brand about 5 years ago, but I'm thinking on switching to G-Technology as per suggestion of multiple travelers / photographer friends.

8. Yes to Cucumber - $2.99 - $8.97
As a woman, it's hard to travel with all your beauty products. I always forget something. On my last trip, I forgot my makeup remover so I went to a CVS and discovered these amazing wipes called Yes To Cucumber, all natural and very effective. Loved the refreshing feeling I get after using them and now I keep one travel size permanently in my toiletries bag.

9. Design Love Co Planner - $65
Design Love Co is a lifestyle brand designing products for the modern and sophisticated woman. These planners are a hit and are perfect for the travel writer or the one that loves to have everything organized. I'm currently using the planner from the last collection, but this one looks gorgeous!

10. GO aromatherapy oil by Vitruvi - $38
Made with rosewood and spruce, fresh eucalyptus, lavender, and petitgrain oil from Italy. Vitruvi is a new brand but in the past year they have conquered the hearts and homes of many. I use GO even when I'm not traveling, it makes me feel fresh all the time.
Almost everything they do is perfect for travelers: backpacks, passport holders, wallets, computer cases, etc. What makes Herschel interesting is the very passionate community they have gathered. Almost anything you choose will make a good gift, but I personally love the duffels.
Bonus:
BitGold
This could be a Christmas gift for yourself. Bitgold is advancing the digital payments revolution by helping people securely acquire, store, and now spend gold with unprecedented simplicity. If you are looking for a more trustworthy way to manage your money, gold has always been international money, you can order a prepaid card in multiple currencies and it's a great way to save money.