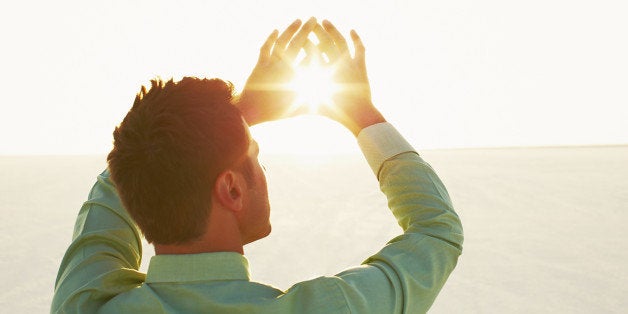 When I was 22 years young and working at a Big 4 Accounting Firm, my bright-eyed self was told it was time to formally set my annual goals, and my assigned mentor would review them with me and help me along in the process. I sat down with my mentor, Stephen, to review my goals and he looked up and said, "Um, Liz, I'm pretty sure you know that you can achieve each of these things."
"Yes!" I gleaned. I was pretty proud of coming up with my detailed list of what I would achieve in the next year, all organized into detailed action steps. I had followed the instructions perfectly.
He chuckled. "Well, that's not the point of setting goals. You're going to need to reach a bit."
I thought about it for a few minutes and stretched a bit. And by bit I mean about a centimeter.
"Let's reach a little higher," he pushed. "If you set goals you know you can achieve you're not going to grow."
That's when it hit me, the purpose of setting goals isn't to win 1st place ribbons. The purpose of setting goals is to move yourself and your business further along. We tend to set goals that we know we can reach because our subconscious is always trying to protect us, and if we don't meet our goals we immediately feel like we failed. What I've learned is that if your goals are big enough, not meeting them doesn't mean you failed -- blasphemy in traditional education, I know! -- because the work that you put into meeting those big goals will move you further along, and that's the point, isn't it?
After a few years of setting big, out-of-reach goals in my corporate job I became one of the top performers in my region and won the company's High Impact Award. Shortly after that, I set an even scarier out-of-reach goal, and that was to launch my own venture and build my own direct sales team.
Fast forward 10 years and I now own my very own successful online business and am a top income earner in my direct sales company. I now spend the majority of my time mentoring others, much like how I was mentored in the beginning of my career as well.
I was recently coaching a women who wanted to increase sales in her online business. I asked her how many new customers should would like get in any given week.
I said, "Ok, how likely is that on a scale of 1-10 (1 being the hardest and 10 being the easiest) for you to meet that goal." She said, "About an 8."
"An 8?!," I chuckled, much like Stephen did to me all those years ago. "No, no, honey. You need to set a goal that really stretches you. How achievable would it feel to get 15 new customers next week?"
"Great!" I said. "That's your new goal. Because guess what, whether you get 5, 6, 14 or 15 new customers, the number doesn't matter. You'll be further along in your business and most likely increase sales by the number that you know you could achieve." When you have a goal that is both out-of-reach and within comprehension, your mind will go into innovation mode and find new ways for you to think, talk and act, and all of the sudden those goals won't seem that far off.
Bottom line: do not set goals that you are certain you can achieve. Set goals that challenge you and work hard to meet them. You'll never achieve greatness if you stay in a space of setting goals that you are guaranteed to meet.
As Michelangelo said, "The greater danger for most of us is not that our aim is too high and we miss it, but that it is too low and we hit it." Dreaming big and thinking big are two necessary components to achieving greatness.
Related