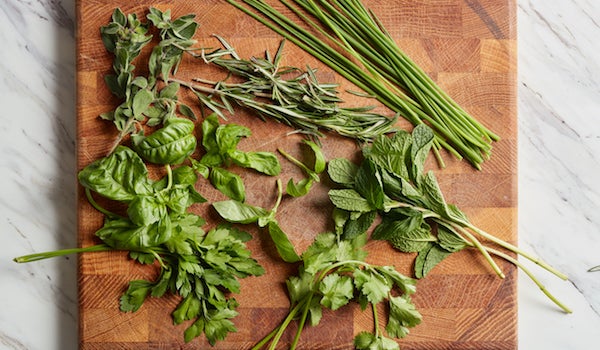 We're only just starting to warm up post-February freeze—with days getting longer and temperatures (very slowly) rising, it's time to start thinking about spring. One of our favorites ways to embrace the springtime sun is by creating our own little herb garden. Whether you live in a city, the suburbs, or the countryside, cultivating fresh herbs is super easy, as long as you've got natural light! Fresh herbs are one of the loveliest ways to brighten up your cooking, and we love growing them from little seedlings and sprouts to gorgeous, healthy green plants. Check out our detailed guide for making your own herb garden and start growing.
Put simply, choose the herbs you use most frequently. We love cultivating heartier plants like rosemary and mint (watch out for mint, though, it can spread quickly and can take over your garden!). Basil also works well, as well as cilantro, chives, parsley, and oregano. Once the plants are mature, you can start picking off herbs, but start slow. When they are young, it will take the herbs longer to replenish. Harvest them in the morning, as that's when they're said to be at their most flavorful!
As you might imagine, the most important growing factor for herbs or plants of any kind is light. If you're lucky enough to have an outdoor space, set up your herb garden outside, but in an elevated location so it gets plenty of sunshine. If you're working with indoors, no problem! Window sills are great locations for herb gardens, or any other area that receives about six hours of sun a day.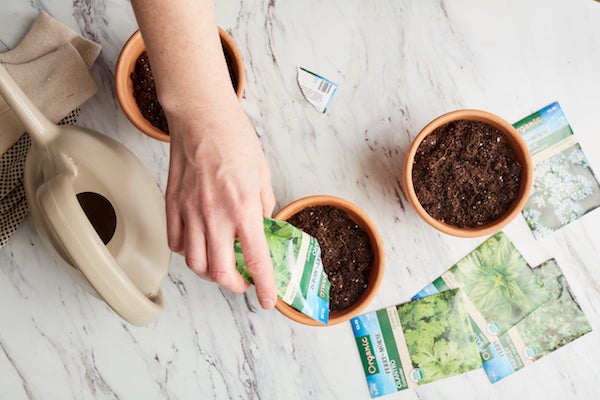 Everything you need for your herb garden can be found at a large hardware store or online. You can also purchase fully-stocked kits. First things first, you'll need the plants themselves (if you're re-potting them) or seeds. What you choose is up to you—seeds will take much longer, but you'll get the satisfaction of seeing the little chutes poke through the soil; if you re-pot herbs, though, you'll still get the benefit of watching them grow and you can use them much sooner. You'll also need some solid flower pots. If you want to pot your herbs together, purchase a large rectangular tray or circular pot. If you just have one herb, or want to plant them separately, select small, deep pots. We often opt for self-watering pots, which have a tray underneath that stays moist. Little pots are also a fun decorative accent, so pick your style! Soil is the last essential piece of the equipment puzzle—get a large bag of it and you'll be set for a while. If you're planting multiple herbs, purchase labels to remember what's what.
Fill the pot with soil, leaving some room on the top. If you're planting seedlings, moisten your soil slightly and then follow instructions on the bag. For re-potting herbs, delicately remove the plant from its container and slot it into a pre-made hole, packing the soil around so that it's contained. Place taller herbs like sage and rosemary in the back, and more delicate, smaller ones like parsley and cilantro in the front. Once they're planted, stick your labels into the soil.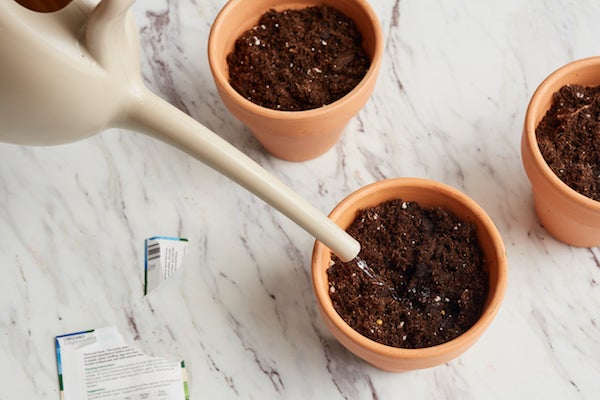 The new plants will need plenty of water, so make sure to water them a lot once you pot them. Stop when you notice they aren't absorbing the water. Once they've been potted, give them about an inch of water while they're growing.
Growing herbs is a blast, but after you've made guacamole and pesto with your cilantro and basil, it can be easy to lose steam. Don't fear! Bunches of mint can be easily boiled with water and turned into mint tea, and we love to chop fresh herbs into salads for a refreshing twist. Or, chop herbs up, place in an ice tray, and cover with olive oil—that way, you'll have them ready to go whenever you want them.
Popular in the Community