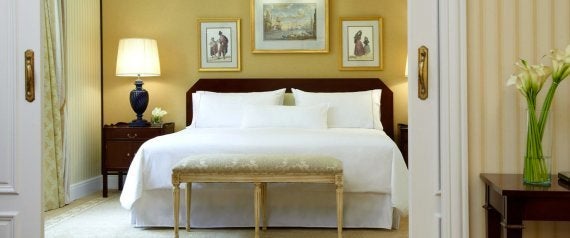 Both large hotel chains and independent properties understand the importance of a good rest for a culture that's becoming more and more stressed. That's because sleeping well is not a luxury, but a necessity. Fortunately, there are options for everybody at hotels across Spain. Special beds, treatments, relaxing decor, detox menus... here are the best recommendations to rejuvenate your body and soul during your visit.
This is a historic place for luxury in the capital of Spain. In every one of its rooms, you'll find a globally-recognized "Heavenly Bed" -- Westin's signature that's specially designed for a unique rest. The rooms are decorated with playful colors, including both neutral and vibrant tones, which create a visual environment that fosters comfort.
MB Boutique Hotel
Nerja, Malaga
There are soundproof rooms, mattresses by the best brands, a pillow menu and customizable lighting in whichever color you choose. Rooms include relaxing extras like a hot tub for two people, and if you have something to iron, hotel staff will do it for free. This hotel is suitable for all budgets, and products in the minibar start at one euro. Plus, the beach is just a stroll away!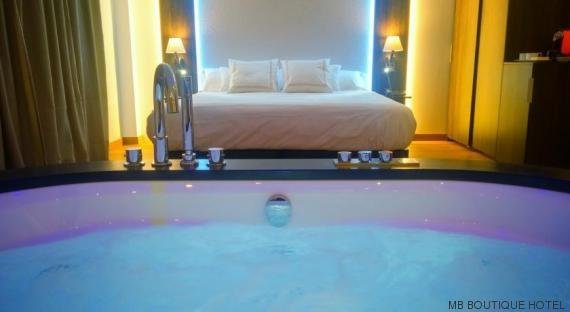 Only You Hotel & Lounge
Madrid
The key is in the small details. Here, 19th century architecture is fused with modern touches in a former palace known for its striking and exquisite interiors. Clients praise the comfort of the beds and how quiet the hotel is, two qualities that are difficult to find in the heart of Madrid.
Thalasso Hotel El Palasiet
Benicasim, Castellon
This hotel is focused on improving sleep through water. Its thermal pool of saltwater acclimates to the temperature of the human body, meant to foster a zen state before bedtime. The hotel offers a coaching service for healthy nutrition in an idyllic setting, with views of the sea and lush surroundings.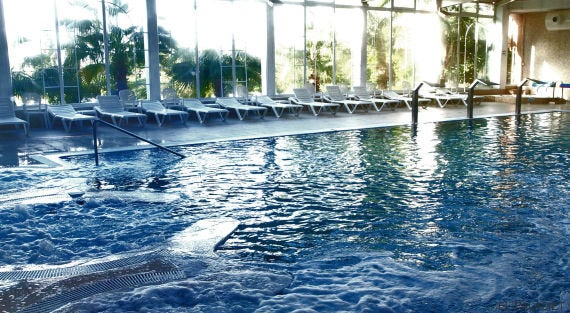 Gran Hotel Torre Catalunya
Barcelona
When you need to escape the daily grind, come feel the freedom that this ample space affords. It's not easy to find a hotel where the smallest room is 420 square feet -- the largest goes to over 800! -- with one of the best panoramic views of the city. This hotel isn't the most well known, but it has something special: warm colors, many windows and luxurious beds to refresh you without leaving the city. Also, enjoy breakfast in bed while you watch the sun rise in Barcelona.
Paradores
Various Locations
One of the fundamental characteristics of this chain its location. Each hotel is situated in a strategic place, either because of proximity to a historic building or because of the way in which it interacts with the environment of the area. As a result, the rooms are often reminiscent of another era. The hotels' giant beds, use of stone as a prominent architectural element and painstaking attention to decor all contribute to a better night's sleep. The hotel also offers yoga classes periodically, like those at the Paradores in Cádiz and Mazagón, or the Ayurvedic versions that are often offered in the establishments that have spas. Finally, there is also Santo Estevo, in Ourense, which was recently voted the best parador in Spain.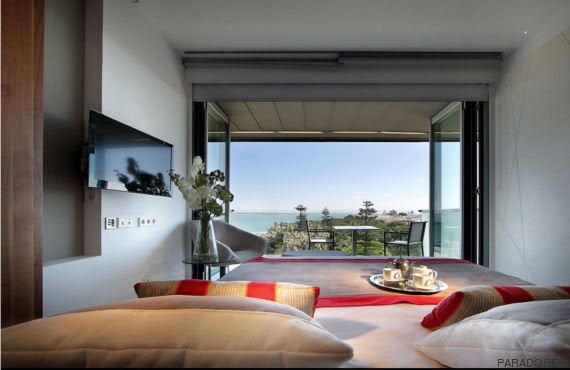 Sha Wellness Clinic
El Albir, Alicante
This hotel-clinic is exclusively dedicated to improving and prolonging guests' well-being with the best natural therapies. Its philosophy is to rejuvenate mind and spirit in complete harmony with the environment, helping guests to eat healthy, enjoy more vitality and give proper analysis to the thoughts that preoccupy them. They offer special techniques to channel stress and set health goals, in addition to programs that foster better sleep and rejuvenation.
Of all this chain's establishments in Spain, there are three focused on rest, including two luxury offerings in Cádiz (Barceló Sancti Petri and Barceló Montecastillo Golf). These accommodations were created using the "B-room" concept to offer more relaxation through special mattresses, 200-thread-count sheets, Nordic covers, a pillow menu and panoramic showers. There is also the Barceló Teguise Beach de Lanzarote, an adults-only accommodation geared specifically towards "muppies," the new urban tribe devoted to healthy living and sports.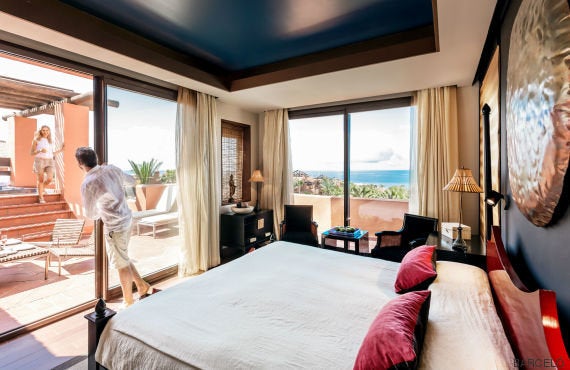 There are pillow menus and gigantic beds you can get lost in, all inside rooms that combine wood with Italian marble. The spectacular subtropical gardens are your first view in the morning, and in this luxury hotel, the TVs are flat screens from Loewe. All of the property's treatments are based on eastern philosophies. Highlights include aromatherapy sessions using eastern, Polynesian, African and Japanese fragrances. Want to slim down? Their "Essence of Well-being" program helps restore healthy habits. Consult with experts in nutrition and health to determine a well-balanced diet complemented by personalized exercises.
Can Serola
Sales de Llierca, Girona
This 18th century stone house is the center of a vast park called La Garrotxa. The hotel, one of the highest-ranked on Booking.com, features rooms with a view of the mountain that are completely equipped for rest and decorated to send the mind on an adventure. India, China, Morocco... you can sleep in whichever country you wish with curated decor. Enjoy gardens, terraces, patios, a sauna and hydromassage foster rest, too.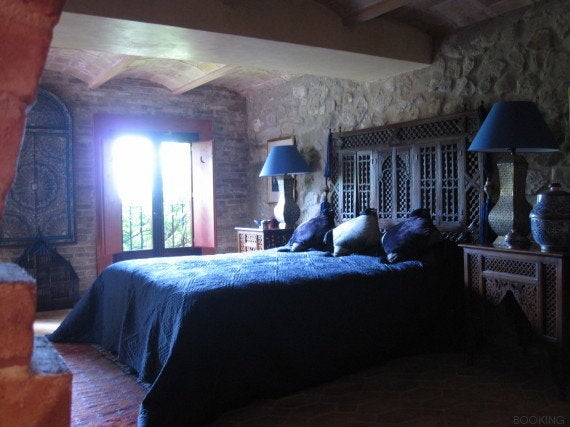 AC Hotel Vila de Allariz by Marriott
Allariz, Ourense
Here, relaxation is a foundational concept. Active pools, stimulating showers, saunas, ice cabins, massages, facial treatments and a complete menu of bath facilities (steam, Turkish, hot and Niagara) provide an array of options. The hotel provides a relaxation program that ends the day in a room where the layout inspires equilibrium and serenity. Not one single element can disturb your inner peace here.
With a name that means "house in the trees," this establishment takes guests back to the happiest and most innocent time of their lives. There is nothing to remind you of the stress of daily life here: It's just you and the forest, suspended in air while you look at a mountain and listen to the sounds of nature. The premise has given birth to a unique and different kind of rest. Don't miss their eco-spa!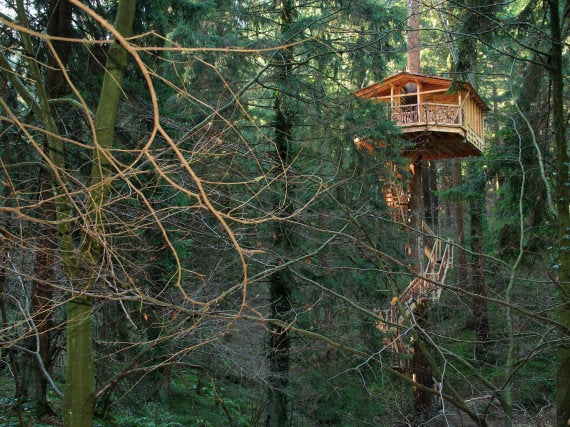 This adults-only hotel from the luxury division of the Iberostar chain offers a pillow menu and sheets that provide comfort. There are two restaurants: one gourmet and the other Mediterranean. There is also a VIP area called "La Balconada" (The Balcony) with some of the most exclusive amenities for relaxation, including suites with a pool and solarium, and a traditional tea and coffee time.
This spot is a rest designed for the whole family. Winner of a TripAdvisor "Traveler's Choice" award for years, it's a destination even for the local tourist. The real distinguishing factor here lies in the personalized treatment. All of the pools (even the outdoor ones) are heated, and the entire complex is surrounded by vegetation that is very relaxing for guests. In fact, the junior suites come with their own garden. The Spa Inagua offers up to five different programs to combat stress. The hotel's location away from tourism centers creates a vibe of relaxation. In addition to the great weather that the islands get all year, Mogán is the part of an archipelago that receives LOTS of sun... so much, in fact, that it's known as an ideal place to recuperate from rheumatic illnesses or similar ailments, according to the World Health Organization.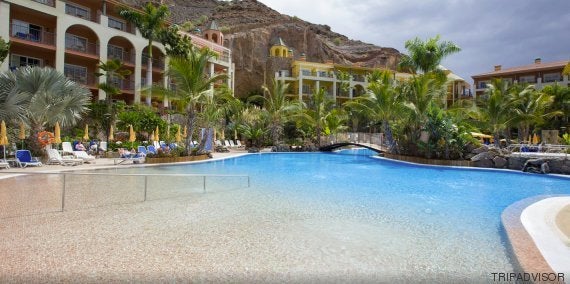 Santa Cristina de Aro, Girona
Like a storybook country home, this traditional 18th-century Catalan building is near the coast, surrounded by immense garden and decorated with the warm-colored wood. Above all, guests seek the feeling of peace and comfort offered in the large rooms. In the renovated spa, there are three massage rooms, a heated pool with jets and waterfalls, a foot bath, a sauna, steam room, ice cave, salt cabin and a solarium with views of a valley.
This offering from the Meliá chain features "detox" programs that promote healthy lifestyles based on the "Body & Sol" concept, rooted in a revitalizing, nutritious experience that more and more travelers are seeking these days. The program eliminates accumulated toxins in the body through a combination of fruit smoothies, vegetables, vegetable proteins and "superfoods" accompanied by body-cleansing treatments, personalized yoga sessions and consultations with a nutritionist qualified to advise the client on how to consume purifying products and combine them with a balanced diet. These are the foundations of a rest that occurs in Ibicenco-style rooms with modern design elements and heavenly views. Additionally, there is a "retreat" just for adults, with no set plan except to escape from absolutely everything.
This post first appeared on HuffPost Spain. It has been translated into English and edited for clarity.