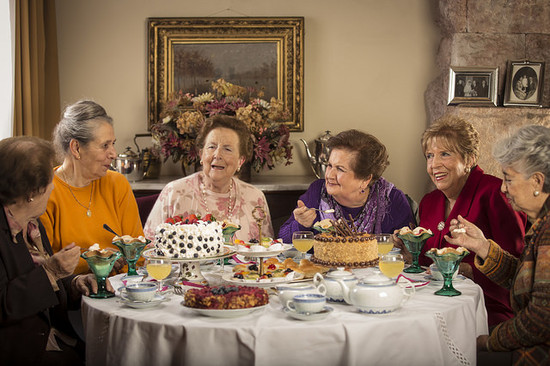 I've always regretted the passing of my grandfather, Hans, before I could properly pay tribute to his greatness, his courage and his artistry. It's something I will live with always and with a particular sadness. But for some, like Chilean filmmaker Maite Alberdi, time has been on their side.
In her touching, intimate, informative and entertaining Tea Time, which premieres on PBS's POV this Monday July 27th and streams on the PBS website until the end of August, Alberdi gets to shine the light on her grandmother and her circle of feisty friends which, for the past 65 years, have been getting together once a month and sharing some tea.
A group of women who have been friends since high school is a miracle in itself these days. We're all so scattered -- social media connected and humanly disassociated -- that imagining spending once a month with a group of our peers, with no distractions other than some tea, tasty finger sandwiches and pastries, seems as alien as life on Pluto. Yet Alberdi shows us the intimacy of those moments and does so within the timespan of five years, with some grandmothers departing and more friends joining in. It's a tribute to a time gone by, but also a wisdom lost nowadays, a concept that left me in tears. As an aside, the film received some support from the Tribeca Film Institute, a favorite cinematic organization.
But the touching Tea Time also made me laugh and, most importantly with everything I like to watch, taught me about another world. It taught me about the lives and characters of Gema, the cranky unmarried one with a sense of humor, Alicia, the flirty one with a craving for learning, Angelica, who looks conservative but is a spitfire at heart, Ximena, the strict widowed army wife and Maria Teresa, who says what she thinks and narrates the film at first.
Then the documentary taught me about Chilean culture, music -- I fell in love with the Bolero sounds of Lucho Gatica and his hit "Contigo en la distancia" -- and food. It made me realize that death is something one can also laugh at, approach it with wonder and not only dread. It gave me the courage to think that perhaps our best years are ahead, instead of always behind. And with one sentence, uttered by one of the ladies -- "don't live out of yellowing pictures" -- it made want to go back to a time when we didn't all live our lives on Instagram and Facebook.
And don't even get me started on the three cake recipes that Alberdi herself shared on the POV website. So, I'd like to impart my own words of advice here: Pour yourself a cup of tea, grab a slice of cheesecake or something just as rich and creamy, slump into a comfy chair and watch Tea Time on Monday evening.
Within Alberdi's personal, beautiful film you'll find a wisdom you didn't know you were craving.
Photo courtesy of PBS, used with permission.
Calling all HuffPost superfans!
Sign up for membership to become a founding member and help shape HuffPost's next chapter