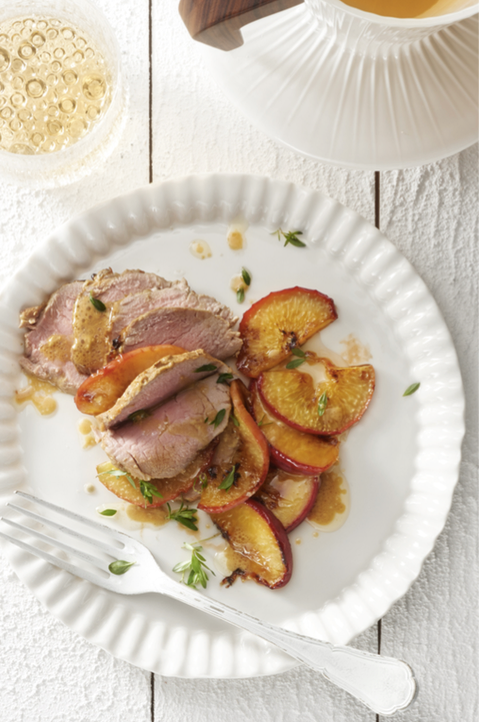 The peach tree is native to China and grows spontaneously in Persia. Its fruit is distinguished by the early variety, which ripens in late spring, and the late kind in August and September. They are perfect for jam, preserved in heavy syrup, and in pies, fruit salad and steeped in wine. For example, they're fabulous in summery sangria. Pour a bottle of red wine (750 ml) into a pitcher, add 250ml(8.5 oz)ofgin,50ml(1.7 oz) of cognac and 200 g (7/8 cup) of sugar, and stir to dissolve the sugar. Add three cinnamon sticks, three sliced peaches, and the rind and wedges of 1 lemon and 1 orange (be sure to remove the white pith). Refrigerate for at least an hour and serve in wine glasses with ice cubes.
PORK TENDERLOIN WITH CARAMELIZED NECTARINES Serves 4
800 g (1.8 lbs) pork tenderloin
3 nectarines
3 tbsp soy sauce
2 tsp grated fresh ginger 1 tbsp mustard
1 tsp honey
2 tbsp brown sugar
2 tbsp white wine
1 cinnamon stick
extra virgin olive oil
salt and pepper
Whisk the mustard, ginger, honey and soy sauce in a bowl. Spread the mixture over the tenderloin, and season with salt and pepper. Set
Caprese salad with peaches.
the meat on a rack over a baking pan to collect the juices, and grill in the oven. The meat should be about 10 cm (4") from the heat. Grill for 20 minutes, remove, cover with aluminum foil and set aside for 15 minutes. Put the brown sugar in a skillet and caramelize it with a tablespoon of water. As soon as it is golden, add the wine and the cinnamon. Add the sliced nectarines and cook for a few minutes per side to caramelize. Serve with the thinly sliced tenderloin.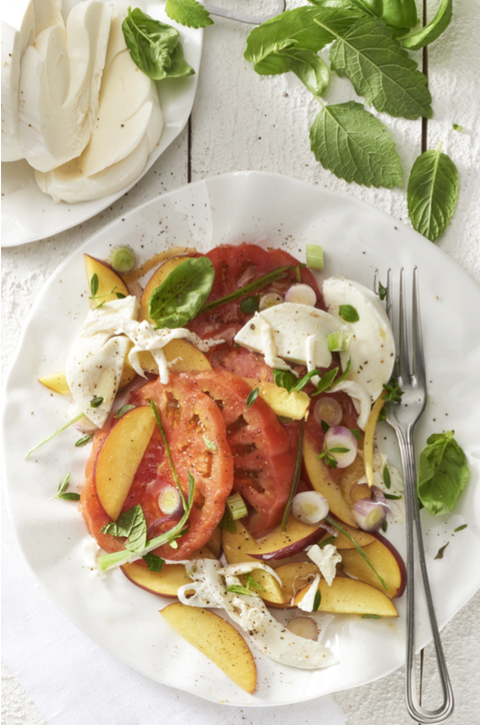 CAPRESE SALAD WITH PEACHES Serves 4
4 ox-heart tomatoes
300 g (10.5 oz) fresh braided mozzarella
3 peaches
1 red spring onion
1 tbsp cider vinegar
4 tbsp extra virgin olive oil pinch of hot paprika
1/2 tsp sugar
basil
mint
salt and pepper
Thinly slice the tomatoes, the onion and the peaches, and place on a serving platter. Chop the basil and mint, and sprinkle over the top. Season with salt and pepper, and set aside. Put the vinegar, sugar, paprika and oil in a screw-top jar, and shake to blend. Pour the vinaigrette over the salad, toss and serve with the sliced mozzarella.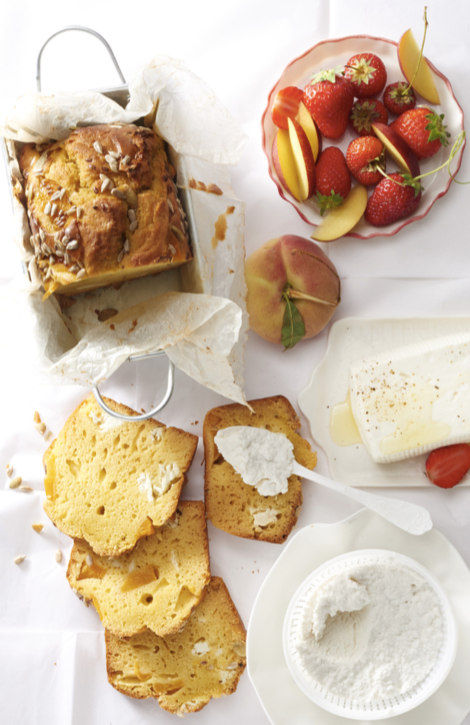 SWEET-SAVORY CAKE Serves 6/8
180 g (1 3/4 c) cake our
2 peaches
120 g (4.2 oz) feta cheese
1 tbsp brown sugar
1 tsp baking powder
2 whole eggs and 2 yolks
10 g (0.35 oz) mixed seeds (pumpkin and sesame)
1/2 tsp ground nutmeg
100 ml (3.3 oz) extra virgin olive oil salt and pepper
Preheat the oven to 360°F. Slice the peaches and crumble the feta. Beat the eggs and yolks with the oil, sugar and nutmeg until thick. Sift the our and baking powder, and incorporate into the egg mixture. Add the peaches, feta, and a little salt and pepper. Line a baking pan with parchment paper, pour in the batter and garnish with the seeds. Bake for 40–45 minutes. Poke the cake with a toothpick: it should come out clean. Serve cold with fruit and cheese.