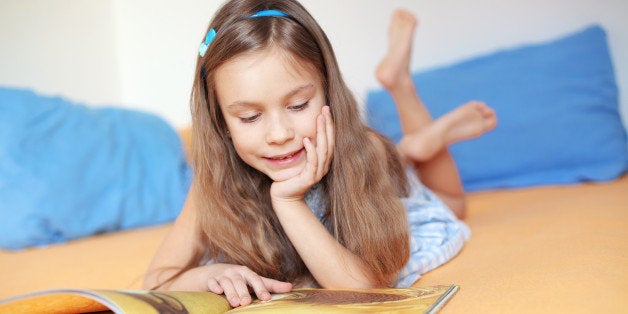 By Regan McMahon, Common Sense Media book editor

Grab a book for the road, tuck one in your kid's backpack for camp, pop a beach read in with the sunscreen or curl up with your kid and a picture book in a cozy corner at home. Wherever you go, bring one of these great summer reads for kids. Check out our picks for June.
Interstellar Cinderella, by Deborah Underwood, illustrated by Meg Hunt, is a delightful reworking of the fairy tale. It's set in space, and the spunky, capable heroine meets the prince when she repairs his rocket ship.
I Will Take a Nap! An Elephant & Piggie Book, by Mo Willems. Lots of silly fun with beloved characters delivers a solid reminder that naps help when you're feeling cranky. Kids will enjoy figuring out what's real and what's a dream in the imaginative illustrations.
Here Comes the Tooth Fairy Cat, by Deborah Underwood, illustrated by Claudia Rueda. Fans of Here Comes the Easter Cat and Here Comes Santa Cat will be happy to find another adventure with the adorable yet self-absorbed Cat who speaks to the unseen narrator by holding up signs.
Rory the Dinosaur: Me and My Dad, by Liz Climo. A young dino strikes out on a solo adventure, but readers see that Dad is never far behind in this cute, warm picture book that's perfect for Father's Day.
The Worst Class Trip Ever, by Dave Barry, has eighth-graders getting tangled up in international intrigue -- possibly involving terrorists -- on a middle school field trip to Washington, D.C. Humorist Barry strikes just the right tone for this age group, with plenty of suspense, action and excitement.
I Will Always Write Back: How One Letter Changed Two Lives, by Martin Ganada, Caitlin Alifrenka, and Liz Welch, is a memoir that charts the pen-pal friendship of a middle-class American girl and a boy from the slums of Zimbabwe whose dream is to get an education in the United States. It's an eye-opening story told in alternating voices.
Hit & Miss, by Derek Jeter and Paul Mantell, is the second in Hall of Famer Jeter's compelling autobiographical series about his childhood and Little League experiences that started with The Contract. There's great action in the Little League scenes and positive values modeled in his interactions with his family and diverse group of friends.
The Fill-in Boyfriend, by Kasie West, is a sweet, lively romance that has smart messages about not putting too much stake in collecting social media "likes" and how it can be alienating when you express your true feelings.
The Heir: The Selection, Book 4, by Kiera Kass, starts a fresh round in the Selection series, which many thought ended when the trilogy concluded with The One. The twist is that the daughter of America Singer and Prince Maxon holds a Selection of her own -- to pick a guy to marry.
A Court of Thorns and Roses, by Sarah J. Maas, is the first volume of a dark, mature fantasy series based on Beauty and the Beast. Both bodices and bodies are ripped to shreds early and often in this sexy, violent, magic-steeped, faerie-filled page-turner.
Common Sense Media is an independent nonprofit organization offering unbiased ratings and trusted advice to help families make smart media and technology choices. Check out our ratings and recommendations at www.commonsense.org