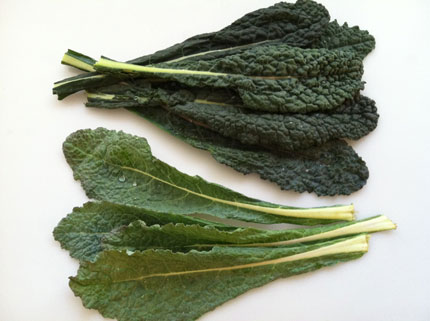 Judging by the huge mounds of bushy bunches of kale in farmers' markets as well as supermarkets, this dark leafy green is still enjoying its well-deserved popularity, despite the fickle self-proclaimed arbiters of food trends who consider it passé. As my husband and I were wolfing down heaping forkfuls of spaghetti with kale and lots of golden-fried slices of garlic the other evening -- it's our favorite pasta dish and we never tire of it despite the fact that I make it every week -- he commented that as a kid he never saw kale or even heard of it. Ditto for me. It wasn't until we started frequenting the Union Square Greenmarket in New York City that we noticed it for the first time.
From my perspective in the late Gourmet magazine test kitchens, kale started to appear on the radar in the mid- to late '80s and was close to mainstream by the mid-'90s. For the longest time curly kale was the only kale available. It took the explosion of interest in Italian cooking to bring Tuscan kale to American markets, and other varieties soon followed.
See more: Indulgent, Delicious Breakfasts

Although I lacked enthusiasm during my early experiences with kale, I've long since become a kale cheerleader. I buy it year-round, shopping for it in the supermarket only when it's not available at the farmers market. The best and sweetest kale is the stuff that comes to market after the first couple of frosts.
Although it hasn't gotten that cold yet here in New York City, I've been stocking up on the Tuscan kale from Rick Bishop's Mountain Sweet Berry Farm in Roscoe, New York, in the western Catskill area, because it is the darkest, most supple kale around at the moment. Bishop's kale is pictured at the top in the photo above. Contrast it to Tuscan kale (a.k.a. lacinato, or dinosaur kale) from a nearby upscale supermarket and you can't help but see a huge difference. So I had to ask Bishop why his kale is so outstanding.
"It's about mineralizing the soil," he hurriedly explained as his line of customers grew. "That's my whole shtick!" Bishop adds compost, rock phosphate, lime, calcium phosphate, green sand, granite dust, and gypsum to his soil and sprays the crop with sea kelp and mineral solutions. "I'm a huge believer that inputs are necessary. High input. Build that soil up. Get it healthy. It builds up the [kale] flavor, the kale grows faster, it's more succulent, and it's tasty."
Where in the world does he get these minerals? Bishop was quick to credit the Amish with genuine respect. "Those guys are so close to the earth they know. They know their stuff." He buys most of it from the Amish, except for lime that he gets at a local mill.
I was curious how the Amish had become the big suppliers of minerals for soil. "It rang a note with the Amish like 30 years ago," said Bishop, explaining that as some farmers started turning towards eco-agriculture, growing more for quality to feed their own animals and their customers at the farmers' markets, the Amish saw a niche and became the distributors, the buyers and sellers of mineral inputs. The minerals come from all over the country. The green sand, for instance, comes from ancient ocean deposits in New Jersey.
As Bishop's customers grew more impatient with his chatty conversation with me, he wrapped it up with a big smile and a chuckle. "I'm building the soil, making it happy and alive!"
Want to feel as upbeat as Bishop's soil? These four-fork kale recipes are bound to make you feel happy and alive! And please tell me, what's your favorite way to eat kale?