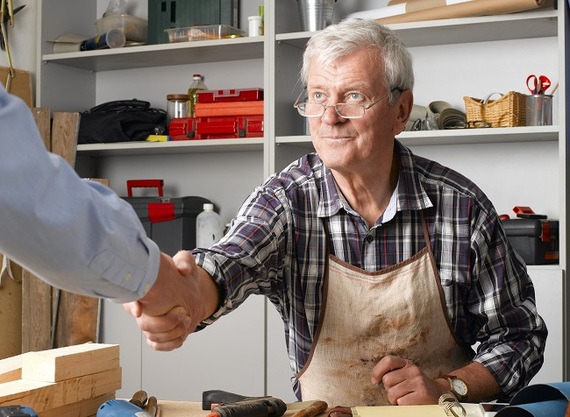 The free market can be as unforgiving as it is wonderful. It's great to hang your shingle and open your doors for business. It turns worrisome when business slows or withers for no reason. Conventional wisdom says pick a location with good road frontage and good traffic, open for business and watch the revenue roll in.
That could work, but if you can't afford the high price for a choice piece of property, what do you do? Oddly enough, the answer is the same online or offline: Networking. Even if you don't have a Facebook or Twitter account for your business, getting to know your community is the answer.
Networking Secrets for Selling More
1. Join Your Local Chamber. If you are not a member of your local Chamber of Commerce, you need to be. However, it is not enough to simply join. You need to be active in meetings and events they sponsor throughout the month. This will give you exposure and recognition. Pass out your business cards to everyone you meet and get to know the movers and shakers in your chamber. They will be an invaluable referral source for you.

2. Get to Know Local Real Estate Agents. People buying homes and moving into the area are potential customers. The best way to get in front of them is through a real estate company. Make space in your day to contact an agent from each real estate company (in person preferably). Let them know who you are and what you have to offer. You might even consider offering a discount for new movers or first time home buyers, etc. Being on the radar will generate referrals.

3. Get to Know Your Bank. Your banker sees a lot of people from the community. You need to know your bank president/branch manager, and other key people like loan officers and head tellers, on a first name basis. They are an incredible referral source. Bring them lunch, offer discounts and most importantly, let them know what is going on in your world. If you need something, ask if they know someone who can help. If you are running an incredible sale, or having a unique opportunity, let them know. They will spread it for you by word of mouth.
Think of real estate agents, bankers, and Chamber members as offline influencers. They are trusted advisors local people turn to for great advice. If you impress them, they'll remember you, and when people ask "Where's the best [whatever your business is]?" your business will come to mind first.

4. Host or Sponsor Community Events. This is networking 101. Every community has a business that is known for sponsoring events and festivals. You see their company name and logo on banners for sporting events, charity fundraisers, golf tournaments, and any type of a-thon, civic meeting or chamber events. You want to be that business.
It's great exposure and shows that you take customer service seriously. Since you are now part of the local chamber (whoever encouraged you gave great advice), reach out and get involved with the circle of people who run community festivals and other events. They will be eager to help.
5. Provide a Discount for Business Owners. This is a great way to establish rapport and good faith. Give local business owners a nice discount to make doing business with you worthwhile. To scale down marketing and make the process less overwhelming, draw a five-mile circle on a map with your business at the center. Begin your marketing efforts there, as well as any large businesses in town.
Once you have that area covered, expand the circle and continue. You don't have to offer much to get interest. Offering just 10% is enough to get local business owners interested. You'll find some of your best long term networking relationships and friendships by taking the first step.
These are some of the best kept b2b networking secrets used by professionals every day. You would not know it by searching Google, though. Brick-and-mortar networking advice is often overshadowed by social media marketing strategies and other online marketing tactics. Yet, the same concepts are equally effective in person. Why? Because at the end of every strategy, at the end of every marketing plan, there are people. People who want to buy your products and services. People who want to be loyal customers. They are just waiting for that first contact.
Popular in the Community