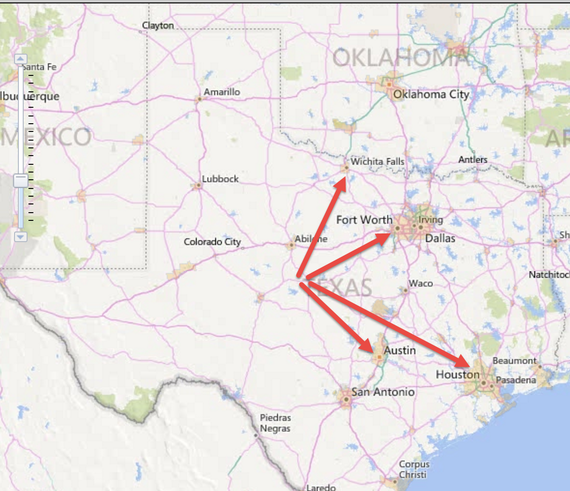 There are a number of government and quasi-government agencies guaranteeing home loans to make borrowing easier with lower down payments. We all know about Fannie Mae, Freddie Mac and the FHA, Federal Housing Administration. The vast majority of home loans are guaranteed through these three agencies.
There is one out there that fewer people know about, yet it can get them a home loan with a down payment as low as 0 to 10%. And, it can pay closing costs as well. It's through the USDA, United States Department of Agriculture Rural Development program. Oh, but you're not buying a farm, so forget about it ... NOT.
At the USDA website there is a location map to enter addresses to see if a home is eligible. Just to show how little of the country is not eligible, the beige areas are where you can't get this loan in the state of Texas. Notice that they are very small areas tightly drawn around city centers. All of the rest of the state is pretty much wide open for one of these loans. Sure, if you have to live right in the urban middle, then you aren't going to get one of these loans, but there's a whole lot of residential development just outside of busy city centers.
There are also income eligibility limits, but like the map areas, many individuals and families will be able to make the cut. Doing an income eligibility check for Evergreen, CO, just outside the Denver ineligible area, I entered a family income of around $60,000 and this is what came up: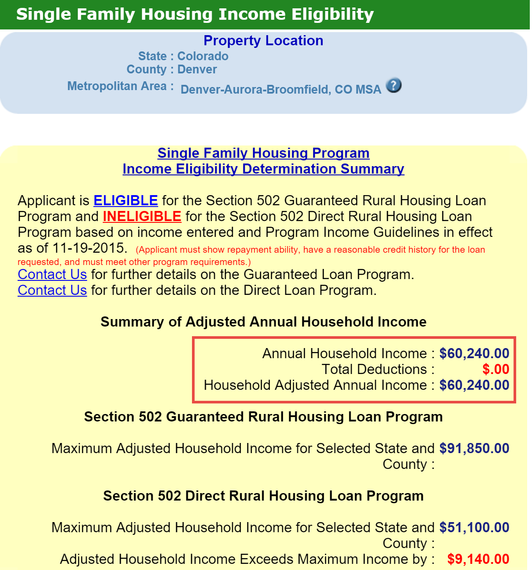 You can see that this income fell well within the $91,850 current cap for that area. At the bottom of the box it shows that this 2-person household would not be eligible for the Direct Loan designed for lower incomes. But, if you fit into that group, you can get your loan directly from the USDA if you meet other requirements. For a 300+ page PDF of all of the counties in the country and income limits by household size, you can view or download it here.
As you can see from the Texas map, almost all small to medium size towns are eligible, with only the major cities falling out of eligibility. One broker told me of a deal he helped a school teacher in a town in New Mexico with. She wanted to buy a home right in town for $219,000 for her and her three daughters. She qualified for a guaranteed loan and the area did as well.
She put up a $500 earnest money deposit and got the home and all closing costs financed in, as the house appraised well. She was eligible at that time to get up to 110% of home value financed. She went to closing with no down payment and left with her $500 earnest money too! I can't say if this can still be done, but you certainly can't overlook the USDA Single Family Housing Loan Program if you want to get into a home with a low down payment.
Support HuffPost
The Stakes Have Never Been Higher
Related
Popular in the Community