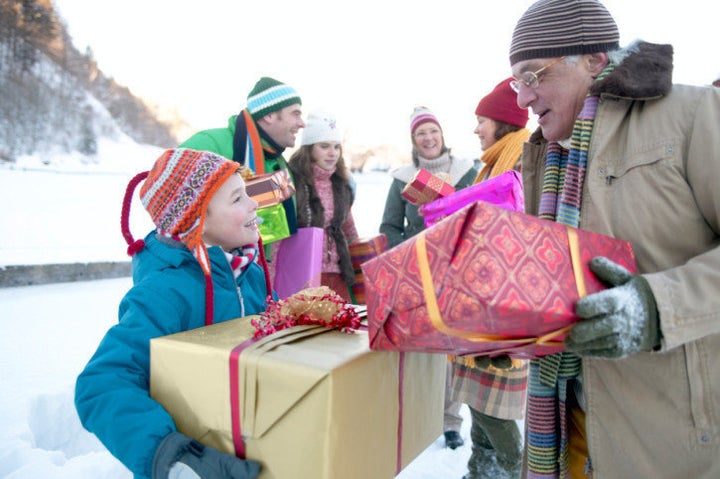 Think back on the greatest gift you've ever received. What was it? Now, give the gift exchange a 180 degree turn, and remember the favorite gift you've ever given? I'll bet neither gifts were gift cards! For the past month, I've been researching men and women, boys and girls for their favorite gifts, given and received. Interested in what made these gifts special, I dug deeper than the item, and asked for the story behind the choice. The results were fascinating.
Every single person mentioned the importance of personal involvement and connection. You might not think so at first when you hear the selection. For example, Millie, a 73-year-old woman describes the diamond earrings her late husband, Harold, gave her. George, a 47-year-old 'techie,' smiles as he told me that his was a set of golfclubs from his brother. This is not the end of the story, however.

The Secret of Great Gift-Giving.
Turns out that what makes these selections favorites has to do with demonstrating personal relationship. In fact, George does not play golf, unlike his brother Richard. Having lost his job two years ago, Richard had no apparent means of gift-giving. What he did know, however, was that his brother had very fond memories of their dad, who was an avid golfer. So, Richard took out the golf clubs his father left him when he died five years earlier, and gave them to George, who told me:
I've never been more moved by a gift, ever. Imagine, my brother giving me his prize possession, and now he has no means of playing. Years ago, we had a rift going on, you know, the stupid sibling rivalry sort of B.S., but we realized we were wasting precious time when Dad died. I've got the best brother in the world. I can never repay him.
Then there's Millie. You might think the choice of diamond earrings is superficial. Maybe. You decide. The background story is that Harold's parents escaped from Europe during the Holocaust with his maternal grandmother, Sadie. The only material possession she had was a simple pair of small diamond earrings that she was given by her employer, for whom Sadie was a housekeeper for many years. When Hitler came to power, this employer gave Harold's grandmother the earrings, telling Sadie she must leave the country while she could. Perhaps the earrings could provide passageway. When Harold's company folded last year, and he lost his healthcare insurance, subsequently diagnosed with colon cancer, he entrusted Millie with Sadie's earrings and the story, as he lay dying. Through them, he told her, "I will be with you forever, my darling."

As I took the time to listen, and really hear each participant in this study, I was impressed with the magical effect love has of imbuing gifts with meaning that defies any pricetag, or gift you can find on the Internet. I recall three such times, myself.
One gift came from my mother, when she stayed up all night to make me a little pillow that she stuffed with discarded nylon stockings. Crippled with severe rheumatoid arthritis, it was a gift of sacrifice. The second was from my "Godmother," Carrie. The year before I turned 21, on my sister's 21st birthday, Carrie gave my sister the only thing she had "of value." It happened to be a starburst pin with a diamond center and pearl rays, a piece her grandfather was given by his plantation owner when he was freed from slavery. One year later before my birthday, Carrie told my mother she had nothing left, so decided to make me something for my gift. Nearly blind at the time, Carrie spent 9 months making a handmade quilt from the scraps of her favorite things. As she presented it to me she said: "Now, child, any time you know anyone who gets afraid, you just take old Carrie's quilt and put it around them. I sang a prayer into each stitch." Forty-four years ago, Carrie gave the gift that was priceless. The third came from my best friend. She copied every single piece of her prized music collection, so that I might use them, too, in the transformational work we each do with groups. Again, priceless.
Priceless Gifts Become Our Classics.
The fact is that the magic of gift giving was captured best by O. Henry's holiday classic "The Gift of the Magi." If you are struggling to find the best way to express your appreciation for someone you love, and haven't 'got a clue' as to what would be best, let's turn to O. Henry for guidance.
There is no tale timelier for today than this particular story. It begins with a young couple who are broke. Truly in love, each longs to express their affection and gratitude in a way which touches the heart of the other. Problem is, the wallet is empty. What to do? Although any sign of prosperity seems absent, each of them considers what their beloved might cherish. Knowing that "her man" highly cherishes the gold watch he was given, but has no watch fob (chain) on which to wear it, she comes to a solution. She sells her only prize possession, her hair, to purchase his gift. Whereas he, knowing that his wife's mane is her significant beauty, sells his watch to buy a beautiful adornment for her gorgeous locks.
Six Essential Guidelines to Master Gift Giving:
Simplify and Streamline your expectations. Get out each day for at least 20 minutes in the fresh air, without any technology or agenda other than enjoy. On your walk, consider the heart of the person you love. What do they value more than anything? What do you cherish about them, more than anything? If you had/have no money, what could you give that would symbolically touch their heart? Consider imagery from a magazine, doodles, your own hand-made card, et cetera. Simply acknowledge what they love.
The present is your Presence. O.K., so it sounds morbid, I grant you, but some day neither you nor I will be here. How can you bring your joy, your appreciation forward to honor the person you love? What if you took a moment for a long overdue phone call just to let 'your person/s' know, from your heart to theirs, that you are thinking about them right now, and wanting them to know what a gift their life is to yours. Why not?
Stop being a brave warrior. Include others. The Magi in the story included others in finding their gifts. If you are stuck, why not ask for help from someone who might seem more creative?
Give yourself a deadline. I figure what I haven't handled by Dec. 22 (I choose the date deliberately), isn't going to happen. I am free to enjoy and luxuriate in the awareness I've done my best. Enjoy these last few days before Christmas, or whatever you celebrate, knowing it's not about perfection or stress, but relishing what is.
Reclaim your sense of humor.
While there is infection in disease and sorrow,
there is nothing in the world so irresistibly contagious
as laughter and good humour. (Charles Dickens, "A Christmas Carol")
If you give yourself the last few days 'off' from the roller coaster of holiday craziness, take yourself on a field trip to simply
enjoy
. One of my favorite places is to go where Santa pictures are being taken, sit with my tea or hot cocoa, and "people watch." Look for smiles. Notice people connecting. Notice stressed out folks. Send them good thoughts. See yourself opting out of the stress. Memorize the moments that touch your heart. Go home with a nourished heart. Let everyone you meet for the next 24 hours know they matter.
Reclaim the Reason for the Season. May you and yours have the best holiday ever, creating marvelous moments. I am so, so grateful for whom you are, for your dropping by, for your Light in this world. May you be well, at peace, and in good cheer, regardless all circumstances.
Now, it's your turn. What's the best gift you've ever given or received and what's made it so? What gift do you wish you could give this year, but haven't found the means? What might substitute?
For more, see carabarker.net. For updates, contact me at dr.carabarker@gmail.com to save time, click on Become a Fan. Stay tuned for upcoming developments with The Love Project, including "Practicing Love." Stay tuned! Follow Dr. Cara Barker on www.twitter.com/DrCaraBarker.