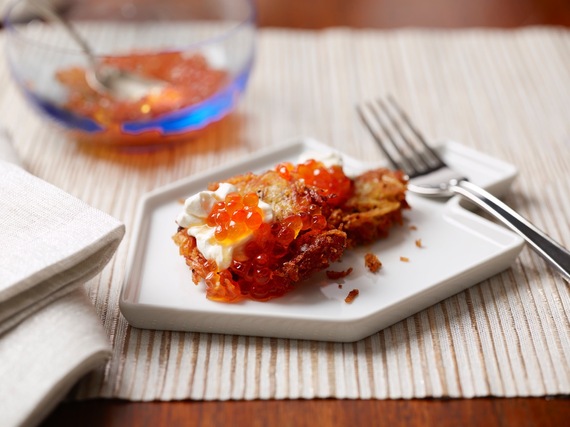 Julie Child's potato galette. Photo by Renee Comet for Fig Tree & Vine.
I've been collecting latke recipes for many years. Most of those described as "traditional" require numerous ingredients -- onions, eggs, flour etc. -- and impose complicated tasks on the cook: potatoes must be grated, then rinsed, then drained; the skillet must be especially deep to hold copious amounts of oil. I've tasted many versions of these latkes -- "My grandmother's recipe!" -- and have never much liked them. My experiments with such recipes only seem to yield grease-sodden patties with a spongy texture. No amount of sour cream or applesauce can conceal the strong underlying flavors of corn oil and raw potato starch.
Then I discovered Julia Child's recipe for a potato "galette" in her 1989 classic, The Way to Cook. The simple dish -- grated russet potatoes, salt, pepper, and nothing else, fried by the spoonful in clarified butter or olive oil -- struck me as a brilliant new concept: latke a la francaise.
Child first tasted these galettes in a New York restaurant, La Tulipe. She found them a perfection of fried potato shards: crunchy on the outside, moist on the inside, and not at all greasy. "One of the crispest and most successful of potato pancakes, to my mind," Child wrote. She appealed to the restaurant for the recipe. Sous chef Sara Moulton obliged.
The secret to the gallete, Child noted, is "the important information that 'baking' potatoes are required for this particular dish, that they are boiled the previous day so they will be cold for proper grating, and that the trick is to keep them slightly underdone. Then the potato pieces will stick together enough in the saute pan so that you can flip them over to brown the other side."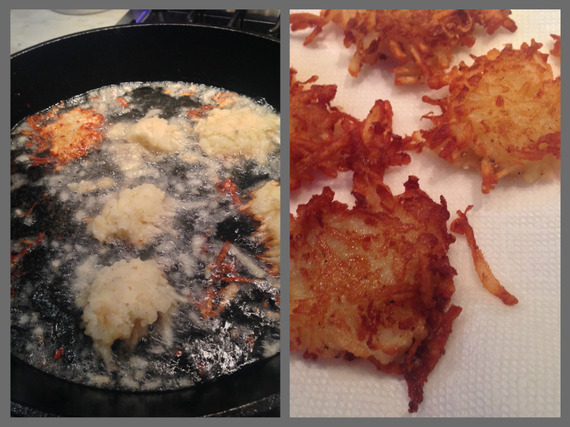 Latkes sizzling in my cast iron pan; the finished latkes are moved
to paper towels to drain.
Boiling the potatoes in advance -- or steaming them, as in Child's version of the recipe -- meant no rinsing and draining of the collected watery starch. Cooled, they grated easily with a hand grater (the kind Child recommends using, as opposed to a food processor, which can create mushy shards). Because they were pre-cooked, they didn't go brown either. I could toss them with salt and pepper and leave the mixture out on the counter until I was ready to fry. The minimal use of clarified butter or oil meant they would not be immersed in a bath of grease.
The result? Latkes that truly rate as one of Hanukkah's miracles.
Child is exactly right that this recipe produces fried potatoes in their purest form: light, delicate, with the perfect balance of crunchy exterior to moist interior -- and no leftover taste of raw potatoes. They may turn out to be a little more randomly shaped and spikier than the traditional rounder and flatter "pancake," but that only adds to their crunchy deliciousness. In our house we serve them with a dollop of sour cream and a spoonful of caviar. And champagne. Of course.
This year, maybe more than any other year, it seems fitting to honor France in all our festivals and celebrations.
Here is the recipe for Julia Child's "Potato Galettes," from The Way to Cook (copyright 1989, Alfred A. Knopf).

For 12-15 small (3-4 inch) latkes.
2 to 3 large baking potatoes about 12 ounces each
Salt and freshly ground pepper
1/2 cup or so of clarified butter or olive oil
Cooking the potatoes - several hours or a day in advance:
Scrub the potatoes under hot running water, then steam them for 12 to 15 minutes (mine took 25 minutes), until the potatoes are almost but not quite cooked. In other words, they should not be floury - after 12 minutes, pierce one with a sharp small knife, which should just penetrate. Cut one of the potatoes in half crosswise; if there is a raw central core, steam 2 or 3 minutes more. (If the central core is not cooked through it can discolor!) Let cool uncovered; the potatoes must be thoroughly cold before you grate them.
Peel the cold potatoes and rub through the large holes of the grater onto a baking sheet or tray. Toss lightly with a sprinkling of salt and pepper, leaving them loosely massed; set aside until you are ready to continue.
Film a frying pan with 1/8 inch of clarified butter or oil, and, when hot, spread in 1/2 to 2/3 cup of grated potato (the amount depends on how thick a galette you want). Saute over moderate heat for 4 to 5 minutes, pressing the the potatoes together lightly with a spatula, until the bottom has crusted and browned. Flip over, and saute to brown the other side a few minutes more. Transfer to a baking sheet, and keep warm while finishing the rest.
Ahead of time note: The galettes may be sauteed somewhat ahead. Set aside uncovered, at room temperature. Reheat briefly in a 425 degree oven.
For more content like this, and beautiful artisanal Jewish products, please visit Fig Tree & Vine, a new and stylish destination for contemporary Jewish living. Follow us on Instagram @figtreevine and Facebook, or subscribe to our newsletter.

Related