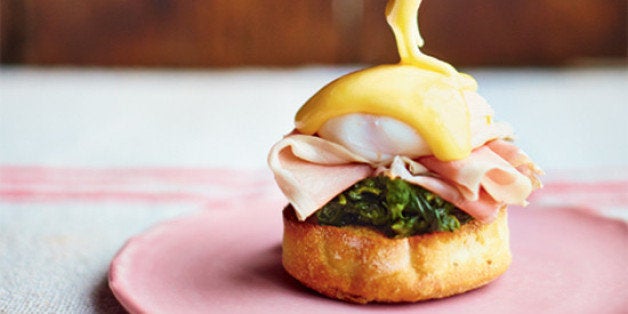 This season's list of exceptional cookbooks is long and varied. Here are cooking tips from 40 of them to help you find the perfect present.
Scramble eggs in a double boiler to keep them moist.
Inside the Test Kitchen, Tyler Florence
To add flavor and texture to salad dressings, puree with spiced walnuts.
Harold Dieterle's Kitchen Notebook, Harold Dieterle and Andrew Friedman
Use leftover deviled egg filling to thicken vinaigrette.
Prune, Gabrielle Hamilton
Spoon the firm layer of coconut cream off the top of a can of chilled unsweetened coconut milk—it can be whipped and used just like heavy cream.
The Kitchn Cookbook, Sara Kate Gillingham and Faith Durand
For a creamier guacamole, stir in some olive oil.
Sunday Suppers, Karen Mordechai
For perfectly chewy pasta, make sure your water is warm and knead the dough for a long time, 8 to 10 minutes.
America Farm to Table, Mario Batali and Jim Webster
When cooking lobster, keep the heads. Crush them, then steep in melted butter for 5 minutes. Cool the lobster butter until firm, then save to serve on pasta or roast fish.
The Kitchen Ecosystem, Eugenia Bone
Soak brown rice for 30 minutes before cooking for fluffier grains.
My Perfect Pantry, Geoffrey Aakarian
Whenever a baking recipe calls for brushing on an egg wash, you can always substitute heavy cream; the result will just be slightly less glossy.
Refrigerate okra slices before frying to decrease sliminess.
Brown Sugar Kitchen, Tanya Holland
Instead of taking the time to mince garlic, add a whole clove to oil in a cool pan, then gently heat for a few minutes: As the pan warms, the clove will gently infuse the oil with flavor.
A Good Food Day, Marco Canora
For the most tender, most flavorful leeks, sweat them: Cook covered with parchment paper and a lid.
Add a drop of vinegar to the dough for pie crust to make it flakier.
Make it Ahead, Ina Garten
Use a silicone spatula to stir risotto—it's gentler on the rice than a metal or wooden spoon.
The Tucci Table, Stanley Tucci
When roasting, add a little oil to baking sheets or roasting pans and put them in the oven while it heats. When you add your ingredients, they will immediately sear.
How to Cook Everything Fast, Mark Bittman
For salad, count on 1 tablespoon of dressing per serving.
Mastering My Mistakes in the Kitchen, Dana Cowin
Soungouff ou crevettes is a Central African powder made of shrimp shells and chile sold at African markets. Buy some and use it like salt.
Marcus Off Duty, Marcus Samuelsson
To keep hollandaise (or any butter-enriched pan sauce) warm without worrying about it breaking, pour it into a Thermos.
Jamie's Comfort Food, Jamie Oliver
Soak grits for at least 6 hours before using them—it allows them to cook faster and preserves the corn flavor.
To add just a hint of garlic, rub a halved clove over a baking dish before cooking or a salad bowl before serving.
A Kitchen in France, Mimi Thorisson
To remove raw marrow, soak bones in saltwater for at least 12 hours in the fridge. The marrow will easily pop out.
North, Gunnar Karl Gíslason and Jody Eddy
For healthier pad Thai, swap rice noodles for julienned daikon, carrot or zucchini.
Green Kitchen Travels, David Frenkiel and Luise Vindahl
Burger buns get crunchy on the outside but stay soft in the middle if you toast them before splitting.
Use a slurry of equal parts water and unsweetened cocoa powder to thicken sauces for game meats.
Swirl melted butter into heated lime juice for an all-purpose basting liquid.
Ruhlman's How to Roast, Michael Ruhlman
The smaller the artichoke, the more tender it is.
The Vegetarian Flavor Bible, Karen Page
Don't buy curry oil; make it. Heat 1/4 cup Madras curry powder in 1 cup olive oil on low for 20 minutes. Strain through a coffee filter.
A New Napa Cuisine, Christopher Kostow
The perfect pot of pasta water: 4 quarts of water, 1/4 cup of kosher salt and a handful of semolina flour.
Flour + Water, Thomas McNaughton
Add smoky flavor to salsa by blistering tomatoes under the broiler for about 8 minutes before chopping.
Richard Sandoval's New Latin Flavors; Richard Sandoval
For a smoother hummus, warm canned chickpeas before pureeing them.
Aarti Paarti: An American Kitchen with an Indian Soul, Aarti Sequeira
Sauté rice in olive oil for a few minutes to add warm,toasty flavor to any dish.
My Portugal, George Mendes
Spread the rice paper with mayonnaise when making spring rolls—the mayo adds subtle richness.
The Slanted Door, Charles Phan
For crisper roasted potatoes, brine them overnight to remove some of the starch.
Relae, Christian F. Puglisi
In a soufflé, combine aged and young versions of the same cheese for depth of flavor.
French Roots, Jean-Pierre Moullé and Denise Lurton Moullé
To make a salad visually striking, go against instinct and use ingredients that are all the same color, like apple and raw celery root.
Plenty More, Yotam Ottolenghi
To keep a stack of tortillas warm, wrap them in a kitchen towel, then in foil, and put them in a 200° oven for up to an hour.
Tacolicious, Sara Deseran
Use Jonah crab, an Atlantic species similar to Dungeness, for crab cakes.
The New England Kitchen, Jeremy Sewall and Erin Byers Murray
For pork broth, simmer a whole suckling pig head for 6 hours.
Never Trust a Skinny Italian Chef, Massimo Bottura
Char fresh herb bundles on a grill, chop them and mix with olive oil and vinegar for a salsa.
Mallmann on Fire, Francis Mallmann
Don't toss Parmesan rinds; grate them. The flavor is extra-concentrated.
Fabio's American Home Kitchen
, Fabio Wiviani