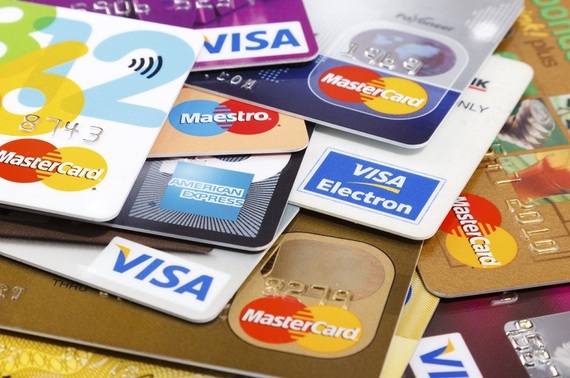 If you tend to carry a balance on your credit card throughout the year, it's likely that you'll do so after the holidays. Before you swipe your card left and right for friends and family this holiday season, give yourself the gift of low interest.
The interest rate charged on your credit card is going to be an important factor if you're thinking of opening a new credit card before the holidays. Opening a new credit card with an APR that is even just a few percentage points lower than you're currently paying could potentially save you hundreds of dollars if you are carrying a large balance. However, you need to be aware that many credit cards will offer a very enticing promotional APR for an introductory period and then raise the interest rate to a higher, ongoing APR.
Credit cards that have a long introductory APR of 0% can be great tools if you need to finance a big holiday purchase or want to perform a balance transfer to pay off another card balance. But for consumers who want a good credit card they can utilize as a financing option for years to come, it's more important to have a low, on-going interest rate than utilizing 0% APR for a short, introductory period of time.
Introductory 0% APR
Citi Simplicity® Card: This credit card offers 21 months with 0% APR on both new purchases and balance transfers. With almost two years of interest free payments, the Citi Simplicity card can be a great tool if you need to finance a big purchase or want to transfer a balance from a high interest credit card. After the intro period is up, the on-going interest rate will jump to between 12.99%-22.99%* (V), based on your credit worthiness.
Citi® Diamond Preferred® Card: Just like the Citi Simplicity® Card, this card offers 21 months with 0% APR on purchases and balance transfers, has no annual fee, and charges the same fee for balance transfers. However, cardholders will have access to the Citi Easy Deals program which allows them to earn points on purchases and redeem them for merchandise and gift cards. The Citi Diamond Preferred Card is a little more difficult to get approved for than the Citi Simplicity Card, but with an ongoing APR of 11.99%-21.99%*, applicants may be able to get a lower ongoing interest rate on this card.
Chase Slate®: This credit card from Chase offers 15 months with 0% Introductory APR on purchases and balance transfers. Although there are a few credit cards that also offer 0% interest for a promotional period of 15 months, Chase Slate is the only balance transfer credit card that also comes with an introductory $0 balance transfer fee and no annual fee. As long as you complete the balance transfer within 60 days of account opening, you can enjoy a fee-free balance transfer and take 15 months to pay down your balance totally interest free. The ongoing interest rate on the Chase Slate is 12.99%, 17.99%, or 22.99% Variable*, depending on your credit worthiness.
Low, Ongoing Interest Rate
Barclaycard® Ring MasterCard®: With a super low on-going APR of only 8% variable, this card is a great option for someone looking for a consistently low on-going interest rate. If you want a credit card for emergencies or just a reliable source of financing to hold for years to come, then the Barclaycard Ring MasterCard is a great option. The downside is that there is no intro APR, but you'll be hard pressed to find a better on-going interest rate.
BankAmericard® Credit Card: This credit card from Bank of America offers 0% APR for 18 billing cycles on qualifying balance transfers, but it has no introductory interest rate on purchases. However, with an ongoing APR of 10.99%-20.99%* Variable, it's one of the more competitive low interest credit cards on the market. There is no annual fee with this credit card, but there is the typical 3% balance transfer fee (or $10 minimum).
Your Local Bank or Credit Union: Sometimes your best bet for finding a credit card with a low interest rate is to simply walk into your local bank or credit union. Since these financial institutions don't always have the best online presence, they may have offers that you can't find on the internet. While it's certainly not as convenient as clicking through an online application, these credit outlets may be worth looking into if you're really searching for a low interest credit card.
* Editorial Note: This content is not provided or commissioned by the credit card issuer. Any opinions, analyses, reviews or recommendations expressed in this article are those of the author's alone, and have not been reviewed, approved or otherwise endorsed by the credit card issuer. This site may be compensated through the credit card issuer Affiliate Program.
*The content in this article is accurate at the publishing date, and may be subject to changes per the card issuer.