 I wasn't even going to blog about The Best Man Holiday. I was going to go in and watch the glorious reunion of Nia Long, Taye Diggs and company and just enjoy it. But after what USAToday tweeted about the film's success at the box office, I realized I had to. Here's the tweet in case you missed it:
Race-themed. When I think of race as a theme in film, I think of it as the way theme is defined. Here's how Merriam-Webster defines it.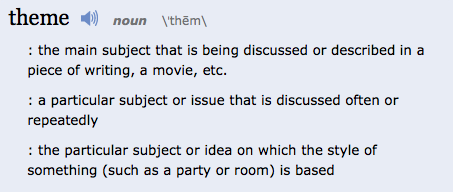 "The main subject that is being discussed in a piece of writing, a movie, etc." Themes are what a film is about. If a film is race-themed, then it is about race. So imagine my surprise when I saw USAToday describe The Best Man Holiday as race-themed. Forget "race-themed": I struggle to see how the film is about race at all.
Like its predecessor, Holiday focuses on the intertwining lives of a group of men and women: authors, football players, mothers, fathers. It's about the bond of friendship and the tests of its strength. Financial worry. Parenthood. Marriage. Grief. Forgiveness. But what exactly does race have to do with grief aside from the fact that, in this instance, the people struggling with grief are black?
What USAToday's tweet reveals is that white audiences are unable to see black people as beings separate from their blackness. A movie featuring a black cast surely can't be about universal themes that any audience can relate to, this line of thinking goes: the subject matter must be about mysterious black things that only black viewers can comprehend; it must be black inside-jokes; black references; black experiences. Black movies are for black people -- not for everyone. Black people are defined by their blackness and so are their films, and USAToday's tweet tells us that explicitly.
Every day we are bombarded with movies and television shows in which white faces, white families, white marriages are plugged as the "default" experience... and no one would say that these films are about race. No one would say, "Oh, that's an all-white cast. It must be about what it means to be white in America." No one. Black audiences go see these films, despite their almost entirely white casts, because if black audiences only went to see films in which the cast looked like them, they'd see maybe five movies a year in mainstream theaters. Tops. Why not the same for white folks? Why was I the only white person in the theater for Best Man Holiday today? What is it about a black cast that is off-putting to white audiences? Do we really need to see ourselves reflected endlessly back at us to enjoy a film? Why did white audiences flock to see Django and 12 Years but not Holiday? Why can you relate more to a film about chattel slavery than you can about nine affluent people and their families? These are questions that need answers.
This is not to say that films with black casts are never race-themed. Of course they are. If a film is about race, then it's about race. But Best Man Holiday is not. A film's themes do not become about race simply because its cast is not white. Not only does this notion bind black actors to their blackness, it Others non-white experiences, casting white films as default, and everything else as "everything else." Films with white casts are then provided with the benefit of universality: free to be any genre, take on any subject matter or theme. A film with a black cast, no matter its story, is "race-themed," tied to the race of its actors simply by virtue of their blackness.
If we describe Best Man Holiday as "race-themed" we must ask ourselves the following questions.
Is pregnancy race-themed?
Because these are the things that Holiday is truly about. Universal lessons of brotherhood and faith, the tests of love and the frailty of the human heart: these things are no more about race than love itself. To say this film is about race tells black actors -- and black audiences -- that no matter their experiences, their heartbreaks, their vows, their tribulations... at the end of the day, before they are human, they are black. This violent oversimplification of black roles not only dehumanizes black lives, but it perpetuates in white people the idea of their Defaultness and the lie that all experiences are relatable through whiteness.
We've all had our hearts broken. We've all been in love. We've all had a best friend at some point in their lives. How stunted is your imagination, how crippled is your notion of life, if the people on screen with broken hearts, the people in love, the people mending their friendships, have to look like you in order for you to feel a connection with their humanity?
Oh, and by the way... in case you didn't know...
This blog actually is race-themed.
Popular in the Community