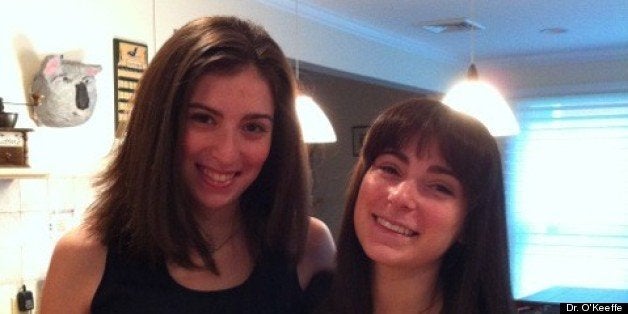 The moment a child is born, the mother is also born. She never existed before. The woman existed, but the mother, never. A mother is something absolutely new. ~Rajneesh
Each year, we go through the same drill. My girls ask me what I want for Mother's Day and I reply with the same answer: "World peace, family harmony and no sibling squabbles for an entire day." And, each year, they just laugh, roll their eyes and say: "Funny, Mama. Like those will happen! So, what do you really want?"
When they were younger, they used to create gifts. I still have them scattered about my home office. My favorite part of the creative process back then was hearing them say, "Mom, be surprised when I give you the _____." I still have past Mother's Day gifts sitting on my office shelves that range from small glasses that say "world's best mom" to hand prints on paintings to a zen rock garden.
They are much better about keeping gift secrets these days, but truly can't fathom that the only gift I actually want is everyone in the same place without any place else to be. When you think about how hectic life gets for most families, can you really blame me?
My parents grew up with regular Sunday dinners at their grandparents' homes and that tradition continued when we were kids. My husband's family had a similar tradition. In fact, most of my friends had some sort of regular extended family gathering when we were all kids.
With families scattered around the country now, most families gather more by Skype than in person. That may allow communication to continue but it eliminates the true connection you get by hanging out with your relatives all afternoon, tossing around a ball, talking and enjoying a meal.
We may not be able to turn back the clock but we can capture those unplugged, carefree days when they plop in our laps -- such as on Mother's Day, and Father's Day... and any holiday that pauses our lives and allows us to capture family time disconnected from life. If we don't use it to its full potential, we all lose out on the amazing benefits that pay forward when life gets hectic.
Being a coffee lover, I have a feeling a coffee-themed gift is in the works, which will most definitely put a smile on my face. But, not as big a smile as the gift that never disappoints -- time with my family without the chaos of life getting in the way. I hope you have some of that with your family this weekend. That's really all any mom needs to refuel her soul -- not only is it free but no one has to worry about how to wrap it!