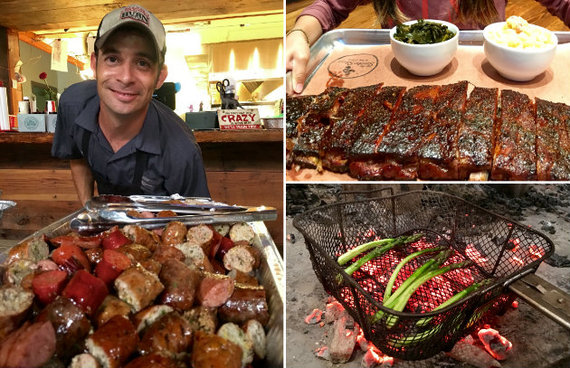 It's tough work, as the cliche goes, but someone has to do it. Part of my job--one of the best parts--is keeping tabs on the best new barbecue and grill restaurants. 2016 has been a banner year for live-fire cooking. The Grillworks wood burner has become the new stove in restaurants from New York to California. Elsewhere, chefs have taken a giant step backwards, installing wood burning hearths that would have been at home in colonial kitchens. Here are six of my favorite new restaurants for 2016.
Boston/Cambridge: The Smoke Shop
It's about time. Boston chef Andy Husbands has had a lifelong obsession with barbecue, and after numerous barbecue contest wins (including the Jack Daniel's for his brisket) and several excellent cookbooks (his Wicked Good Barbecue is a must read), he finally decided to open a barbecue restaurant. Look for pull-apart-tender baby backs, textbook pulled pork and monster beef plate ribs at this Cambridge smoke emporium, and don't miss the crispy grits fries and hot links with homemade pimiento cheese.
Chicago: Leña Brava
No one on the planet knows more about Mexican cuisine than Chicago chef Rick Bayless, and his latest restaurant (the name literally means "Angry Fire") specializes in modern Baja-inspired wood fire cooking. From the wood-burning oven come black cod al pastor and chicken a la leña, while the wood-fired grill turns out smoky octopus carnitas and a monster 32-ounce tomahawk steak. Smoky mezcal-based cocktails (try the Last Piña) and jewel-box-like ceviches round out a menu equally remarkable for its breadth and bold flavors.
Chicago: Roister
"The restaurant is the kitchen. The kitchen is the restaurant." With this motto, Chicago über chef Grant Achatz opened this equally über hip restaurant in Chicago's Meatpacking District, with a wood-burning hearth as its focal point. The menu is eclectic enough to include smoked oysters, hearth-baked lasagna, pork butt with a dark and stormy glaze, and grade A-5 Japanese Wagyu beef with sea urchin. If this sounds too avant garde, there's always a wood-grilled, 30-day aged beef porterhouse. The noise level rivals that of an F-16 engine at takeoff. By the way, if you haven't seen it already, watch Grant Achatz's amazing life story on Netflix, Chef's Table.
Los Angeles: Charcoal
When Michelin-starred fine dining chef Josiah Citrin (owner of Mélisse in Santa Monica) decided to open his second restaurant, he built the concept around charcoal. It fires a pair of Big Green Eggs, a Spanish Josper oven, and an open grill where virtually all the cooking at Charcoal is done. Sure, you could order the 35-day aged Sonoma lamb shoulder with coriander and honey or the 21-day aged Liberty duck (you should), but the dish that most stands out is lowly cabbage--the whole head roasted caveman-style in the embers and served with sumac-scented yogurt.
Miami: Kyu
This lively restaurant in Miami's Wynwood Art District is my favorite eating place in Miami. Chef Michael Lewis deftly combines Asian flavors with American smoke and fire, seasoning his smoked Wagyu brisket with sashimi pepper and serving it Vietnamese style, with lettuce leaves for wrapping, Asian barbecue sauces for dipping, and--a first for this writer--chopsticks to eat it. The Asian barbecue theme continues with grilled asparagus with miso and bacon and whole maitake mushrooms grilled with ginger and soy. The dining room is industrial modern; the duck burnt ends are out of this world.
Miami: Quinto la Huella
There are many places to sit at this sleek new South American chophouse (run by the owners of the famous La Huella in José Ignacio, Uruguay) at the equally slick new East Hotel in Brickell Village--at sprawling communal tables inside or on the airy spacious terrace. But you'll find me at the U-shaped asado bar in front of the massive parrilla, oak-burning open grill. The grass-fed picanha and other steaks are imported from Uruguay; the grilled fresh local snapper comes with salsa criolla (South American creole sauce), and the crusty mollejas (grilled sweetbreads) are out of this world. Wash them down with one of South America's best-kept wine secrets: a Tannat from Uruguay.
SIGN UP for Steven Raichlen's UP IN SMOKE newsletter to learn more about barbecue!
Steven Raichlen is the author of the Barbecue! Bible cookbook series and the host of Project Smoke on public television. His web site is BarbecueBible.com.