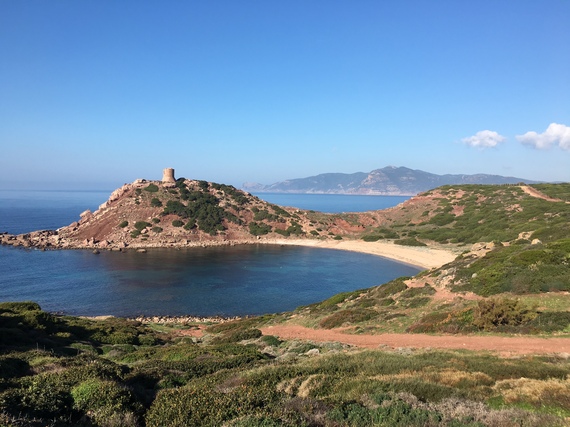 At one o'clock in the afternoon on a December day in Alghero, Sardinia, I was staving off jet lag in the most sensible way: eating tiny shrimp, mussels, razor clams, calamari and fried moray eel in La Boqueria, the city's fish market, while drinking a sparkling Vermentino di Sardegna called Akènta.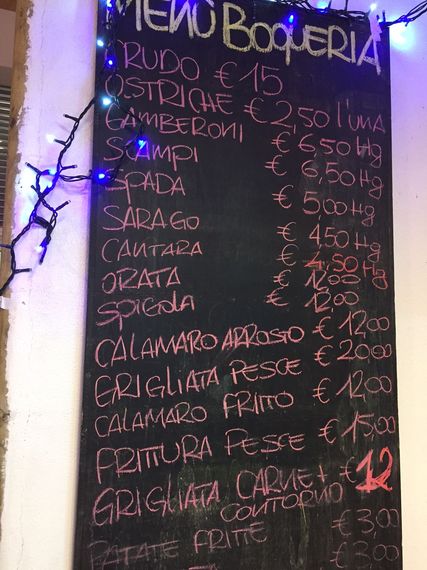 The fishmongers' stalls were already being washed down, having sold all the seafood brought in early that morning. But on the premises is a tiny trattoria with a blackboard menu of the day's offerings, and by the end of this midday meal, I felt as happy and effervescent as the bubbles in the wine.
I was there with representatives of Cantina Santa Maria La Palma, composed of 326 growers who contribute their grapes to Sardinia's most modern winery, just outside of the seaside city of Alghero. The Akènta sparkling wine is made by the Charmat method, aged six months on the yeasts, making for bracing freshness with plenty of fruit and flower flavors that went so perfectly with my extravagant, if humble, seafood lunch.
Over the next two days I was to learn much more--and eat much more--that brought me up to speed on contemporary winemaking in Sardinia, now, as in Sicily, building its reputation on cantinas and co-operatives rather than individual wineries. It is believed the Phoenicians brought wine grapes to the island and that the Spanish might have introduced the Vermentino grape, now planted all over the island. (In France the varietal is called rolle.)
Cantina Santa Maria La Palma prides itself on its rustic roots and its "humble winemakers, [who] rather than a silver spoon, had strong arms, straight backs, passion and commitment." Today the company produces an array of red and white wines that are remarkable for the vibrancy and depth they have, even when released so soon after they are made from the latest vintage.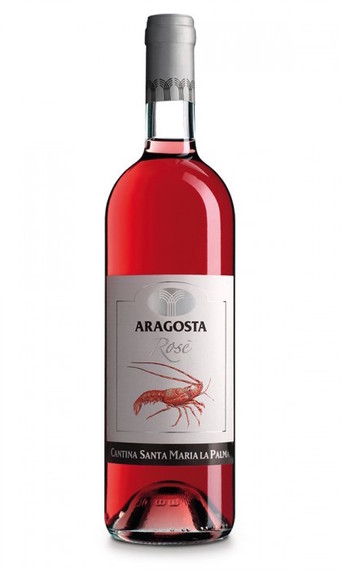 Founded in 1959, at a time when Sardinian wines had no reputation and little availability outside the island, Cantina Santa Maria La Palma realized that by central control of co-operative growers, the wines could be made better and with more consistency, fresher, less prone to oxidation, and at price points that have made them appealing in a global market flooded with bland varietals.
Sardinia, south of France and west of Italy, has a very hot, very dry land, so irrigation of the vineyards is allowed; you taste the flintiness of the soil and the brininess of the surrounding Tyrrhenian Sea. One of Santa Maria's wines, Akènta Sub, is actually lowered into the sea for a while to age (below).
Under the Aragosta ("lobster") label Santa Maria produces a bright DOC Vermentino di Sardegna ($11.99) intended to be drunk as soon after bottling as possible, so I was actually enjoying a 2015 in the middle of December, with a delightful 12 percent alcohol. It is in fact Italy's most popular bottled DOC white wine, selling 1.5 million bottles out of Santa Maria's total 4-million-bottle annual production of all wines. There is also a good rosé ($10.99) under the Aragosta line that I enjoyed with cured meats and pecorino cheeses.
Vermentino Blu is made from the same grape, a lovely, creamy wine, very silky, a perfect match with grilled prawns. Papiri is their top-of-the-line Vermentino, made with handpicked grapes from specially selected old vines. The 2014, with 13 percent alcohol, is a formidable white wine that I'd put up against the very best whites in Italy right now.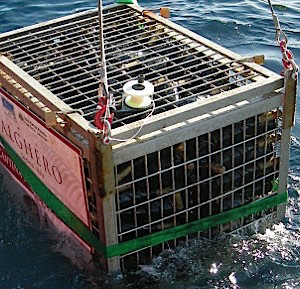 The company's red wines share the notion that youth, not long aging, has its own charms, depending on the grape. In Sardinia, the most significant red grape is Cannonau di Sardegna, DOC produced near the towns of Maristella and Guardia Grande, where the sandy soil is calcium-rich, with ferrous clay, making for a very earthy wine, but also one with several layers of fruit, acid, and mineral flavors. Santa Maria's Riserva 2012 is a big red, though with only 13.5 percent alcohol, neither overbearing nor harsh. Instead, it is velvety on the palate and an ideal wine to go with the Sardinian roast suckling pig called porceddu.
Cagnulari 2014 is made from a native grape, which some believe was exported to Spain to be part of the blend of Rioja, while Le Bombarde 2014 ($13.99), made from Monica di Sardinia grapes, has the most pronounced fruit flavors, particularly of cherries. The label depicts old cannons, symbolizing the many times Sardinia had to defend itself from invaders.