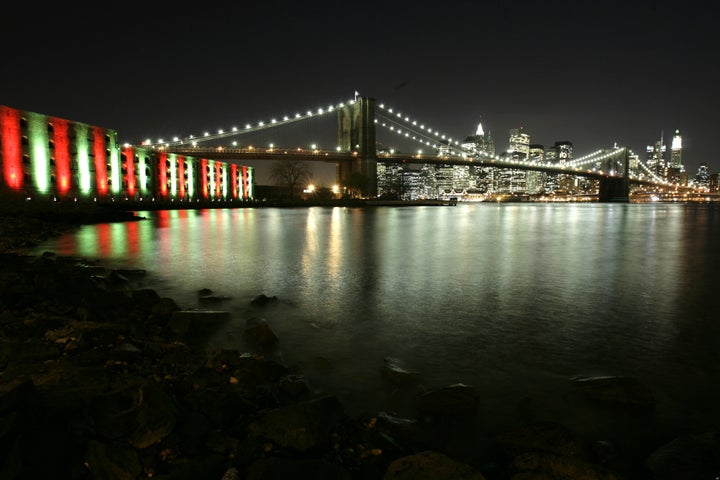 It's that time again. Everyone culls a list of his or her favorite new eateries. Usually, such things could also be taken as a record of what was hot. I try to think about the places that instantly felt familiar; those I'd like to return to again and again, and that I suspect (and hope) will stick around for years to come. If you're looking for the razzle-dazzlers, peruse someone else's compilation. If it's good food, good times and earnestness you're after, read on.
ABC Kitchen: If the idea of dining at a Jean-George Vongerichten establishment on a regular basis strikes you as absurd or decadent, try the chicken liver toast, the roasted carrot and avocado salad and a pizza, and see if you don't come to the same conclusion; the local-minded kitchen hits happily close to home. There's even a proper juice bar on the premises where they're squeezing yuzu juice and doctoring elixirs up with blue-algae. Despite the bazaar-ish-ness of the in-store decor, the candlelight and satisfying fare makes it a feel-good affair.
Northern Spy Food Company: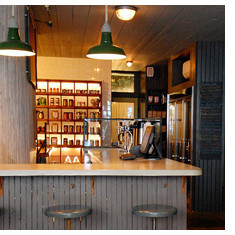 Because it opened towards the end of November last year, it couldn't legitimately qualify for best-of status in 2009. And yet, this East Village full-service operation (breakfast, lunch, dinner, delivery), has earned its slot here by coming into its own as a neighborhood restaurant in the truest sense -- it services the people who live and toil in that area. Team No-Cal, Christophe Hille, Nathan Foot and Chris Ronis, brought that famous Bay Area devotion to local, seasonal product to New York City without turning that ethos into a schtick. Huge portions, gentle prices and a freekeh risotto rife with mascarpone; who could ask for anything more? Liddabit caramels, maybe. But, they have those too.
Torrisi Italian Specialties: It opened ten days before 2010 began, and has been glorified ad nauseum, true. Still, forget about Rich Torrisi's and Mario Carbone's eternally-praised, well-priced, mad-genius-style dinners and the long lines they draw, and you have the heart of this enterprise, a fantastically innovative take on an old-school Italian American deli. At lunch, it's the best sandwich shop in town (if you haven't heard about the stupendous chicken parm, you have no business referring to yourself as plugged-in), and it's where Nolita's worker-bees drop in for (or take out) a quick, easy bite. The antipasti, which isn't given enough lip service, is worthy of its own meal (NB: stock up on roasted cauliflower, homemade mozzarella and eggplant relish).
Seersucker: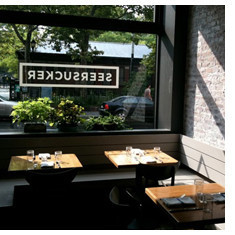 "Cleaned-up Southern classics" reads the comfortable, easy-going eatery's twitter bio. Sounds about right. For those who live nearby in Carroll Gardens, it would be easy to visit multiple times a week for Chef Rob Newton's fried green tomatoes or deviled eggs alone. But then there are the daily specials like fried chicken or meatloaf to consider. And then there are the biscuits (stop by when the doors open and grab one slathered with honey butter). What accounts for all this deliciousness? Skill, sure. But, there's also some pretty spectacular Mangalista Pig lard in the kitchen. How can it be bad?
Vandaag: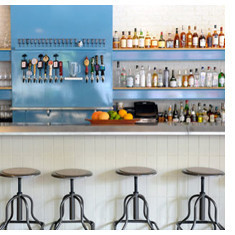 A welcome anomaly, this high-concept newbie reads anything but contrived, cold or overwrought. The approach to Northern European cuisine is truly original and thoughtful, and the modern space is somehow simultaneously cool and inviting. One slurp of the broth that surrounds the little neck clams -- it's infused with aquavit, vanilla and allepo pepper -- and you will want to bring the bowl to your lips and toss the rest back. There's a slamming bread basket (whatever's going on with the pumpernickel -- it's working) to boot, plus a mess of unusual (in a good way) pickled goods and a strong cocktail program (heavy on the "akvavits"). It's not all perfect, but there's a sense that it will only improve with age and that you'll want to revisit as it does.
The John Dory (version the second): The Carte de Musica will change your life. That is all. Okay, maybe that is not all. The crudo of hiramasa with ginger is equally awesome (bright, floral, sweet, sharp and even a little crunchy). April Bloomfield has relocated her fish-forward kitchen operation to the ACE hotel, hooray! This time around, the JD feels like a contemporary oyster pub, which is just as it should be -- boisterous and casually swank. That carte thing, by the way, is a most delicate sandwich of thinly shaved bottarga, softened butter and a sneaky hint of chili on crispy crackers as thin as a sheet of music (ergo the name).
I decided to ask a few trusted food enthusiasts (and insiders) which of the year's newcomers ranked among their own frequent go-tos:
Christine Muhlke, the new Executive Editor of Bon Appetit lives in Manhattan, but counts M. Wells as a virtual 'round-the-corner venue: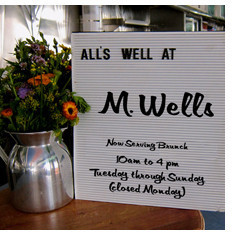 "
"M. Wells gets my vote for canteen of the year. The Long Island City newcomer has the soul of a great restaurant in the body of a crummy old diner, thanks to husband-and-wife owners Hugue Dufour (ex-Pied du Cochon) and Sarah Obraitis (Heritage Foods). I love to take friends, writers and unsuspecting colleagues here for lunch (I've made it there in 12 minutes desk to door!) and watch their faces as they scan the menu. General Tso's sweetbreads sandwich? Crab fried rice? Hot dog with bacon chili? A burger topped with mushrooms foraged in Central Park? We've eaten it all, topped off with either maple-syrup pie or, my new favorite, the Graceland cupcake: chocolate/banana cake with peanut-butter frosting. God bless the place that lets you add foie gras to any dish."
Becca Parrish, founder of Becca PR, a New York City Public Relations firm that specializes in hospitality, especially restaurants, does NOT represent Kin Shop, so when she recommends it, you know it's a winner:
"Kin Shop, worthy and good to go. My fave dishes were the pan-fried crab noodles and the insanely hot duck laab salad. So hot you feel you're tripping. It's like legal, duck LSD."
James Druckman (a.k.a. Dad) is the original restaurant junkie. He tries everything, before any of the rest of us. Maialino, which received heaps of kudos when it started serving dinner last fall, added breakfast (December 2009) and lunch (January 2010) soon after. It's the latter additions that my father adores: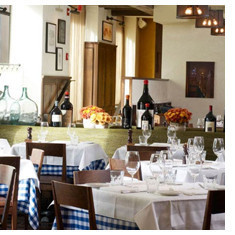 "
"When I walk into Maialino in the morning, sit at the same table, am immediately given a hot cup of coffee and look out the window onto Gramercy Park, I could be anywhere (time to meet, time to think, time to read the paper). The breakfast is great -- instead of pasta with cacio e pepe, in the morning, they make it with soft scrambled eggs. If I return for lunch, it's the same table, the same view and the same good food. After, I can walk to my office. All in all, the perfect canteen."
REAL LIFE. REAL NEWS. REAL VOICES.
Help us tell more of the stories that matter from voices that too often remain unheard.