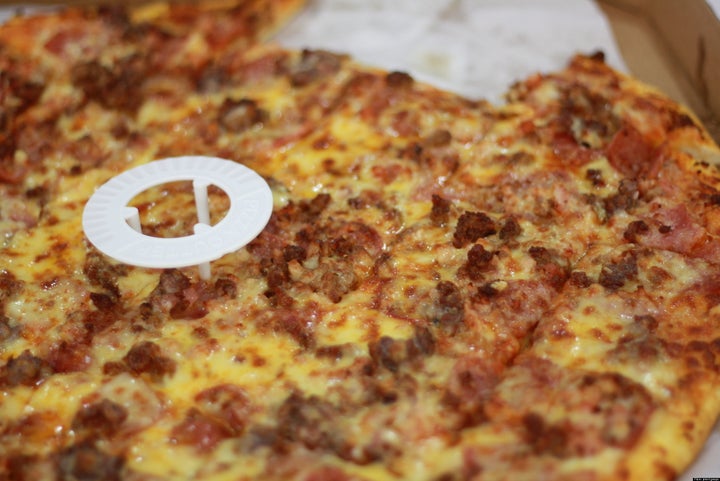 I can vividly remember the very best pizza that I ever ate. It was in the late 70s, and I was in Berkeley producing a movie called W.C. Fields and Me. The star Rod Steiger and I went to dine at Alice Water's Chez Panisse, and a young chef there named Ed La Dou asked us to sample a Neapolitan 'pie' which had made. A crispy crust around the edges and thin in the center, made with imported OO flour, a spicy tomato sauce made from San Marzano Italian tomatoes, fresh slices of buffalo mozzarella imported from Rome, a sprinkling of fresh basil and a drizzle of extra-virgin olive oil. Red, white and green, the colors of the Italian flag ... he said it was a Pizza Margherita, named for Queen Margherita of Savoy who visited Naples in 1889, where a chef there invented this dish in her honor. It tasted incredible. The next time I saw Ed was when he came to Ma Maison in 1981 to teach a pizza-making class. Wolfgang Puck hired him to be the first pizza chef at his just-opening Spago on Sunset. La Dou created a multitude of interesting toppings for their pizzas. (Remember the lamb sausage one with garlic, feta cheese, Kalamata olives?)
Then he went to the new California Pizza Kitchen, creating an innovative pizza with barbeque chicken which became and remains a standard. Following that, he went to his own place, Caioti Pizza Café in Laurel Canyon. The last I heard he is now serving up pies in Studio City.
Over the intervening years I have eaten exciting pizzas at Joe's on Bleeker Street in Manhattan and Di Faro in Brooklyn, two blocks from where I grew up in Flatbush. Both are reputed to be among the best in Gotham. I have heard of but never sampled the legendary white clam pizza at Pizza Bianca in Phoenix, written about as the best in America. I don't consider the Chicago dish a real pizza, rather it is a casserole. In L.A. I have enjoyed pies at Pizza Mozza, Nancy Silverton's hot place, with a thicker crust made partially with cornmeal. I like the pies at Cathy Moriarity's Mulberry Street in Beverly Hills and even those at the ever-rude Gjelina,in Venice, especially the wild mushroom. So, having somewhat established my pizza credentials, let me tell you about my favorite pizza place.
The buzz at the food sites on the Internet had been building for months ... after a decade, Vito's Pizza was moving from its downtown Silverlake home to a more accessible location in West Hollywood. The other evening, after a book-signing, my wonderful reviewing team of Penny McTaggart and David Rapoport and I realized that we needed a casual but stimulating bite-to-eat before heading home. I had noted the new address for the renowned pizza place and we headed to 846 N. La Cienega, (310) 652-6859, a strip mall on the east side of the avenue between Santa Monica Boulevard and Melrose, close to Willoughby, and quickly found a parking place among the 25 spots. The small shop is tucked into the far corner, and was hectic with customers and take-out when we found a table and introduced ourselves to Vito Di Donato, the jovial and dedicated owner. He mentioned that he was originally from New Jersey, I told him my mother was born in Newark and my grandfather owned a lumber yard in Morristown and we were immediately compadres. (The fact that I was a food critic made absolutely no impression on him.)
Perusing the menu, Penny noted that the pies come in one size, a big 18" version, and she whispered to me, "Have you ever seen a pizza for $32.50?" I immediately decided to order it, the Cheri O' Chi Chi, fresh arugula, thinly-sliced prosciutto, gorgonzola, and toasted pine nuts on top of a white pie (no tomato sauce.). David was starving and ordered a slice of the cheese pie ($2.50) sitting on the counter. Spouting forth my errant belief that pizza-by-the-slice is an abomination (I have since recanted), I nevertheless agreed to share a slice of vegetarian pizza ($3.50) with Penny. It was wildly delicious, but I was reserving judgment until the big one arrived. Vito sent out an order of their Bread Sticks ($6.50), saying that Mario had just baked them using twisted pizza dough; drizzled with olive oil and topped with fresh chopped garlic and some herbs, they were addictive, something I knew I would take home for breakfast (along with left-over pizza, of course.) Then David decided we needed a Mediterranean Salad ($8.95/$14.95) and a huge bowl of romaine was brought forth, with olives, tomatoes, feta, cucumbers and onions. It had been dressed with the house dressing and I added more ...getting full even before the pie arrived. The couple at the next table sent over a taste of their Baked Ziti ($9.95), the pasta tossed with house red sauce and three cheeses before being baked. I was not overwhelmed, but perhaps it was my impatience. Finally, the big moment arrived...the large pie was placed on a wire rack on our tiny table and we each grabbed for a scorching-hot slice. "Thin crust, nice chew, crispy with a hint of salt, toppings are freshly made and delicious," I was ranting half to myself as I reached for a second slice. "Could we please order a Half-Vegetarian, Half Clam Pizza," I asked? The guys grinned and began its preparation as I shrugged to my friends and said, "We'll need something to take home, won't we?"

Photo of Vito back in New Jersey
I went up to the counter and took a picture of Vito, in return for which I asked if I could order "one meatball"? For research, of course. He placed the big juicy orb on a small plate and back at the table David and I split it. Good, slightly sweet, all beef, a hint of garlic and oregano, I knew that on my next visit I would order a bowl of Pasta Marina with Meatballs ($11.95). (My next visit was in three days, at 11 pm after an Academy screening, and I did.) It was now 9 pm and the place was hopping. When our half-and-half pie arrived, I took one slice of the veggie side, noted the fresh flavors of broccoli, fresh tomatoes and marinated spinach atop ricotta and other cheeses, then concentrated on my slice with garlic, clams, oregano and crushed red pepper on the white side. Leathery bottom mottled brown-and-charcoal from the stone on the oven floor, all gritty with cornmeal. Needed just a drizzle of olive oil and a sprinkling of hot pepper flakes, and then was perfect.

Vito and cousin with my half-and-half pie
Incidentally, on the next visit I had the Garibaldi ($22.50), named for the great Italian liberator of Mexico, and it liberated my hunger, a basic Margherita (tomato and mozzarella, but no basil), then they added a meatball, fresh tomatoes, and jalapenos. They get the proportions of toppings just right. One weekend later I finished my 'research' by trying Arturo's Wild Mushroom Pizza ($28.50) and then the Terra Ferma ($28.50) which has the works: sausage, pepperoni, olives, peppers, onions, and mushrooms (I even asked for anchovies on top!) There are four Calzones on the menu, but frankly they are just too doughy for me, so I never order one, but if I did here, it would be the Mio Fratello ($14.95) with meatballs. Four sandwiches, Eggplant Parmesan ($8.95), Chicken Parmesan ($8.95), you can see that no one will leave here hungry. A limited but drinkable wine list, several beers. And I have been receiving calls that I should try the Tiramisu for dessert along with the Cannolis.

The tempting display of pizzas at the counter
Oh, my, Grazie, Vito, Grazie! Yes, this is the best New York-style pizza I have found in Los Angeles, and actually it rivals some of the legendary places in Manhattan. Pardon me but I must fold this slice and gobble it up before the fillings fall out.

Vito with his new ovens from St. Louis, for which he waited three months. A stone from Italy goes on the bottom.
Open seven days a week, from 11 am until about midnight. Delivery in evenings starting at 4 pm, with a minimum order of $15. With his expansion next door, he will be able to cater large parties.
To subscribe to Jay Weston's Restaurant Newsletter, email him at jayweston@sbcglobal.net

Popular in the Community