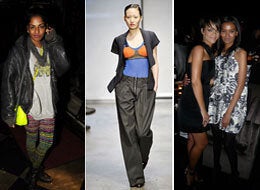 Gucci & Madonna Raising Malawai/UNICEF Benefit
After last night we feel almost famous. Gucci and Madonna pulled out all the stops at last night's benefit for Raising Malawai and UNICEF. The evening started with a dinner and live auction, MCed by Chris Rock, which included touring with Madonna and a 1940s bottle of Chateau Lafite which went for over $200,000. We got there for dessert (our yellow cab in a sea of black limos) and witnessed a fierce bidding war between Alicia Keys and TomKat. Alicia was the highest bidder.
The stars: Madonna, obviously, TomKat, Selma, Ashton & Demi, Gwyneth, Drew, Heidi Klum, Alicia Keys, Rhianna, Timbaland, J Lo, and about a million more.
The fashionistas: Corine Roitfeld, Julia Restoin-Roitfeld, Liya Kebede, Anouk Lepere...
The highlights: Standing 10 feet away while Rhianna, Alicia Keys, and Timbaland performed; the longest step and repeat ever; Rachel Zoe telling us we were cute; checking out the seating arrangements (were were tempted to steal Tom Cruise's place card); seeing Madonna rocking out to Rhianna; the hilarious umbrella choreography for "Umbrella"; being chastised for blocking Donald Trump's view.
"Musculature" was the name and theme of the boundary-pushing, unabashedly feminist and academic designer Victoria Bartlett's newest collection for VPL. Though influenced by the artists Hans Bellmer and Louis Bourgeois, this season was far more wearable than almost anything else Bartlett's ever sent down the runway. The wares displayed at Bumble & Bumble today included her trademark bandage and athletic-themed compositions as well as many surprisingly marketable separates. Analogs to the female body were worked into each piece (hence the collection's name) from the art-deco T-neck skirt-shirt to the drooping Bourgeois jackets and the almost cute, blousey bag shorts. Bronze, gun-metal, and orange were the tones, and the brown lobule and a simple coffee shift dress was as memorable as the outre purses and neckwear apparently fashioned from human hair. With all the welcome simplicity this time around, it was a true shame that Brian Crumley's presumably brilliant jewelry was lost by a shipping company. Top looks: A white camisole with a navy pant skirt, a bra-structured tank top, and a red sweater paired with camel "skinnies" proved that the provocative Bartlett is moving wonderfully closer to approachability.--Gabriel Bell
The Open House Gallery in SoHo was aflutter with the downtown fashion crew Wednesday evening, as the too trendy-for-the-Tents gang (read: Feist, Maggie Gyllenhaal, Kim Gordon, Ryan Adams, and Elijah Wood) sipped super-potent drinks and eagerly awaited to see the latest collection by stylist- turned-designer Liz McClean. It didn't take long for everyone to realize that this was not a standard Fashion Week production. The forward-thinking McClean strayed from the typical runway show or presentation, and instead opted for a photo exhibit. The designer displayed about twenty 3'x4' foot portraits by photographer Mary Rozzi--the subjects were all women who have played a special role in McClean's life and, of course, they were all clad in the young designer's decadent, gem-colored dresses.--Natalia Rachlin
The bottleneck getting into 3.1 Phillip Lim was, for the most part, worth the effort. Celebrities from the notable (Kim Gordon, Margherita Missoni, everyone on the payroll at Condé Nast) to the ubiquitous (Leigh Lezark, Ally Hilfiger) piled into the big tent at Bryant Park to watch favorite son Lim's delicate play of French, Asian, and American styles. The horrid secret of Fashion Week is that many of the runway clothes are prototypes and unfit for true use. Not the case here. From every angle the craft of each piece was readily apparent. The colorful men's looks were well-made, but far more slouchy and, frankly, staid compared to past attempts. The women's looks, however, were quietly exquisite. From the first looks, a suede duster jacket and blue ribbon skirt, to the late mohair blazer were sweet and romantic without being saccharine. In particular, a bronze quilted coat with intricate detailing and a lush sating fan gown, almost a sari, seemed to belong more in the rare air of a Paris show than the gritty streetwear of New York Fashion Week. A subtle blend of Swedish and Impressionist-era Parisian looks, Lim's latest collection puts him squarely on the same path as Oscar de la Renta and other heavies--if only for his lady customers. Top looks: A slate turtleneck pullover with iridescent detailing was beguiling, a black dress with a swirling pattern and translucent silk balloon sleeves caught our eye as well as Lim's double-breasted velvet peacoat, a standout in a week of similar naval wares.--Gabriel Bell
Photos by Callie Klenanoff
While the turn-of-the-century courtesan-cum-spy Mata Hari may have been the cited inspiration for Alice Temperley's Wednesday evening show at the Bryant Park, the whole event seemed more akin to a colorful, sexy club outing, and the attendance of A-listers such as Christy Turlington, Joy Bryant, Julia Stiles, and Jefferson Hack with fiancé Anouck Lepere certainly added to the fanfare. Models were topped with sleek bouncy hair (yet another reference to Studio 54) and outfitted in any number of satin, figure-hugging, ruffle-accented party dresses. There was little in the way of consistency, but that might have been a good thing as Temperley ventured further afield in her exploration and perfection of youthful, modern-girl glamour. Black with gold-rope embellished coats caught our eye as did candy-striped floor length gowns and op-art printed minis that, when paired with tilted combination caps and thigh-high gartered boots, appeared more like le cirque costumes than It-girl evening frocks. Despite the spectacle of shades and styles, the strongest dresses where those that stuck to the original early 1900s theme, referencing the Mata Hari herself. Top looks: a multitiered black ruffled dress with gorgeous jewel embellishment at the bust and neckline and a Deco-inspired lace gown adorned with flecks of metal.--Naomi Nevitt
Don't forget to read more of our Fashion Week coverage here.