The force is strong with these Chicago bars and restaurants that are pumping out creative concoctions to celebrate the release of the new Star Wars movie: The Force Awakens. These chefs and mixologists are going beyond the basic (Darth Vader shaped cookies) to create truly interesting creations inspired by everything from obscure plot references to movie visuals incorporated into their presentation. So get your (Princess Leia) buns out to try these spots because as we all know, you're their only hope.
Created by B&B's mixologist Jake Jagodzinski says, "It's a variation of an early 1900's classic cocktail called the Winter Classic. Any Star Wars fan will know about Han Solo's infamous Kessel Run claim. The Kessel run was a route smugglers took when hauling spice, which in Star Wars is a drug. I incorporated several spices in the drink to play off that reference, and changing 'run' to 'rum' was a no brainer."
Piled high with grass-fed beef, chorizo, caramelized onions, jalapenos, Jack cheese, and roasted red pepper mayo, the Siths in Star Wars only wish they could eat DMK's Sith Burger.


3. Barrelhouse Flat takes a stance on 'who shot first' and turns Bantha Milk into an adult beverage.
Self-professed "Star Wars nerd" Mark Brinker, bar manager for BF, created two cocktails that pay homage to the intergalactic saga.
A boozy rendition of breakfast drink enjoyed on Tatooine by Luke Skywalker, his uncle Owen and aunt Beru, featured in Star Wars Episode 4: "A New Hope" (Beefeater Gin, blue curacao, cocchi Americano, pineapple juice and cream).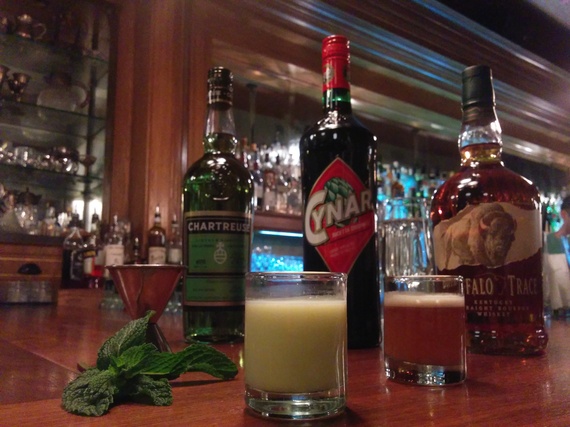 The Cantina Brawl shot is comprised of the Han Shot First and Greedo Shot Second.
This drink is composed of two separate shots, which are created to be taken one after the other. By themselves the shots are unbalanced but the idea is that taken one after the other, they work together. An homage to the controversial editing made by George Lucas in Star Wars Episode 4: "A New Hope."
(Han Shot First: Buffalo Trace Bourbon, Cynar, lemon juice, salt, egg white)
(Greedo Shot Second: Green Chartreuse, egg yolk)
4. Have a drink at Mos Eisley Cantina
For one night, The Whistler is being turned into Mos Eisley Cantina, the galactic drinking hole, complete with Star Wars themed music, drinks and decorations.
To celebrate the release of the new movie, Table, Donkey and Stick is hosting a six course
Star Wars
themed dinner on Wednesday, December 16th. The menu will feature courses inspired by each of the six
Star Wars
films from chefs across the city. Including:
Scott Manley of Table, Donkey and Stick
Nathan Sears of The Radler
Lawrence Letrero of Sable
Chris Davies of Homestead
Caleb Trahan of Bread & Wine
Dishes include: thai fighting XO wings, tauntaun soup dumplings, Jar Jar bisque, smoked vadervan pork and Obi-Wan pierogi.