Food shows are fascinating, especially those that feature new products. You taste and meet the people who make the food and while the stories and connections are interesting the final test is the bite or sample.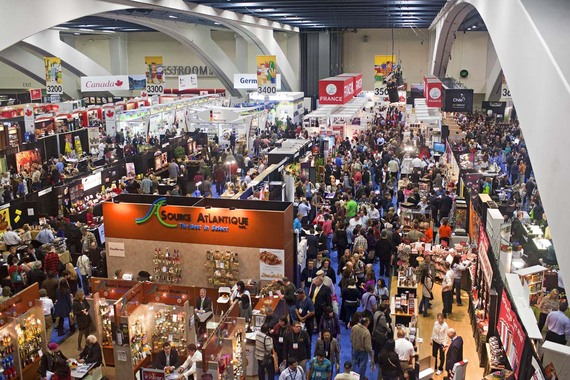 Every year there are new (mostly bad) salsas. Yet another woman launches her Grandmother's Tomato Sauce line. (Did your grandmother really stand by the stove with Evaporated Cane Juice, Pear Concentrate, Evaporated Beet Juice or any of the other currently popular euphemisms for masses of sugar?)
Sugar quickly became a huge peeve for me. The line "NO ADDED SUGAR" was used constantly with products so sickly sweet I spit them in the garbage. The worst offenders were the Paleo products with fruit concentrate that ruined the taste with sweetness.
Yet days later there are things that stand out.
1. Col Pabst Malt Amber-Lager Worcestershire.
By itself in a tasting cup I was skeptical, however a sample proved me wrong. Warm a little in butter and release the fragrance. It is heady with fragrance and flavor and by far beats the original by miles. I suggested unbreakable gallon containers for chefs as I think this can become the new standard for what this sauce should be.
2. Tiny But Mighty Popcorn and Petite Maize.
Those of you who are used to that Styrofoam put out by the big makers will be surprised at how much flavor organic grain can have on its own. Without butter or salt this corn packs a true rich grain flavor. The fact that they are non-GMO can give them a large share of the market.
Made by the Port Morris Distillery, this is a clear moonshine with just enough of the flavor and kick to make my Sour Cherry Moonshine Ice Cream shine. It reminds me of what I bought off the back of a truck down south.
Blue Bottle Coffee makes a New Orleans iced coffee with enough sugar to give you instant diabetes. It disgusts me that it is being sold with the name of my city on it. However Grady's produces the true product: a coffee chicory blend in a convenient bag that gives you the naturally sweet delicious brew.
Lara's Cuisine finally introduces America to Pesto that goes beyond what is 'normal' in America. Pesto means paste and all over Italy different cities use different ingredients to create pasta that is a revelation. Lazy Americans can now buy jars that will give them these great flavors that go beyond basil and garlic.
Without question there were other good foods and as I go through business cards I will make contact bit by bit. However two weeks later these are the ones I remember without looking at cards or other reminders. To me that is the best.
Related