Netflix finally released season 2 of Unbreakable Kimmy Schmidt last week, blessing us all with 13 new episodes filled with punchlines and hilariously witty pop culture references. While the new season has heavier storylines, more character development, and (brilliantly) tackles the social issues of today, the show's best trait is still it's quality one-liners from Kimmy (Ellie Kemper), Lillian (Carol Kane), Jacqueline (Jane Krakowski), Titus (Tituss Burgess), and all it's amazing guest stars.
Even in context, a lot of the show's dialogue sounds like it's out of context, which makes them even funnier when really out of context (this is the moment Inception trained you for). Choosing the best quotes from the season was one of the hardest things I've ever had to do, but eventually, I settled on one from each episode, kind of.
Episode 1: Kimmy Goes Roller Skating!
"Eh, so I kissed a priest in a leather bar. Who am I hurting?" - Lillian
Episode 2: Kimmy Goes on a Playdate!
"Now get these kids underground, and don't let the police see you!" - Jacqueline
Episode 3: Kimmy Goes to a Play!
"Playing? I was a Japanese woman!" - Titus
Episode 4: Kimmy Kidnaps Gretchen!
"Is that the sheep captain?" - Gretchen (Lauren Adams)
Episode 5 - Kimmy Gives Up!
"Oh, thank you Nazis, for saving show business." - Titus
Episode 6: Kimmy Drives a Car!
"I saw Michael Cera grow one, and I was like, 'That's hilarious. I'm in.' " - Bob Thompstein (Evan Jonigkeit)
Episode 7: Kimmy Walks Into a Bar!
"You know, I faked the Saddam capture." - Deirdre (Anna Camp)
Adding Anna Camp to the cast was a genius move.
Episode 8: Kimmy Goes to a Hotel!
"Yes, only after Hermann Goering stole it so he could turn it into a dress." - Russ (David Cross)
Episode 9: Kimmy Meets a Drunk Lady!
"You'll find yourself wandering along a highway or eating at a Boston Market." - Andrea (Tina Fey)
Episode 10: Kimmy Goes to Her Happy Place!
"When we were giving Mayor Lindsay hell and Mayor Lindsay was giving Florence Henderson crabs and the Crabs were a street gang that threw live crabs at people." - Lillian
Episode 11: Kimmy Meets a Celebrity!
"Stop running, Holly. Let Tonku swallow you!" - Dr. Dave (Jeff Goldblum)
Episode 12: Kimmy Sees a Sunset!
"I forgot about the one that turned out to be a Japanese prank show and they shot me into the ocean on a toilet." - Titus
Episode 13: Kimmy Finds Her Mom!
It was during the final episode that I realized my own limitations - I couldn't narrow it down to just one, so here are the Top 4 from the season 2 finale.
"Well, Orson, I would love to water that down, if he'll have me." - Jacqueline
"I just was trying to get one minute of peace on a mechanical bull." - Lori-Anne Schmidt ( Lisa Kudrow)
"Why would he put his ear inside himself?" - Kimmy
"My name is Winfred O'Prah. I work for ISIS" - Winfred O'Prah (Lou Carbonneau)
Any dialogue spoken throughout the season by Bobby Durst, yes Robert Durst, played by Fred Armisen. Armisen's impression was spot-on and hilarious.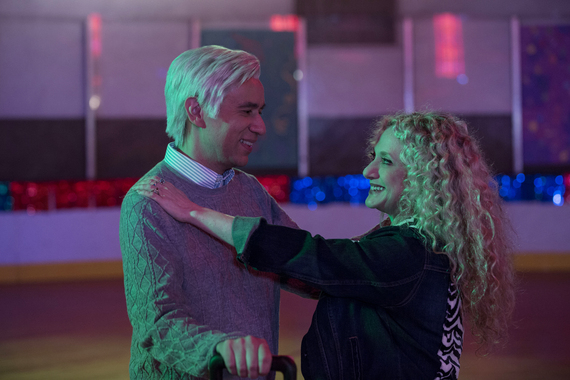 Popular in the Community