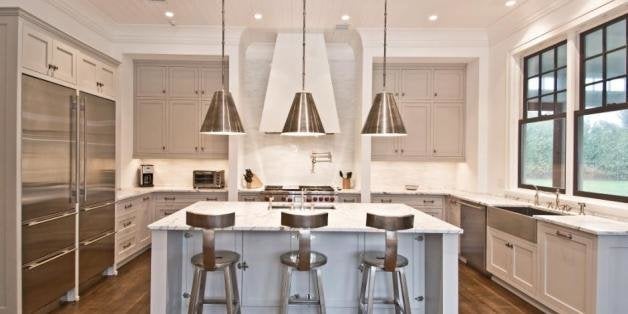 By: Anne Reagan, Editor-In-Chief of Porch.com
Painting your kitchen walls is one of the quickest, and easiest ways to re-do a kitchen. Before you rush out and buy gallons of paint, think carefully about what your dream kitchen looks like. Experts agree that it's not just the color on the walls that determine how a kitchen looks and feels. How the wall paint color relates to the cabinetry, countertops, tiles, molding, appliances, lighting and flooring is very important. Before you buy paint, test sample swatches on your walls and observe how the colors look at various times during the day and evening. Bring all your color influencers into the room so you can see how the paint looks with all the various elements.
Tip #1: Colors can change
Keep in mind that natural sunlight in the kitchen will change in intensity throughout the day. Morning light appears differently than evening light, and shadows can affect the color perception. Color is essentially light - how we perceive a color depends greatly on how light is reflecting off of that color. There is a term used to describe this color-changing experience: illuminant metameric failure. It simply means that two colors may look similar in one light condition but might not match in another. So understanding the light patterns in your kitchen, and knowing what other colors will be going into the kitchen, is incredibly important.
Tip #2: Select your paint color at home
Don't choose a paint color while standing in the paint store aisle. Bring home actual paint samples (many brands offer small sample jars) that you can apply to your walls. Paint these swatches next to cabinetry, flooring, countertops and any fabrics you plan on using in the space. Observe how the paint changes during the day and notice if any of your other kitchen materials are affected by light hitting the paint and reflecting onto the surface. For example, a strong red wall color may, at certain times of the day, reflect a pink hue onto white cabinetry or flooring.
Tip #3: Warm colors work
There's a reason we see a lot of warm, earthy tones in the kitchen. Kitchens harken back the days of open fires and slow roasted foods. Studies have shown that our appetites increase when we see red or orange colors. Although warm hues may be a popular choice for kitchens, it doesn't mean you have to ignore blues and greens. Pair cool tones with warm neutrals like a warm gray or warm orange. You'll be surprised how mixing the palette can create the kitchen of your dreams.
Tip #4: Paint isn't just for walls
Don't forget that paint can be used on a variety of kitchen elements: cabinets, tables, chairs and other decorative objects. If your favorite paint color won't work on the walls, try using it on a piece of furniture instead. Vintage pieces or new pieces can be painted (or spray painted). Test the underside or backside first to make sure you've selected the right type of paint for your project.
Northern Exposure: Northern light is cool, indirect, and even in appearance, making it the preferred light of artists and painters. Light from northern exposure won't shift as much throughout the day, so expect a more even color tone in the room. The cooler sunrays will enhance cooler colors like blues and greens. Even cool tones of white will look good in northern light. Try a color like Valspar's Lilac Muse (7004-3) or Woodlawn Snow (6003-1A). Or choose something darker like Urban Sunrise (4004-1B) or Mudslide (2006-9A).
Southern Exposure: Southern light is stronger, more direct and tends to shift throughout the day. This might make your paint colors look very different at different times. You might notice that the strong sunlight makes paint colors reflect onto nearby surfaces. Kitchens with a southern exposure can do well with all walls being painted with the same color but keep in mind that during the day, each wall might appear to be a different shade. As the warm light will draw out warmth in the color, choose earthy colors like Almond Oil (EB46-4) or go with a stronger color like Sunglow (3003-2B) or Exotic Sea (5004-10B).
Eastern Exposure: An eastern exposure kitchen will have strong sunlight first thing in the morning and lots of shade in the afternoon. Expect shadowing throughout the day as the sun moves across the sky. You can play up the effect of the sun by having a kitchen with contrasting colors. Think light cabinets and darker walls such as Spanish Tile (1010-5) or Pine Needle (EB23-2).
Western Exposure: Kitchens facing west will have strong sunlight in the afternoon and into the early evening. Dark colors will help absorb excessive light (and heat). Combine strong cabinet colors with a lighter tone like Ivory Brown (6006-1C). Light cabinets might do well with an offset color such as Journey (6010-1).
No Windows: A windowless kitchen will need to rely on artificial light. The best kitchen will have a combination of task lighting, overhead light and ambient light and the types of bulbs you use will greatly influence the type of light. Incandescent and halogen bulbs cast warmer, more yellow, tones. These bulbs will bring out warmer hues and cast a warm glow in the room. Try a color like Oatbran (6006-1B). Fluorescent or cooler bulbs will cast a blue or green hue into the space. Try a neutral blue like Crystal Sea (5004-7B).
Tiny Kitchen: You don't have to steer away from dark colors in a small kitchen. In fact, having a mix of contrasting colors can help the kitchen feel larger. Depending on your cabinet color, a strong paint like Rapture (4001-6B) has enough blue and red, as well as gray, to make it work with a variety of other colors. Adding rows of shelving and utilizing the kitchen's vertical space can help break up the paint while maximizing storage.
Open Floor Plan: Open kitchens, with nearby dining rooms or family rooms, will need to be color-conscious when it comes to walls. Not only will your paint color need to match the kitchen elements, you'll want to make sure that it coordinates with the other rooms as well. When selecting a color, try a gray-infused neutral that will go with a variety of color palettes like Green Tea Leaves (5004-1C) or Shark Loop (4007-3B).
Lots Of Wood Cabinets: If you have a lot of wood cabinetry in your kitchen you'll want to be smart about your color selection. Do you want the cabinetry to disappear? Try a paint color that is a shade or two lighter than the cabinets. Do you want to compliment the wood and show it off? Find a paint color from a different palette that has complimentary tones.
Outdated Countertops: If all you can afford to do is repaint your walls, don't worry. Paint can help downplay or distract from any unattractive features in the kitchen. Colors that dominate, or play up your favorite color, will do well. Consider painting three of the walls the same color as the cabinets (to hide them) and use the fourth wall as a strong accent color.
Stainless Steel Appliances: Stainless steel appliances have a cool, but gray, appearance, making them a good neutral for the kitchen. However, kitchens with too much stainless steel in the kitchen run the risk of looking cold and utilitarian. Offset the cold by introducing a warm color, like Tranquility (CI183) or Green Tea Leaves (5004-1C).
Black Appliances: Black appliances, like stainless steel, can look cold and dark. In some kitchens they may appear like black holes within the space. So balancing these strong elements is key for the kitchen. Depending upon the cabinet colors, a warm brown can create a sophisticated look next to black, like Almond Oil (EB46-4).
If You Rent: The best reason for using a neutral paint color on the wall of a rental is that it will be much easier to paint over once you move out. But neutrals don't have to be boring. If you prefer cool tones, a gray-blue color like Gravity (4005-1B) or Urban Sunrise (4004-1B) will work with nearly any color scheme. Warm neutrals like Lyndhurst Estate Cream (3004-8C) or Desert Fortress (2008-10B) will also work well.
If You Have A Dark Backsplash: Do you want your backsplash to stand out or disappear? If you want it to stand out, then choose a much lighter color, like Oatlands Gold Buff (3004-8A). Some black backsplashes can pair well with similar dark colors like Posh Red (1011-4) or Everglade Deck (5011-3).
If You Have A Light Backsplash: Light backsplashes, like white or cream, can work well with a variety of paint colors. A bright chalk white, like Ultra White (7006-24) will really show off the veining in white marble, for example. Sophisticated grays like Polished Silver (4008-1B) can also be a great compliment to light colors. Be careful about really dark colors next to white - the color may reflect onto the surface and change the color to one you don't want.
If Your Kitchen Also Functions As An Entryway: If your kitchen serves as the main entry to the home, you'll want to be less conscious of the color and more aware of the type of paint you use. Be sure you select a paint designed for heavy traffic and can easily wipe down, like a semi-gloss finish. Texture is important too. A smooth wall will show marks faster than a more textured one.
For more color and painting advice, or to find a painting professional in your area visit, Porch.com.
Popular in the Community