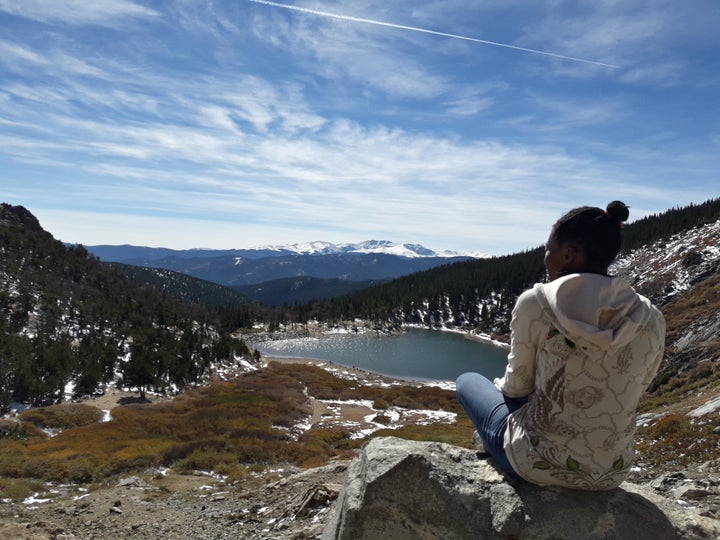 Glaciers cover about 10 percent of the Earth's land surface, and it wasn't until recently that I found out it includes Colorado. I was born and raised in the Centennial State, but growing up with a single mom who often worked double-time to support three children didn't leave much room for weekend visits to the Rockies. My experiences in the mountains were limited to school fieldtrips or outings with college friends, which weren't many.
After graduating from Colorado State University, I moved to the East Coast for 10 years. Since moving back to Colorado a year ago, I've become a tourist in my own state and now I want to see everything I didn't as a child.
The drive to St. Mary's Glacier is barely an hour from Denver, just outside Idaho Springs and the hike is 1.5 mile roundtrip to the mountain's base. My friends and I arrived at 10 a.m. last Saturday, slipped $5 into a collection box for parking and began to hike uphill. We hadn't walked more than 20 paces before my lungs began to feel heavy. I have mild asthma which has gotten better as I've aged. I gave up inhalers after my older brother, who almost died from an asthma attack at 7 years old, said he put the drug down years ago and hasn't needed it since. He declared himself cured.
I haven't touched an inhaler since 2012. Unlike my brother, I haven't been cured but my flare-ups don't happen as quick and aren't as vicious anymore. It is not fun to be tied to an inhaler just to survive physical activity. I tell myself I can push forward as long as I take it slow.
I bent over and breathed in slowly as my concerned friend asked if I was going to be ok. I said yes and continued walking, imagining the view once I make it to the top. The trail was beautiful with melting snow along a bed of rocks as we winded the path through conifer trees.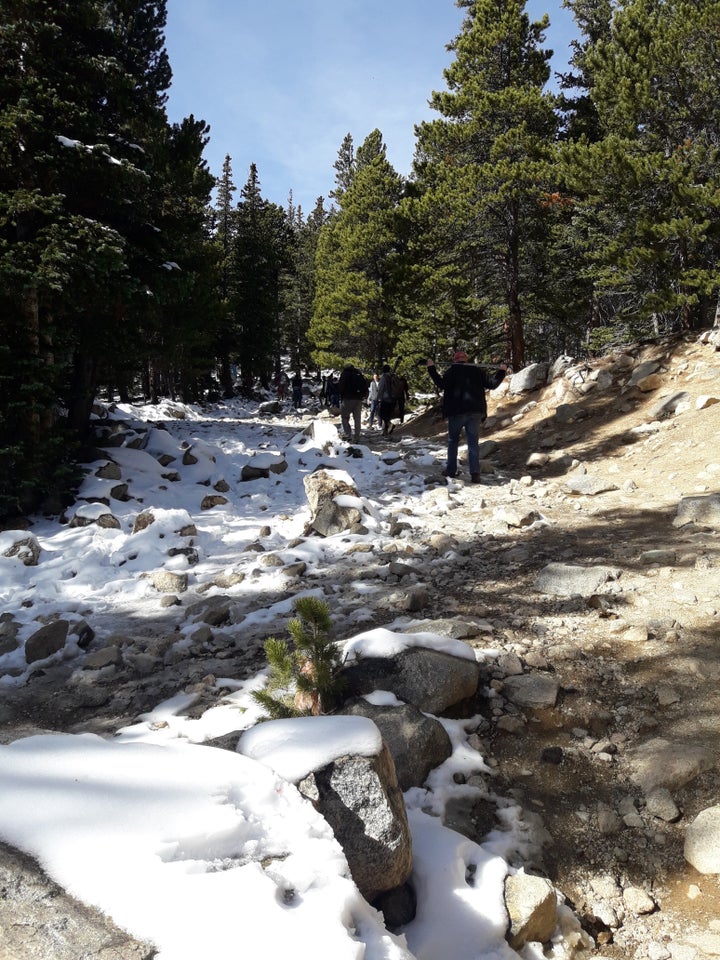 When we made it to the lake, my lungs had adjusted to the hike and I could breathe. I looked up and was taken aback; no matter how many times I hike the Rockies, I am always stunned by their beauty. The calm water was clear to the rocky bottom. The glacier was limited to one side of the mountain slope. My friend said there was more snow the last time she was there. We stayed at the lakeside only long enough for a few pictures then continued our ascent to the top, more than 11,000 feet above sea level—the tallest peak I've climbed thus far.
This was the hardest part of the hike as we trekked through calf-deep snow. Others climbed on rocks along the glacier, which we later discovered was easier half-way to the top. I don't know why we chose to struggle in the snow. I got hot and stripped down to my sleeveless Ivy Park top and yoga pants underneath my jeans. I thought it was going to be cold but the temperature was in the 50s and felt like low 60s. That's what I love about Colorado. There can be mounds of snow on the ground but it's warm enough to wear shorts and a T-shirt. I never got used to the East Coast cold.
The view at the top of the glacier was even more gorgeous. Snow-capped mountain peaks filled the sky everywhere I looked. Most people stayed at the lake so there was no one else around except my three friends and a military couple we met. The open land and rocks reminded me of battle scenes from Lord of the Rings with the Orcs, or Jon Snow's adventure with the wildlings in Game of Thrones. I wonder why fantasy films aren't shot in the Rockies. It's a stunning setting.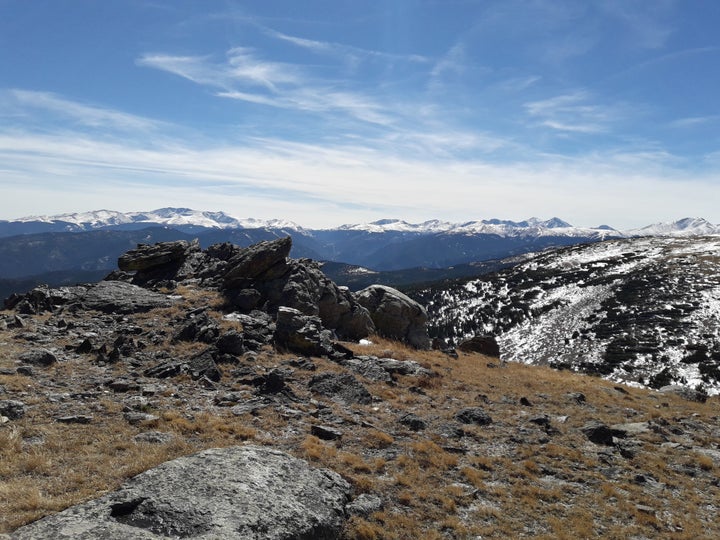 My friend wandered off alone to take in the view. She later told me she cried, "It's so beautiful," she said. I sat down on the grass and closed my eyes. As much as I love living in the city there is nowhere else I feel more at peace than when I'm alone in the Rockies and the only sound is my breathing. The time feels short when we head back down and I don't want to leave. One of my dreams is to own a house in the mountains when I retire, so I can look upon the mountain sky forever.
(In Video: Beau Joe's Pizza photo by Sarah Liberatore)
Monique Antonette Lewis has visited 14 countries and 26 U.S. states. She is the founder of At The Inkwell, a New York City-based organization that supports published authors through book reviews, author interviews and readings. The reading series is hosted across major US cities and London. She is an editor for Mergermarket, a global financial news service. Monique lives in Denver.