"Where should we do our family photos? How about the Ocean Beach or the Golden Gate bridge?" I get these questions weekly. It is officially family portrait season.
When people think of family photos, they generally think they should go to the most picturesque place they can think of. The more grand and beautiful the better, right? Well, in my opinion, no. That is not always the best for family photos. For me, the point of a family photo session is to document the family as authentically as possible. I want document the intimate connections that make each family unique and special. Trying to get a family all looking "perfect" and smiling natural smiles, in front of The Golden Gate Bridge, is kind of like seeing a unicorn. And truthfully, people would rather see your family having fun, than staring into the camera, like a deer in the headlights.
Most of my clients have small children and the majority, have more than one. When I get that question, "Where should we go to do our family photo shoot?" I always say the same thing, "Your house." To me, one of the very best places to take family photos is in your home. I know this seems crazy, but hear me out. I have been doing this for 20 years. It is true.
Here are my top 5 reasons your home is the best place for family photos.
1. Convenience- Getting everyone ready for family photos, is no small feat. It can tend to produce a lot stress, to say the least. Trying to make sure everyone is dressed, coordinated, fed, with hair brushed and buckled up in the car, to drive to a magical backdrop, can frazzle even the most zen parent. Having someone come to your home can take a big chunk of that stress away. You don't have to worry about rushing out of the house, or what traffic and parking will be like. You are already at your destination.
Everyone can take a break, go potty, grab a snack and re group, as needed. This is invaluable for all of us. Just imagine we have trekked to the perfect vantage point to get the Golden Gate Bridge in your family photo and your newly potty trained wee one says, "I have to go potty. I have to go potty right now!" There are no potties...none. Just think about that scenario for a second. Can you picture that? Been there, done that. It's no fun.
At your home, they can potty when needed. They can have a meltdown in the comfort of their own home. They can lay down and chill for a few minutes and cuddle with their blankie. Did I mention the parents can keep sipping their coffee, catch a few plays of the Stanford game or even pop some bubbly? There are no rules at your photo shoot! We have time and this is all about having fun together.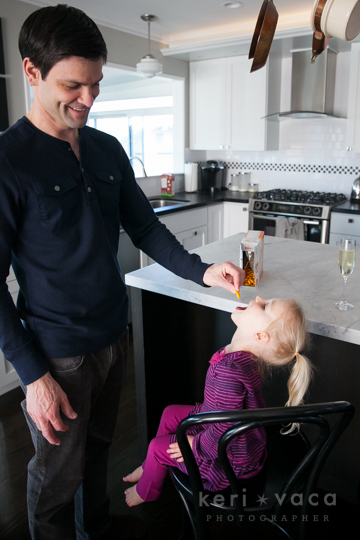 2. Uniqueness- No one else will have the same photos as you. Your front porch, your backyard, your comfy couch. These are the little things that will personalize your photos even more. I know a lot of my clients worry that their house or yard is not up to Martha Stewart standards. I promise you, a good photographer is skilled at finding the beauty in your home. I have never been in a home I couldn't shoot in. The throw on your sofa, that Granny knitted for you when you went off to college, add such a special feel to the photos. They are minor details, but ones that mean so much years down the line. Also, you can have outfit changes, which adds to variety for the session. Mush easier to do at home than in the backseat of your car.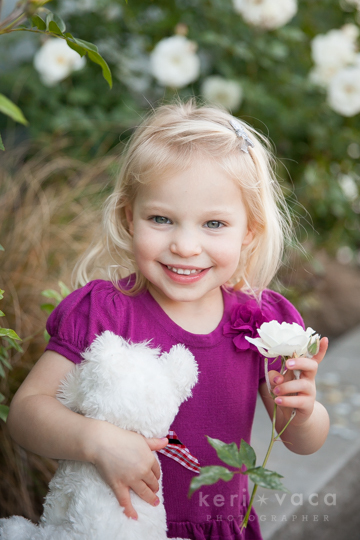 3. Comfort level- There is nowhere you can take your children that they will feel more safe to be themselves, than their own home. I like to structure my photo sessions like playdates. I actually call them playdates. Your kids are way more likely to warm up to me in your home, than in a crowded tourist spot. The kids love showing me around their room. Sharing their favorite toys or stuffies with me. They feel relaxed and their true personalities shine. It is so awesome to see their personalities this early on. You will see this reflected in the photos. I guarantee being at Chrissy Field will not bring the same smiles as jumping on their own bed!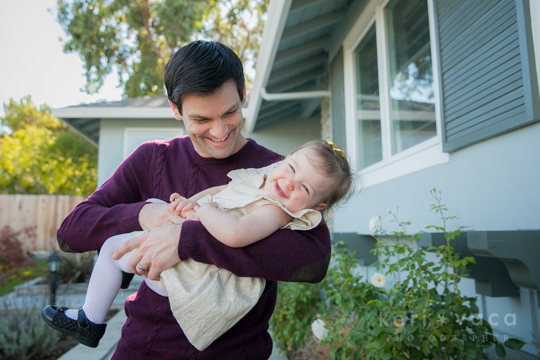 4.Less distractions- You don't really realize how many distractions there are outside. From dogs, to joggers, to firetrucks, the distractions are endless. It is hard to get your kids engaged with you and me, when there is just so much other sensory stimulation. Often the kids will have very blank stares on their faces. You know that look. Not so great for showing off your child's bubbly personality.
5.You get to be yourselves, 100%- You can get down on the ground, snuggle in bed, gather at the breakfast bar, sit on the front porch. You don't have to feel like you are on parade. No one is watching you. You can turn on, "Let it Go" and sing at the top of your voice, while your 3 year old twirls around the living room. You can all pile in the bed and have a cuddle while reading Tikki Tikki Tembo or the The Hungry Caterpillar. These moments are what your children will want to look back on when they are older. They want to see your home, how it was. They will love seeing their family unit, being a family. I know it is hard to think this way when they are just out of diapers, but as the mother of an 18 & 19 year old, I promise you this is the truth. It really is all about the little things.
I am not saying that you should never go somewhere fun and beautiful for your family photos. I think when children get older, you can plan that picturesque photo shoot. While they are young, I feel there is no better place for your family photo shoot than the comfort of your very own home. It is a place you can be spontaneous, more so than anywhere else. Many families this year let their kids show me their Halloween costumes. They always make for happy kids and fun photos.
Trust me, you will have fun, way less stress, and photos you would not have imagined you even wanted, and you will be so happy to have.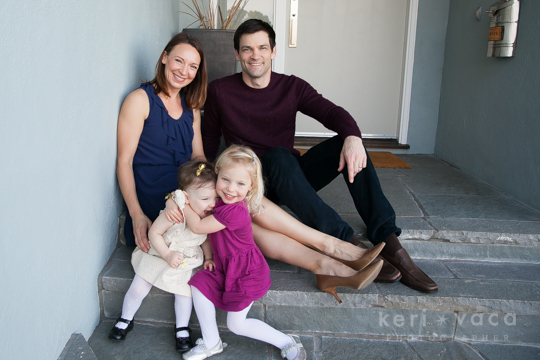 Related
Popular in the Community