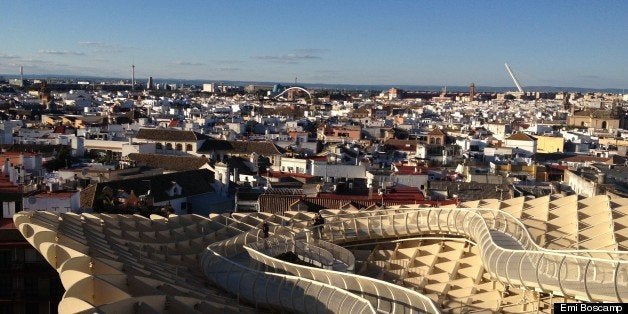 My decision to study abroad in Seville, Spain for five months this past semester was one of the best I've ever made. The College of Arts & Sciences at Cornell University, where I attend school, only gave me the option to live in a home-stay if I wanted to study in Seville. So, one of my best friends Adrienne and I reluctantly decided to go for it, and we lucked out. We lived with the most generous and animated couple, Charo and José María. They don't speak a word of English, so they helped us with our Spanish tremendously, and by the end of the semester, we really understood each other's personalities -- particularly peculiarities. (*SEE PHOTOS BELOW*)
Charo and José María had a tremendous love of food (like I do), so through cooking, they taught me the most important aspects of Andalusian cuisine. The essentials are fresh seafood (mostly hake, cod, shrimp, and anchovies), chorizo (spicy pork sausage), salmorejo (a thick tomato cream), gazpacho (a cold tomato-based soup), olives, lentils, garbanzo beans, and jamón ibérico (Iberian ham). Everything else is up to the individual chef's imagination. Charo's cooking was very traditional, so when I had the opportunity to eat out of the house, I would try as many restaurants as possible to experience other takes on the Andalusian cuisine. The following restaurants are those that blew me away in terms of creativity, taste, service, ambiance, and value.
Dos de Mayo, Plaza de la Gavidia, 6 (00 34 954 908 647)
Dos de Mayo is my favorite place to go for very traditional Spanish food. The thing that sets this place apart from the rest is its lively atmosphere: the bartenders are loud and constantly cracking jokes, and if you make an impression, they'll remember your name every time you come back. There are no waiters here; the bartenders call your name when your food is ready to be picked up. My favorite time to go is for lunch, because there is nothing better than sitting in their large outdoor space, enjoying your tapas with a Cruzcampo (the local beer) in the sun. The tapas are generally €2-3 each, and despite its definitively casual ambiance, the food is simple but so flavorful in its careful preparation. My favorite dish is the classic espinancas con garbanzos (spinach with garbanzo beans), which is one of the most common, traditional Sevillan foods, with its origins in North Africa (its predominant spice is cumin). The place gets crowded quickly, though; you might have to wait for some time at the bar to get a table.
My recommendations: espinacas con garbanzos (spinach with garbanzo beans), berenjenas fritas con miel (fried eggplant with honey), jamón ibérico de Bellota (Iberian ham of Bellota), pan con boquerones (bread with anchovies), and bacalao con salsa de tomate (cod in a tomato sauce).
La Azotea, Calle Jesús de Gran Poder, 31 (00 34 955 11 67 48)
Two brothers, Juan and Jesús, and Juan's wife Jeanine own 3 restaurants all called La Azotea within Seville, but I have only been to the original restaurant. Juan and Jeanine, who own the original, and the wait staff could not be friendlier. The restaurant is small, so if you want to come with a big party, you'd better be there by 8:30. If you're only two or three people, you won't have to wait too long for a table unless you come past 10-10:30. But standing or sitting at the bar later in the night is fine -- that's usually what I did.
Below is my all-star list of the menu items I've tried (and I've tried the majority of them). They also have incredible fresh fish (usually merluza [hake] or a similar light fish) that they put on the menu of the day with different creative takes each time (sometimes with pisto [ratatouille]), and I'd definitely recommend that. The dishes either come in tapas, media ración (half-portion), and ración (full portion), and everything, including the wine, is incredibly low-priced for its quality. A full meal between two won't cost over €30.
My recommendations: ventresca de atún a la soja con tapenade de oliva (tuna belly marinated in soy sauce with an olive tapenade), carrillada ibérica (stewed pig's cheek), morcilla a la plancha con cebolla caramelizada y huevos de codorniz (blood sausage with caramelized onions and quail eggs), coquinas con mini alcachofas (cockles with mini artichokes), and navajas con habas (razor clams with lima beans).
Nikkei Bar, Calle Calatrava, 34 (00 34 620 82 47 17)
My host mother Charo's nephew Ernesto Malasaña has recently opened three restaurants on the same street (Calle Calatrava): Bar Antojo (a casual tapas restaurant), La Niña Bonita (an abecería and wine bar), and a Japanese-Peruvian fusion restaurant, Nikkei Bar.
This was one of the most unique meals I had in Seville. Charo's favorite waitress Noelia brought us all her favorite dishes. Everything was absolutely delicious, but my favorites were the ceviche and the truffled egg. Spicy food is extremely rare here, so the leche de tigre sauce was a welcome surprise. It was acidic, fresh, and had a nice little bite. On the opposite end of the spectrum, the truffled egg was just decadent -- fluffy, foamy, creamy, luxurious. By the end, we all had our fingers in the jar, trying to get one last taste. The thought process behind every dish was very transparent; the dishes, for the most part, looked Japanese and tasted Peruvian.
My recommendations: ceviche mixto con leche de tigre (Seabass and octopus ceviche with a spicy, milky lemon sauce), tataki de atún envuelto en alga nori (tuna tataki wrapped in nori), nigiri: huevos de codorniz con cebolla caramelizada, magret de pato marinado en salsa de soja y naranja, solomillo de buey con mostaza y pepino, y seta chitake marinada en salsa anticucho (nigiri: quail eggs with caramelized onions, duck breast marinated in soy sauce and oranges, ox tenderloin with mustard and cucumber, and shiitake mushrooms marinated in a kebab sauce), and huevo a baja temperatura trufado (slow-cooked egg infused with truffles).
conTenedor, Calle San Luis, 50 (00 34 954 91 63 33)
This restaurant's atmosphere is very cozy thanks in part to its decoration: light colored walls clad with panels and works of art on display that change continuously, along with dark wood furniture. The other contributing factor to the restaurant's pleasant ambiance is Ignacio, its owner, who is constantly smiling, very helpful, and chock-full of hilarious stories. In the kitchen, Ignacio is creative and open to new ideas, combining fresh, seasonal ingredients to make traditional dishes but with his own twist. The portions are hefty, so I recommend going with a big group so you can order one of everything. They change up the menu pretty frequently according to what is available and top quality in the market, but hopefully my recommendations are applicable.
My recommendations: arroz con pato y setas (rice with duck and mushrooms), tartar de salmón, naranja, cebolloleta, romero y remolacha (salmon tartare with oranges, onions, Romero, and beets), plato de chuletas de cordero con couscous de almendras (plate of lamb chops with almond couscous), and merluza de pincho con salsa de manzanilla (skewers of hake with a manzanilla sauce).
Eslava, Calle Eslava, 3 (00 34 954 906 568)
The tapas bar at Eslava (not the pricier, higher end restaurant attached to it) is my number one food recommendation in all of Seville. When my brother Nick visited me, we stood outside of this tiny bar, drinking ice-cold cervezas, eating delicious tapas from a tall table, basking in the sun -- needless to say, I had one of the best experiences I had while abroad. The most obvious indication that this place would be good was that it is always full of locals drinking and eating inside and outside, and I would know, because it is conveniently located about fifty steps from where I was living. There is usually a bit of a wait for tables, but it's always worth it.
We ordered from the menu of the day: potaje de lentejas con chorizo (lentil pottage with chorizo), pollo estofado con pimienta negra (stuffed chicken with black peppercorns), and pijotas fritas con ensalada (fried baby hake with salad).
Everything was flawless. The lentils were perfectly cooked and flavored so intensely by the chorizo. The pollo estofado was so deliciously creamy (as usual Nick had to yell at me for eating the sauce off the plate with my fingers), very flavorful as well from the potent peppercorns. My favorite thing, though, were the pijotas fritas. These tiny, white fish were fried perfectly -- light, flakey, and crunchy. Oh, and the bill was €13.
My recommendations: go here now, order from the menu of the day, drink beer, get your tan on, and be happy.