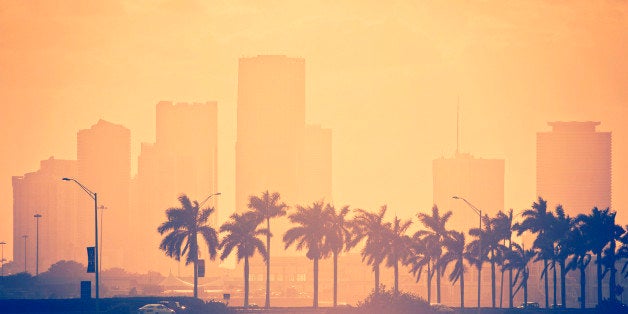 So you're going to Miami for a weekend of fun in the sun. You're planning on checking out the city's art, food, museums, beaches, and hotels. Well, look no further! We've made you this fool-proof two-day guide to Magic City, that'll have you in vacay paradise in no time.
The museum recently underwent a name change from its days as the Miami Museum, and in the same year it also came into possession of over 500 new pieces, including works by John Baldessari and Dan Flavin.
Since opening in its newest location the Perez Art Museum has had a record attendance of 150,000 guests in only 4 months, compared to 60,000 a year at its previous location.
Now that you've gotten all that fancy-shmancy fine art out of your system, it's time to binge eat some of the best hot dogs in the state! The menu is insane, the mac and cheese is to die for, and according to anyone who's ever been there, it's impossible to have a bad experience.
"Sweet Dogs celebrates not only the goodness of a simple, delicious hot dog, but the ingredients and techniques used to create its house-made sauces and toppings. Its signature way of dressing up a hot dog is not common, it's just good!"
Suggestions are the 'Miami Heat' dog, which includes homemade chili, guacamole, jalapeño, and the Oreo milkshake that (for obvious reasons) is unforgettable.
Coral Castle is an awesome outdoor stone-sculpture gallery created by Edward Leedskainin between 1923 to 1951. Edward carved (by hand) over 1,100 tons of rock, and built one of the world's weirdest abodes.
Today guests can tour the castle while stopping at various audio stands that will give you a more in-depth history of what went into hand-crafting such an amazing piece of folk-architecture.
"To this day, no one knows how Ed created the Coral Castle. Built under the cover of night and in secret, at a time when there were no modern construction conveniences, Ed would only say that he knew "the secret of the pyramids." When he died, his secrets died with him, and to this day scientists and thinkers still debate Ed's methods."
Built in 1936, the Tides was the tallest buildings in the state of Florida and has continued to remain a glamours staple of the Art Deco Historic District. The iconic beachfront hotel is minutes form the shore and smack-dab in the midst of Miami's best dining and nightlife.
Yeah, it's true, the rooms are a little pricey, but if you're looking for a luxury experience you'll never forget, the nostalgic vibe and glamorous location are perfect for a romantic old-world Florida experience.
Did we miss your favoirte Miami hidden-gem? Let us know in the comments below!