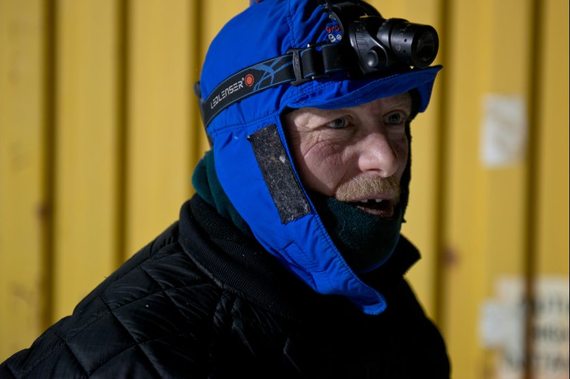 NOME, Alaska -- Like a man saved from drowning, Paul Gebhardt gasped for breath as he hunched over the handlebar of his sled early Thursday in Nome. The 58-year-old musher nearly collapsed, hanging onto his racing sled for balance as Iditarod race marshal Mark Nordman discreetly sidled up, concern showing clearly on his face through its bushy cloak of gray.
"You winded?" Nordman whispered to Gebhardt, who moments earlier had crossed beneath the burled arch finish line for the 19th time in 20 Iditarod starts dating back to 1996.
"Yep," the musher said softly, his voice barely audible over the din of a handful of late-night revelers, family members and fans gathered near the finish line beneath a star-filled sky crossed by wispy green tendrils of aurora.
Gebhardt wearily raised his voice and repeated the word, only this time it was a command, not an answer. His dogs obliged, trotting out of the finishing chute and over to the dog lot, where musher and team finally found respite after what had been a harrowing battle against both man and nature.
The best race of Iditarod 2015 didn't take place in front of huge crowds or a live television audience. Instead, the battle for 12th place played out over 11 hours of dramatic racing featuring the most terrifying windstorm many mushers had ever witnessed, a cat-and-mouse game ending in a slow-motion doggie drag race on snow-covered streets and an otherworldly northern lights show produced by a massive solar storm.
And the only people who saw it happen were the mushers and dogs themselves, a handful of late-night partiers and a few fans drawn by the unusual sound of three successive sirens that hinted something wild was going down on Front Street.
Calling all HuffPost superfans!
Sign up for membership to become a founding member and help shape HuffPost's next chapter