Pasta with amatriciana sauce is one of the symbols of Italian cuisine. It is a classic of Lazio—its regional capital is Rome—and it has very ancient origins. There are numerous versions, but the one we recommend trying is from the book Unforketable.it – La cucina di Niko Romito a casa tua edited by Elisia Menduni (published in Italy by Giunti), and it is interpreted by Chef Niko Romito, whose restaurant Reale a Casadonna boasts three Michelin stars. This is a "lighter" and more digestible version.
First of all, remember to remove the grease from the jowl bacon (guanciale) very carefully. Guanciale is the fat from the pig's cheek, and it is more delicate and scented than normal bacon. It must be prepared with two different consistencies. A part is thicker, to be amalgamated into the sauce, and one is thinner and gets toasted, offering a crisp contrast added just before serving. The sweet-and-sour note of balsamic vinegar is the master's touch: it is used to deglaze the thicker guanciale and make the dish more complex and balanced.
Here are the directions to make this dish.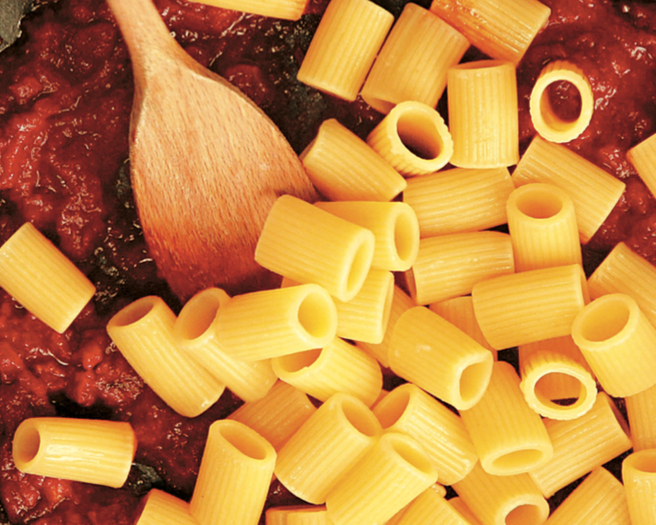 1. Prepare the guanciale for the sauce: eliminate the pork rind and the part with pepper and cut into four slices, two thicker ones and two thinner ones. Dice the guanciale.
2. Cook the diced guanciale from the thicker slices in a nonstick pan without adding any oil. When done, drain off the excess fat with the strainer. 3 Thinly slice the onion, chop and put in a nonstick skillet with a little olive oil.
4. Sauté until the onion is transparent and then add the guanciale. Deglaze with the balsamic vinegar (it will take 1 minute) and add the tomato sauce. Cook for about 5 minutes.
5. Put a large pot of water on to boil. When it comes to a boil, add some salt and the pasta. Cook until done but al dente (about 8 minutes).
6. Meanwhile, cook the thinner diced guanciale in a nonstick pan. Toast without any added fat and then drain off the fat. Repeat the operation to make it even crisper: this part is added to the finished dish.
7. Drain the pasta and add to the skillet with the tomato sauce and guanciale. Toss to coat and serve in bowls.
8. Top with the crisp guanciale and plenty of grated Pecorino (sheep cheese).