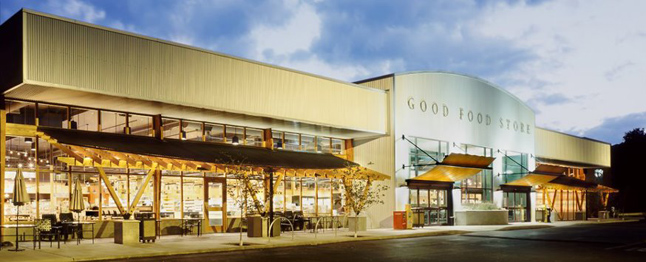 (Credit: Courtesy The Good Food Store)
We love farmers' markets. We live to discover those little specialty shops selling exotic cheeses, temptations in jars, and unpronounceable but intriguing spices. But for most of us, the bulk of grocery shopping still happens in traditional supermarkets, where every aisle has a number and every fruit has a code.
Robotic, predictable, processed, and packaged wastelands? Not necessarily. While others have rated supermarkets for profits, efficiency, customer service, and ethics, we're all about quality and selection. Inspiring ideas for serious cooks, fun atmosphere, community spirit -- these are all things we considered in this list of the best chains in America. These are also all things you might think are hard to find -- impossible, even. But not if you live near one of these...
WEGMANS,
Where: Based in upstate New York, with more than 80 stores in six states.
Big number: More than 70,000 products.
What they do better: A salad bar to put Whole Foods to shame (three different quinoa salads!). Fresh dim sum. Live sushi prep. Separate hot tea and coffee bars.
Warm fuzzies: A packed schedule of cooking classes and summer "camps."
Cultural milestone: The commercial that Alec Baldwin made for them because his mother was such a fan. Yup, this happened.
ROUSE'S
Where: Thirty eight locations in Louisiana and Mississippi.
What they do better: Andouille, tasso, and boudin sausages are handcrafted in-house by their "Bayou Boys"; meat is smoked and seafood boiled every day.
Warm fuzzies: As people got back on their feet after Hurricane Katrina, Rouse's reopened some 19 locations.
Cultural milestone: Rouse's sponsors the World Championship Crawfish Eating Contest.
RALEY'S
Where: Over 100 stores in California and Nevada.
What they do better: Raley's employs the "NuVal" scoring system on every shelf tag to rate foods by their overall nutritional value. They offer free knife sharpening, and throw in free marinades for fresh meat and fish.
Small number: Three: the dollar amount they charge for weekly wine tastings.
Warm fuzzies: In addition to promoting ethical and eco-friendly practices whenever possible, Sacramento-based Raley's runs its own nonprofit program, Food for Families, raising money and collecting grocery donations for hundreds of thousands of needy families.
JUNGLE JIM'S INTERNATIONAL MARKET
Where: Two stores in greater Cincinnati.
What they do better: Jungle Jim's has extensive offerings from all seven continents (Mexican nopales; African fufu flour) alongside typical American ingredients.
Big numbers: 100 types of honey (apple blossom, lavender, buckwheat...),1,500 hot sauces, and over 1,000 kitchen tools and cookware options.
Warm fuzzies: The wacky, whimsical displays are all made in their own shop, from reclaimed materials.
Cultural milestone: Well, folks can get married there. That makes it somebody's milestone!
BI-RITE MARKET
Where: Two stores in San Francisco,
What they do better: "Pasture-raised, grass-fed, and humanely treated animals" are butchered in-house, while seafood passes Fishwise and Monterey Bay guidelines. The sandwich shop offers banh mi and Cubans.
Warm fuzzies: If there were a Nobel Prize for grocery stores, Bi-Rite's attention to employees, producers, green practices, and customer love would make them a shoo-in.
Cultural milestone: You mean you haven't heard about their spin-off Bi-Rite Creamery? It's practically an ice cream mecca.
THE GOOD FOOD STORE
Where: One store, one state: Montana!
What they do better: What started as a little hippie heath food store is now, as a Missoula-native friend puts it, "like Whole Foods but WAY better." Lots of local produce, organics, a seasonal deli menu, a huge list of certified non-GMO and fair trade products, and online guides for best uses of their bulk foods.
Big number: 800+ bulk foods. Hope you're not in a hurry...
Warm fuzzies: Cooking classes? Sure, but they also host serious nutrition lectures.
Cultural milestone: The store originated as a hippie-era collective inspired by R. Crumb's "Mr. Natural" character.
CENTRAL MARKET
Where: Nine Texas locations, based in Austin.
What they do better: Almost everything: Huge produce selection? Check. Grass-fed, organic, free-range, sustainable meats and poultry? Check. In-house bakery? Check. Cooking classes with famed local chefs? Check! Plus a salt bar and a fresh guacamole cart. Don't hate.
Big number: 500 cheeses. Holy Lactaid, Batman.
Warm fuzzies: Not only do they donate to myriad charities, but they also invite local initiatives to submit a "community partnership application" for assistance.
Cultural milestone: The breadth and depth of live music and other cultural events at some stores is more extensive than the average suburban civic center. That's got to have a ripple effect.
ANDRONICO'S COMMUNITY MARKETS
Where: Five locations in the San Francisco Bay area.
What they do better: Name their local meat purveyors (Pittman Farms for chicken, Frank's Basque Family lamb) and follow the Monterey Bay Aquarium sustainable guidelines.
Warm fuzzies: As you might expect from a popular Bay-area company, Andronico's is almost achingly P.C.