It's almost impossible to find a restaurant in Venice patronized exclusively by Venetians. Since 70% of the people crowding the calli are tourists, it makes sense that you're bound to find a few—quite a few, actually— in one restaurant or another. And yet there are places that are the favorites of the locals. Because they haven't changed in decades and remind them of when, as children, they would have Sunday lunch there with the family. And other places that were haunts from the time they were students until they graduated, or where they went on their first date or had their first business meeting.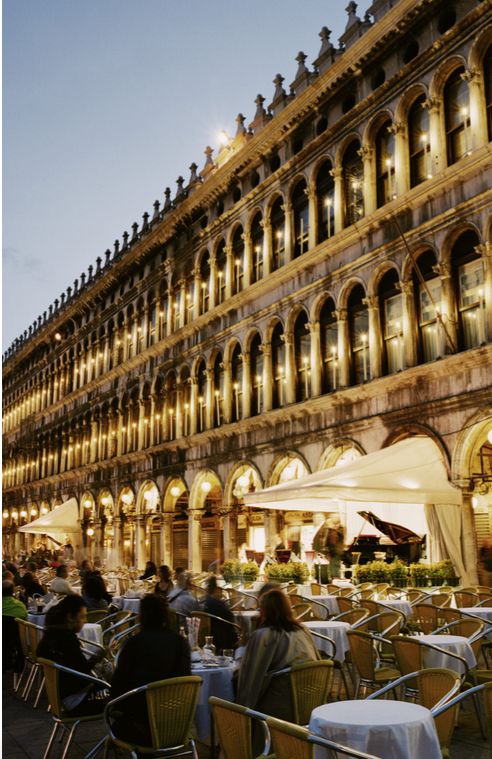 PARADISO PERDUTO
This is a large, lively and noisy osteria not far from the Jewish Ghetto, with long tables that encourage socialization. It was originally a remiera, a gym founded by students where they could learn how to row. And students are the inn's main habitués, along with young no- globals, well-informed tourists and the city's new generation of hippies. In effect, it's a bacaro, a place where you can enjoy finger food at the counter with a cicchetto (a glass of wine). But if you decide to dine here, you can take a seat and just minutes later your table will be set restaurant-style. In the summer there are tables outside right up to the edge of the canal.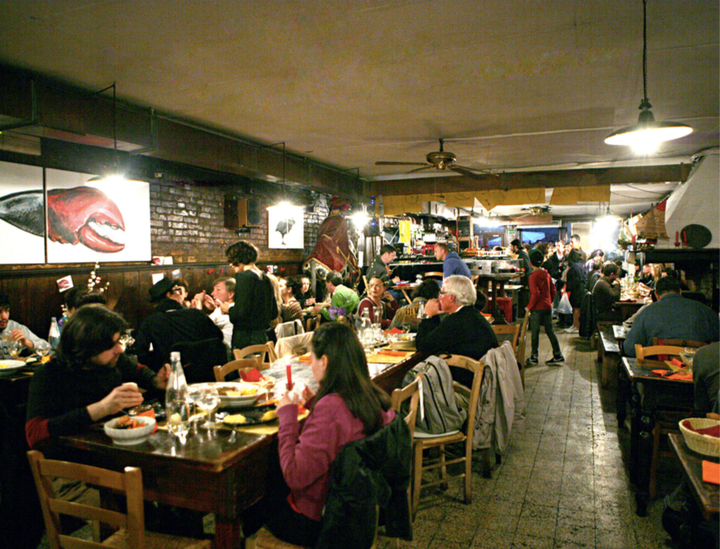 Some people sit with their legs hanging over the water. You can chat with boaters, many of whom stop to order food. Typical Venetian fare, generous portions, reasonable prices: big platters of fried fish and homemade pasta with fish sauces. If you happen to be there on the right night, you'll find people dancing between the tables (sometimes there are concerts—often jazz). Reasonable prices. +39 041 720581, Cannaregio 2540, Fondamenta della Misericordia from 1 p.m. to midnight (Mondays and Thursdays opens at 6 p.m.), closed Tuesday and Wednesday. Avoid Saturday: too crowded. Be sure to reserve.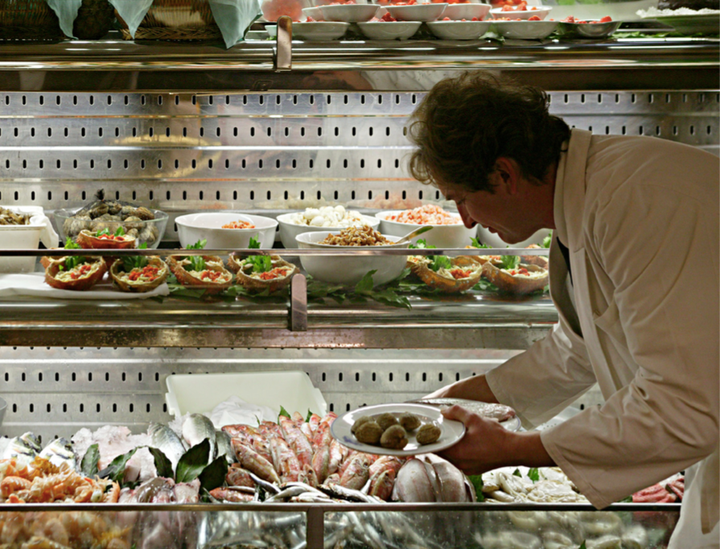 ALLA MADONNA
Near the Rialto Bridge, you'll find a throwback to the Fifties. Large rooms with dapper middle-aged waiters who speak in Venetian dialect (and singsongy English) and welcome patrons with old-fashioned courtesy. Everything—from the pictures on the walls to the food and the atmosphere—evokes the postwar Venice of the boom years. You'll encounter entire Venetian families, children and relatives in tow, but also a few tourists (though not as many as elsewhere). Nothing is luxurious here, but there are snowy white tablecloths plus efficient service and traditional dishes. The menu caters to everyone, as it offers everything from fish to meat, numerous vegetables (strictly seasonal) and soups. The waiter always knows what the best dish of the day is, so ask what he recommends. Average prices. +39 041 5223824, San Polo 594, Calle de la Madonna, closed Wednesday.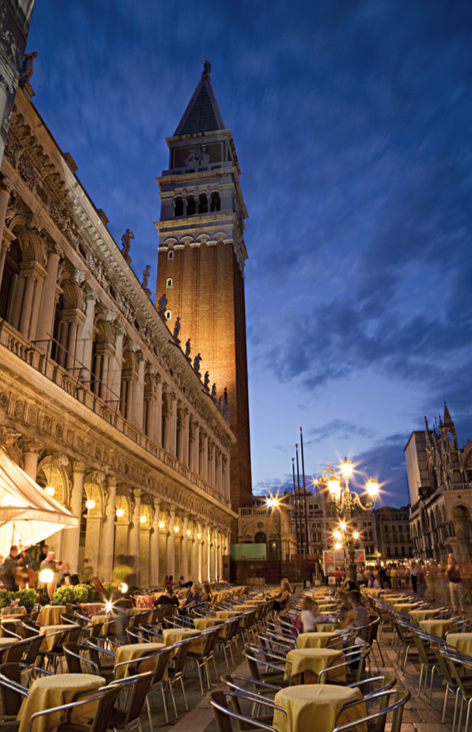 AL COVINO
This top-quality but tiny restaurant—seven small tables and the kitchen all in one room—is strictly for a small group of friends or a romantic dinner for two. Andrea and Dimitri take a simple approach: a choice of three courses from a short but carefully drawn up menu (so you don't have to spend ages navigating through an endless list of dishes) for 38 euros, accompanied by local organic wines. All the ingredients are local. Since the restaurant is so small, often you'll not only enjoy an excellent meal, but also make new friends: it's hard not to talk to people when they're just inches away. Reservations are a must. +39 041 2412705, Castello 3829, Calle del Pestrin, closed Tuesday and Wednesday at lunch.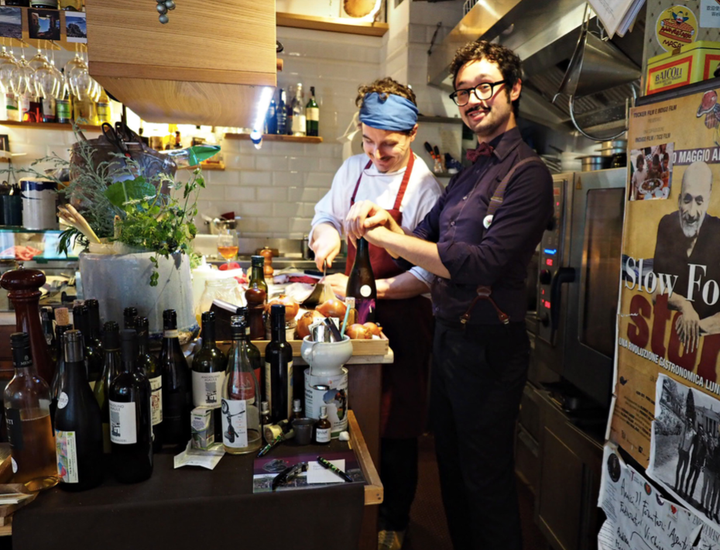 BOCCADORO
The position is already a guarantee of quality: Campiello Widmann, away from the crowds at Rialto and St. Mark's Square. Boccadoro is a well-lit, elegant and roomy restaurant without "faux" Venetian details, and it mainly attracts locals. The host, Luciano, offers super-fresh fish served with vegetables he grows himself on the island of Sant'Erasmo, in the north lagoon (don't bother looking at the menu and just ask what he recommends). Outstanding fresh pasta,
like the black tagliolini with scallops and artichokes; good wine list. This restaurant is a favorite among artists and people involved in the Venice Biennale. Outdoor seating in the summer: ask to eat outside, because you'll feel like you've just been whisked away on vacation. Medium-high prices. +39 041 5211021, Cannaregio 5405a, Campiello Widmann or Dei Biri, closed Monday, www. boccadorovenezia.it.* Michela Scibilia is the author of the guide Venice, Osterie, Vianello Photobooks (in English).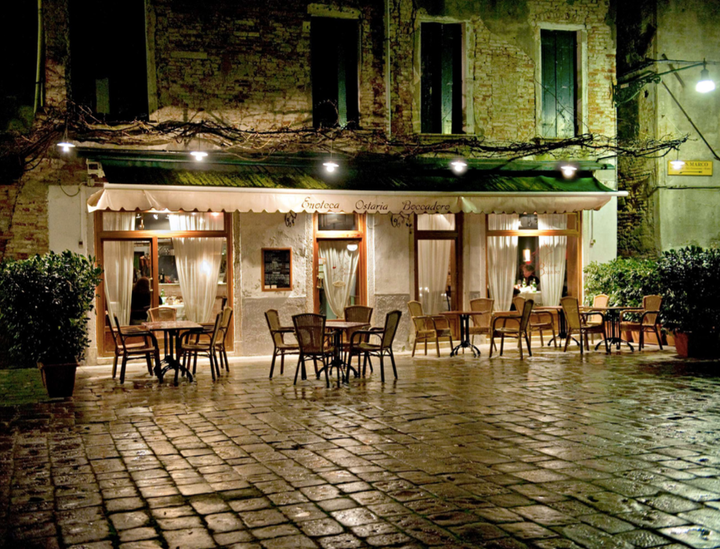 Popular in the Community