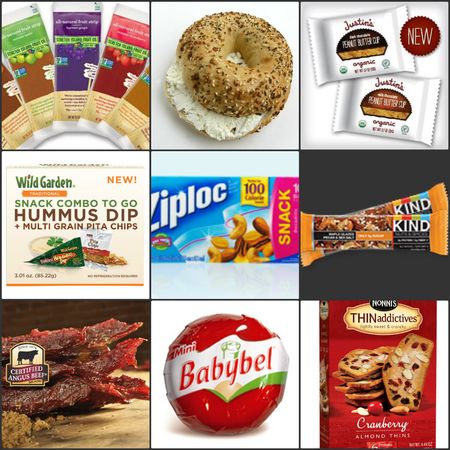 Do you crave Biscoff cookies or Terra Blues potato chips? If you do, you're probably a frequent flier. I travel a fair amount and while some airlines offer decent snacks, more often than not they are sold out or not available by the time they get to my row, so I find it's best to be prepared.
The advent of 100 calorie snacks has greatly increased single serve options, which is a boon for travelers. I generally fill my purse/carry-on with a selection of sweet and savory snacks to enjoy with my complimentary beverage. In addition, collapsable water bottles are great for travel too, since they take up no room when empty and can be refilled after you get through security.
Here are my current top snack picks:

1. Nonni's THINaddictives cookies: These light and crunchy biscotti are available with fruit and nuts and the individual packages are perfect for snacking.

2. Justin's peanut butter cups: My weakness! I adore these peanut butter cups, especially the dark chocolate ones. I like the one pack serving size because if there are two in a pack, I will eat both.

3. Snack sized ziplock bags filled with nuts and dried fruit: I particularly like almonds, walnuts and pistachios with dried cherries and dried fruit like mango, but apple and papaya are good too.

4. Mini Babybel cheese: These little cheese rounds can last without refrigeration for at least two to four hours, which works just fine for me. They're not exactly gourmet, but tasty, very convenient and not messy.
SEE MORE: The Best Bagels in America


5. Gary West beef jerky: Another food I only eat on trips. But when you need some protein and are tired of sweets, this does the trick! Gary West makes beef jerky from certified Angus beef, not mystery meat.

6. Kind bars: My favorite energy bars. The fruit and nut combinations are actually very good and there isn't a lot of junk in them.

7. Bagel and cream cheese: I sometimes buy a bagel and cream cheese at the airport. It's filling and generally reasonably priced.

8. Stretch Island fruit leather: Fresh fruit can be incredibly messy! I wouldn't normally eat this kind of thing, but it's very convenient for travel.

9. Wild Garden hummus and chips: Not sure how I discovered these, but the combo packet of chips and hummus can definitely tide me over when I am missing a meal.
Related