It is undisputed that STEM (science, technology, engineering, and math) skills are essential for success. When thinking about gifts this season consider gifts that will promote STEM learning. There are plenty of options geared towards girls, the electronically-obsessed, the younger set, and some for everyone.
If you are concerned that your daughter will reject STEM toys only play with "girly" toys, think again. There are plenty of options just for her:
Build & Imagine: Many girls love playing with dollhouses. But, some girls also love building their own dollhouses. Build and Imagine is expanding their line-up and offering a Fairytale Theater and Portrait Pet Studio in addition to their Coastal Community sets. Kids learn mathematical and engineering concepts while playing with magnetic tiles, diverse figures, and tons of accessories.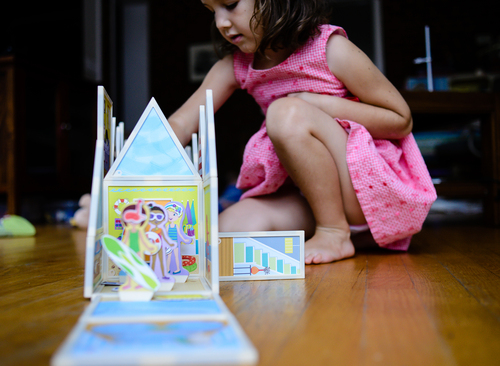 GoldieBlox: Goldieblox was a pioneer in developing STEM toys geared towards girls. New sets are better than ever. Drawing on the interest a lot of girls having in playing with figurines, GoldieBlox has introduced "a girl inventor" Zipline Action Figure that has articulated limbs - and a toolbelt. Because it's GoldieBlox to get the most out of play, girls are invited to build a zipline for their figure to use. GoldieBlox also has a large Builder's Survival Kit with enough piece to build anything from a purple car to a drum kit. Girls can build according to their skill level and interest and use included prompts or their imaginations. And, there are stickers.
Project Mc2: There are four adorable new role models for kids who know that "Smart is the New Cool." Each of these diverse dolls comes with its own science experiment ranging from a lava lamp, to a glow stick; a volcano to a skateboard. These dolls show you don't need to choose between being fashionable and smart. Girls and boys will love the Ultimate Lab Kit filled with everything your child needs for a mini-lab and a book with science experiments that can be performed with simple household items. Extend the experience by watching Project Mc2 on Netflix and watching the cool kids lift fingerprints with churro mix.
Roominate: Roominate takes building to the next level with real working lights and motors that power tiny fans and elevators. Girls can build a Chateau, Ferris Wheel, RV Camper or whatever their heart desires. Now girls can also power their colorful creations through the free rPower app that can make lights blink, motors run, and buzzers buzz. Many sets come with stickers, figures, and pets so that girls can extend play with their creations - at least before they take them apart to start over.
If your child is obsessed with electronics channel their love of tech into developing coding skills while playing with robots: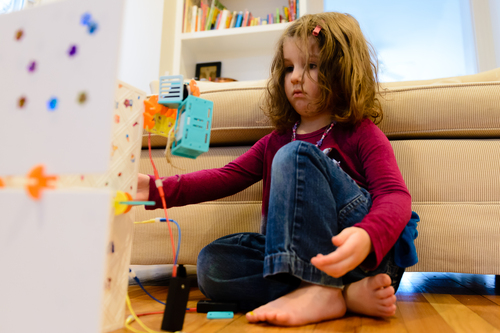 Sphero SPRK: This little root ball is completely transparent meaning that children can see what is going on inside to make their round friend move and light-up. Controlling the Sphero is app-based. Kids can start off with basic commands like controlling speed and color and kids can move up to creating their own programs by dragging blocks. There are also Sephero-specific games, like Sphero Golf and Sphero Exile, to continue play.
Wonder Workshop Dash & Dot: These friendly robots come in a two-pack to help children learn to code. Apps for Apple or Android power up the big Dash and his sidekick Dot. Younger kids can start with prompting the robots to perform simple tasks like turning their lights on and off. Tasks become more complex as kids engage in programing challenges that once met provide children with more complex challenges.
Ozobot: Measuring one inch, Ozobot is a smaller robot and at under $50.00 for a starter set, it is an affordable way to introduce your child to basic coding. Ozobot can be used on an electronic device or a non-electronic surface so that kids can use it however they best like playing. The starter set includes 20 activities for the robot to perform, 4 markers to code using Ozbot's simple color-coding sysem, two clear play surface sheets, two sheets of reusable Ozobot code stickers, and a DIY blank customizable Ozobot skin and DIY skin sticker sheet to customize your Ozobot's look.
ReCon Rover: The SmartLab ReCon 6.0 Programmable Rover looks like a traditional robot and, unlike many other robots, does not require an app to use and program. The ReCon Rover can be used to guard items by sounding an alarm or to carry small items across the room. It can even dance. The ReCon Rover comes with a guidebook with 10 pre-planned missions to get you started and started.
Younger children can start developing STEM skills early on:
Clifford The Big Red Dog Magic Science Kit: Kids are never too early to get kids comfortable dong science experiments and getting comfortable with equipment used in the lab. Check out this kit full of science experiments that are pure magic just for the little ones. s
HABA's My First Balltrack: Marble runs are great for building STEM skills because they encourage, building, engineering, and problem-solving skills. But what if your child is too young to play with marbles? This great set with a large marble and big pieces is the answer.
Seedling Craft Kids: Look for the Geometric Paper Structures kit and the Build Your Own Solar System kit to encourage STEM learning disguised as arts-and-crafts projects.
The Three Little Pigs Problem Solving STEM Kit by Laskeshore Learning: - Young kids can engineer happy fairy tale ending--as they design a house that can't be blown down to save the little pigs in a familiar story.
While any of the STEM toys above could be enjoyed by just about everyone I have a few more suggestions with broader appeal:
Pley: If you are not sure what your child will like and don't want to make an investment, check out Pley which allows the rental of some good STEM toys including Dash, Sphero BB-8, and Legos. It's a good way to allow your child to experiment with different types of toys without making a huge investment or worrying about clutter from toys your child ultimately doesn't like.
Books: There are many children's books about STEM-related topics or that promote STEM learning. Classics are Iggy Peck Architect, Rosie Revere Engineer, The Most Magnificent Thing, Have You Seen My Monster, and Have you Seen My Dragon. Independent readers may enjoy anything from the science-based Frank Einstein series or the graphic novel The Creeps: Night of the Frankenfrog. Those interested in real-world STEM books may enjoy What Color Is My World?: The Lost History of African-American Inventors, Electrical Wizard: How Nikola Tesla Lit Up the World, and FETCH! with Ruff Ruffman: Ruff Ruffman's 44 Favorite Science Activities.
YOXO: YOXO building kits are made from recycled materials. Kits with tubes and links come with instructions for building everything from a spaceship to a tower but can also be used for free building whatever children dream up. Connectors can be used with household objects like toilet paper rolls and cereal boxes as well.
Litiholo Hologram Kit: Holograms have a cool-factor every kid can relate to. With this season's Star Wars hype there may be a renewed interest in how exactly Princess Leia appeared in hologram form. With this kit, kids can make their own hologram in about an hour.
Marble Run: HABA's Domino Race set is a great introductory piece marble runs. It encourages building, engineering, and problem-solving skills to set-up. Its many colorful pieces encourage creativity. Adding new pieces to a marble run makes the set seem like a new toy each time a new element is introduced.