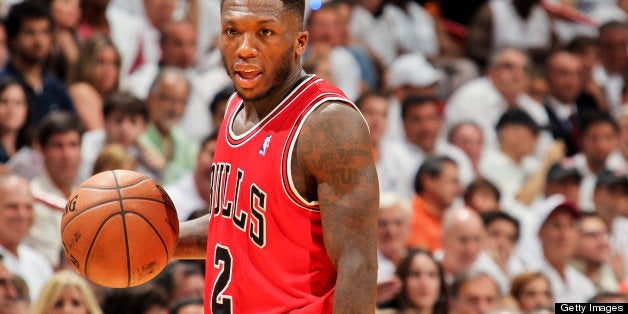 The movie script wrote itself: Lebron "King" James receives his fourth personal MVP award before Game 1 of the Eastern Conference Semi-Finals, then loses to the underdog Chicago Bulls who had nine players that came together to play as one.
An injured and sick Bulls team upset the Brooklyn Nets in the first round of the playoffs last week, and they struck again Monday night with a 93-86 upset win over the heavily favored Miami Heat.
The best story in sports continues.
The plot is as old as entertainment itself. To beat the defending champions, the underdog Bulls would have to overcome incredible odds. Luol Deng was in the emergency room for complications from a spinal tap after a catching a nasty flu, Kirk Hinrich was out because he can barely walk, the Bulls' best player is still out after having not played a minute this season, and the Bulls' heart and soul, Joakim Noah, is playing with an excruciating foot ailment.
No one gave them a chance.
After a close first quarter that was fought to a draw, the Heat looked like they were indeed pulling away from the Bulls -- then blood was drawn. The blood was from the Bulls' Nate Robinson's upper lip. He rose to his knees, spit the blood to his side, and as he headed to the locker room for stiches, Robinson looked over at "King" James with the stare of "I'll be back." The Bulls were down another player.
The situation turned bleaker for the Bulls when Lebron James started the fourth quarter by scoring the Heat's first six points. James would score 12 points in the first six minutes of the quarter.
No matter what the Heat did the Bulls wouldn't go away. The Heat were only up by six. The Bulls shouldn't have been this close. The audience started to sense that an epic story was about to unfold. The pressure started to mount on the Heat.
"King" James would score only three points in the final six minutes of the game, all on free throws. During this time, the Bulls' Nate Robinson would wipe the blood off his face to score 11 points, playoff rookie Jimmy Butler scored five points, and regular season third stringer Marco Belinelli scored six points on two huge three-pointers.
The Bulls would end the game on a 10-0 run, and the Miami Heat were beaten in Game 1.
No matter the story, they all end. Some end in heroic triumph, others end in disappointment and tragedy. No one knows how this incredible Bulls story will end.
But it's a story that the late great Chicago movie critic Roger Ebert would be proud of.
It's the best story in sports right now. Enjoy it.
REAL LIFE. REAL NEWS. REAL VOICES.
Help us tell more of the stories that matter from voices that too often remain unheard.