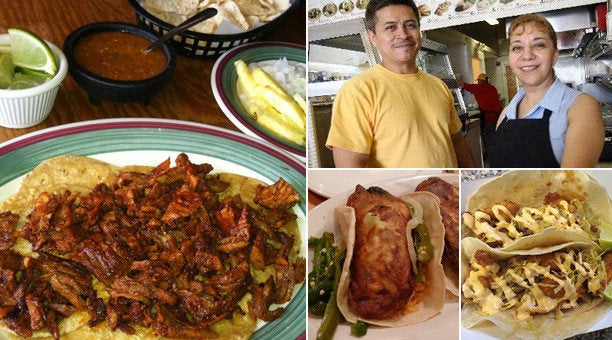 10 food writers from New York's Robert Sietsema to San Diego's Troy Johnson on where to get the best taco in their city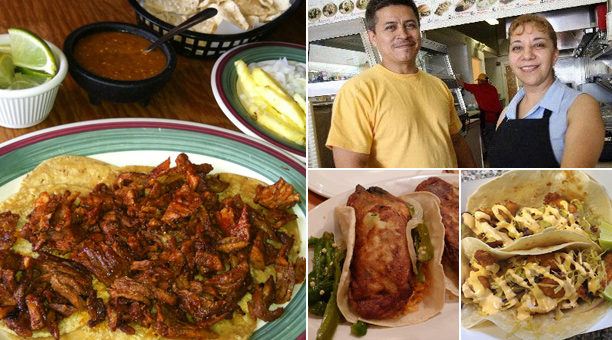 Clockwise from left: Guajillo's; La Lupita Tacos Mexicanos; Tacos Atoyac; Tacos Morelos.
What's the best taco you've ever sunk your teeth into? Was it in Mexico? Los Angeles? San Diego? Your hometown? Or in your own kitchen? Or perhaps you are one of the many pilgrims still in search of your perfect taco.
A truly euphoric taco experience is defined differently depending on whom you ask. Some people prefer corn tortillas over flour. Some prefer their tacos stuffed with pork; others, pulled chicken or fish. Some like their tacos to be sauce-free, and some enjoy a little guacamole and sour cream. We asked 10 food critics from 10 American cities to tell us how they found their favorite pick and what makes it so special. Read on to see if your top taco made the list.
Austin, Texas: Tacodeli
According to Rachel Feit of The Austin Chronicle, "tacos are like flavor bombs." For Feit, a memorable taco starts with great fillings, meaning slow-cooked meats stewed with plenty of chiles and spices. But she also believes in the allure of the complexity that comes from adding extra ingredients such as Queso Fresco, cilantro, and, of course, salsa. Narrowing down her favorite taco to just one was a challenge, Feit admits, because "Austin is a taco town, and there are tacos for every occasion, every mood, and every wallet." Ultimately, though, Tacodeli and its three locations rule her heart and her stomach. The Deli Belly (available on Wednesdays and Saturdays only) is a $4 marvel of slow-braised pork belly, sliced then crisped, topped with cilantro and onions on a flour tortilla. Feit recommends crowning the tacos with the mini-chain's emulsified green Doña sauce (a secret recipe she hopes to snag someday). "I always add salsa to my tacos -- it's a key to perfect tacos," she says. (4200 N. Lamar; 512-419-1900)
Chicago: Tio Luis Tacos
For Phil Vettel of the Chicago Tribune, finding his favorite taco entailed driving all over town and sampling everything the Second City has to offer until he made the acquaintance of a simple $1.95 taco filled with steak, onions, cilantro, and lime at Tio Luis Tacos. "When I saw the slight char on the skirt steak, I knew I was on to something," Vettel tells us. "The fresh veggies, soft tortilla, and Key lime all came together in wonderful harmony." (3856 S. Archer Ave.; 773-468-2267)
Denver: Pinche Tacos
"The taco found me," Tucker Shaw of the Denver Post says of his quest for the city's top taco. After months of searching, one day the Pinche Tacos truck pulled up right in front of Shaw's office, and that was the beginning of his taco love affair. His must-have is the $3.50 "agridulce" taco, an inspired combination of sweet-and-sour braised pork belly, candied garlic and cabbage and cilantro slaw in a corn tortilla. Shaw admits, "You'd think I'd have waited to bite into it before deciding whether it was my favorite taco in Denver, but the truth is I decided just by the aroma of it -- meaty, fatty, sweet, sharp, and soulful -- not to mention the look of it on the plate, so plump and glistening." (1514 York St.; 720-475-1337)
Los Angeles: Los Cinco Puntos
As restaurant critic Patric Kuh of Los Angeles Magazine tells us, he first laid eyes on his "soul-taco" while driving around the Boyle Heights neighborhood of L.A. Suddenly he saw the word masa displayed before him on the side of the building. He stopped the car to investigate what exactly was happening at Los Cinco Puntos, and found a group of women clapping out fresh tortillas and putting them on a griddle. His personal go-to taco from Los Cinco Puntos is sheep's-head meat in a warm corn tortilla. It wasn't just the filler that won him over, Kuh explains. He finds that a good tortilla, made from freshly ground nixtamal, or dried corn, imparts a slightly acidic tang to a taco. "It sharpens all the other flavors, and I've come to think of it as the tang of perfection." He doesn't even add hot sauce: "God forbid I make any changes to it." (3300 E. Cesar E. Chavez Ave.; 323-261-4084)
Miami: Lucky Taco
When Daniel Treiman of the Miami New Times and Edible South Florida ate what he calls the best taco in Miami, he was actually looking for the best paleta in the Homestead region instead. An investigation in the Redland Market Village area with a friend who originally hails from Mexico revealed Lucky Taco, and the $1.50 al pastor goodness that would change their lives forever. Lean pork marinated with guajillo chiles and pineapple in a fresh chewy maize tortilla creates a uniquely sweet and spicy taco that is perfect on its own or equally delicious adorned with plenty of fresh cilantro. Treiman reports that his friend, an "al pastor aficionado," actually squealed with delight as she ate. High praise indeed. (291 W. Mowry Dr.)
New York: Tacos Morelos
Robert Sietsema of The Village Voice came face-to-face with his favorite taco around midnight while walking on Roosevelt Avenue in Queens one night. At a food truck turned gastro-pub named Tacos Morelos, he saw tacos being filled with yellow rice -- and as if the double starch wasn't intriguing enough, Sietsema became even more compelled to try this taco when he saw that it also had a chile relleno inside, oozing over with cheese. Tacos Morelos sells these meal-size portions for $5 and serves them with a side of grilled peppers. Sietsema recommends adding chipotle hot sauce to this taco masterpiece. (94-13 37th Ave.; 347-832-0193)

Phoenix: Tacos Atoyac
Gwen Ashley Walters, the Phoenix Magazine restaurant critic and food writer, admits that she drives 45 minutes from her house whenever a craving strikes for her favorite taco from Tacos Atoyac. Even though this bare-bones restaurant is known mostly for its Oaxacan street food, Walters is a devoted acolyte of the $1.50 Indonesian catfish-stuffed Baja Taco. What's in it besides beer-battered fish? Red onions lightly pickled with jalapeño vinegar, shredded green cabbage, and Mexican crema spiked with hot sauce, all served inside a griddled flour tortilla. As Walters, who also happens to be a trained chef, puts it, "It's a juxtaposition of cool and hot, crunchy and soft. In a word? Delicioso." (1830 W. Glendale Ave.; 602-864-2746)
Providence, Rhode Island: La Lupita Tacos Mexicanos
"I want the real deal, the same kind of genuine article I would find on the streets of Mexico." That's what Gail Ciampa of The Providence Journal said when we asked her what she's looking for in the best taco in town. What's more, she tells us, "I want to be surprised by the freshness of the ingredients, the range of flavors that come from a few expertly blended spices and meats that have been marinated or roasted slowly." She found exactly that at a taqueria in Olneyville called La Lupita Tacos Mexicanos. This half-grocery-store, half-restaurant neighborhood institution sells an array of taco fillers such as pulled pork, marinated pork, tripe, beef tongue, chorizo, ground beef, and steak, and they also do a veggie taco. But for Ciampa, it's all about the Crispy Taco, which is rolled up and stuffed with pulled chicken, onions, and cilantro and then deep-fried. Though guacamole, cheese, and sour cream come standard, Ciampa prefers hers without, and instead dips it in two spicy salsas. Crispy Tacos are $1.62 each or three for $4.20. (1950 Westminster St.; 401-331-2444)
San Antonio: Guajillo's
"Balance, depth of flavor, and the ineffable taste of home -- that's what I want in my taco," proclaims Edmund Tijerina of the San Antonio Express-News. The first time he tried tacos al pastor was in Mexico City more than a decade ago. In San Antonio, however, he depends on Guajillo's for his fix -- even though, as he admits, it looks like a chain restaurant, it's a pain to get to, and it's at the intersection of a major thoroughfare and a freeway. According to Tijerina, it's almost impossible to find a disappointment on this menu, but his taco craving is the pork, which is rubbed with a mixture of spices including achiote, slowly roasted on a vertical spit, then shaved onto an oil-moistened corn tortilla. One $6.25 order includes six small corn tortillas (about four inches in diameter) that slightly overlap and cover an oval plate topped with a generous mound of meat. A separate plate holds slices of pineapple, minced fresh cilantro, and finely diced onions, and there's a small cup of sliced limes and another small bowl of a tangy guajillo-based salsa. Tijerina assembles the tacos by taking a single tortilla and topping it with a heaping tablespoon of meat, a couple of pineapple slices, a sprinkle of cilantro, and some onion, finished with a squeeze of lime and a dollop of salsa. "I don't add anything that's not supposed to be there. It's Mexican cooking as it should be." (1001 Northwest Loop 410; 210-344-4119)
San Diego: Marisco's German
Troy Johnson, food critic for San Diego Magazine and host of Food Network's Crave, has a good street-taco-junkie friend to thank for introducing him to his ultimate taco. "I was born and raised in San Diego. We learn the Scoville scale (a form of measurement that relates to level of heat in a chile pepper) before basic math. Anyone can overload a tortilla to satiate the more-more-more ethos of American eaters, but very few people can keep it balanced -- the veggies cut through the cheese, acid lances the fat, light permeates the heavy," explains Johnson. And according to him, that mythical balance is exactly what "The Gobernador" from Marisco's German truck manages to achieve. This corn-tortilla wonder, which comes with a side of the truck's famous xaldo de siete mares, packs in a massive heap of what Johnson describes as "bulging, steroidal-looking" grilled shrimp, sautéed onions, celery, bell pepper, and spices. The final touch is what some taco purists would consider blasphemy -- melted cheese. Lots of it. "One taco (plus free soup) for four bucks? It's a steal!" The taco truck parks in a dirt lot outside a liquor store. And Johnson is fairly certain that all of the tires are flat. He tells us that there is an awning, some plastic tables, and chairs. Anyone who can look past the absence of Dodd Mitchell design is greatly rewarded. (3505 University Ave)

Note: All restaurant information subject to change without notice. Please contact the restaurant for the most current information.

Related