The greatest technology for a creative person is neither an app nor a device, it is paper.
As we begin the new year, I wanted to share this analog system with you which I created called The Creativity Notebook, so that it can transform your world the way it has mine.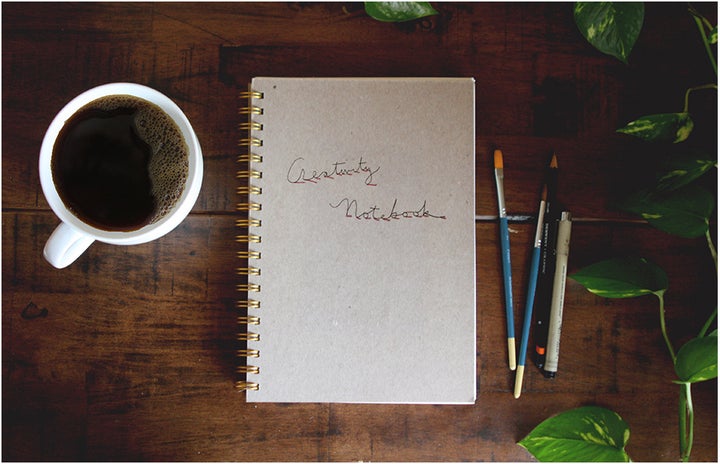 As a working artist and mother, I am constantly searching for different methods to increase my productivity and to enhance my life.
I love technology. I'm a longtime subscriber to Lifehacker, use Trello and I couldn't function without Google Docs. But when it comes to capturing ideas, lists and making appointments on a device, I risk falling into the black hole of news, email or social updates that we all do. I tried and found every form of note-taking, list-tracking app a productivity killer and a time waster. An artist's greatest asset is uninterrupted time. I had to invent a system that would give me more and enhance the creative process, not detract from it.
There is no creativity without productivity.
The connection between paper and creativity is well-documented. I tried other "analog" systems but found them overwrought. I needed something simple, inspiring and action-oriented all in one. As a painter, entrepreneur and founding arts editor of this online newspaper, it is essential that I stay organized. I started with a sketchbook and this is how The Creativity Notebook was born.
The Creativity Notebook: The Front Half
The first half of the Creativity Notebook is a simple Segregated Notes and Action Items section with thoughts/notes/sketches on the left and the action items on the right.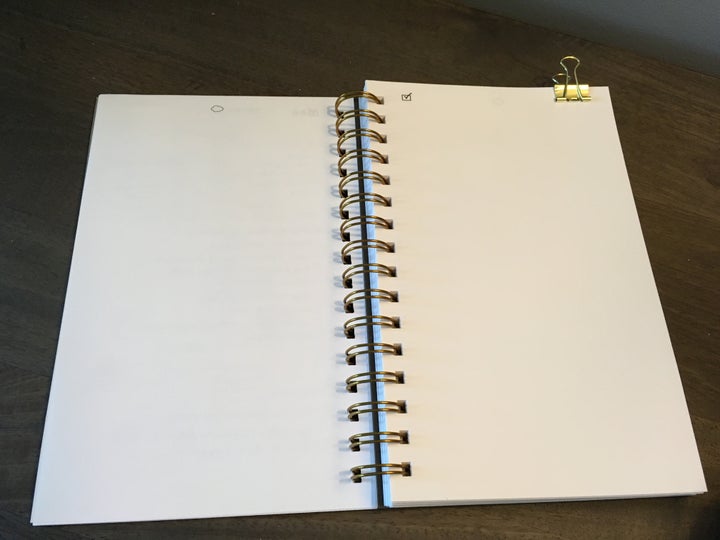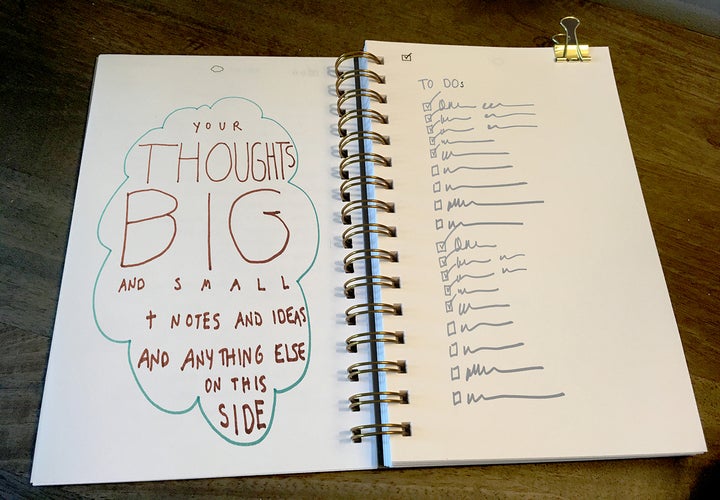 When either side is full, migrate only the uncompleted tasks only to the righthand side of the next spread. The tactile experience of re-writing incomplete tasks reinforces their need to get done.
This working method catapulted my productivity to a whole new level. People always ask me "When do you find the time?" This is how. The Creativity Notebook also becomes an incredible chronological file because, if somebody asks, "What was it that we discussed in that meeting months ago?" I only need to flip backwards to find the notes in my handy notebook.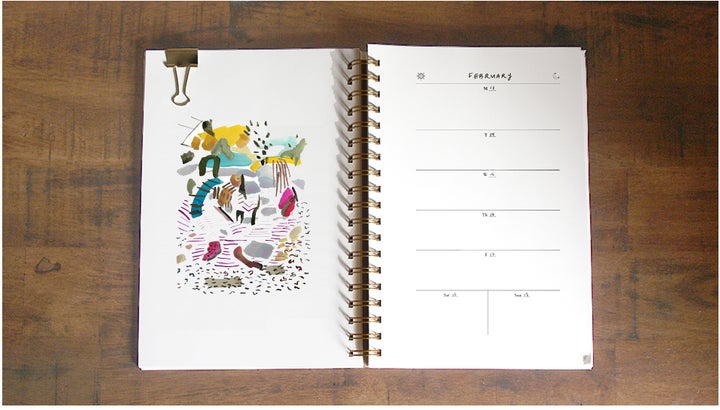 The back half of the Creativity Notebook is a 52 week calendar section. It involves a simple binder brass clip as a toggle and art by either me or you. The binder clip is essential component. By putting the datebook on the back, only past dates and future blank note pages are under the clip. All relevant notes and future dates are always accessible outside the clip. All I have to do is move the clip to the right and exactly on the current date. It is the perfect combination — a datebook, a notebook, a sketchbook and an idea book all in one.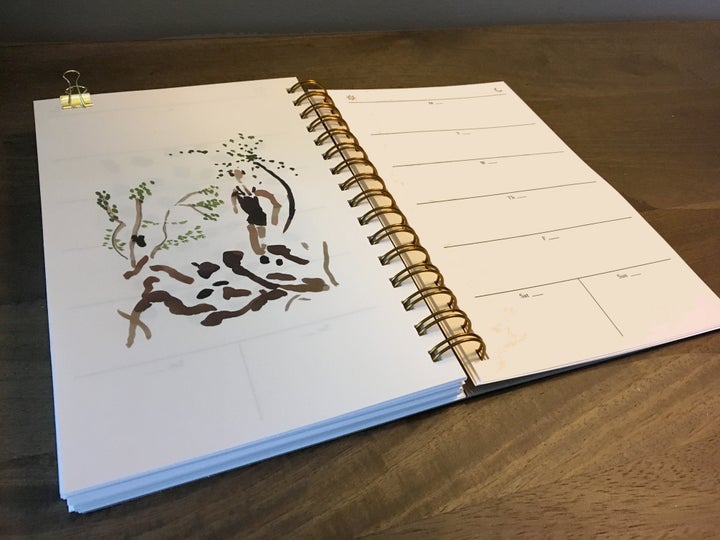 I experimented with every kind of paper notebook and found that certain subtleties make huge differences.
I want no borders to hem my ideas in so it had to be unlined. Furthermore, the texture of uncoated paper reunites me with a more primitive self and connects me to everyone who has ever held a writing instrument on parchment throughout time. It feels organic and real.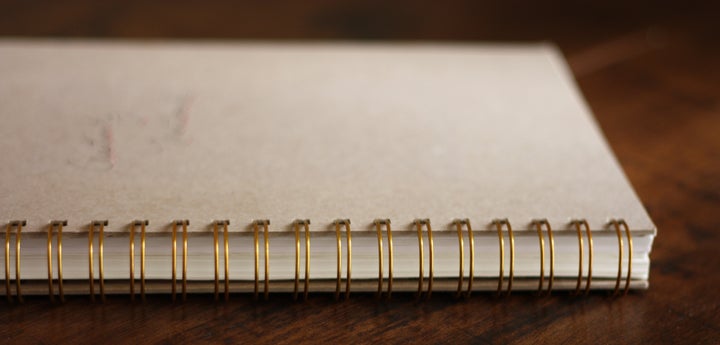 The binding must not just lie flat but block out one side altogether. Creative Notebooks need to have the functionality that enables pure focus.
Different Art for Every Week
Because of our sensitivity to visual input, I created suggestive art that still has usable margins as a key feature. Just seeing a color, line, poem, quote or a shape of any kind differentiates each week. Associating different art with every week creates visual scaffolding and anchors the pleasure of planning. In the past, when I bought art-centric datebook from museum shops, I was limited to one artist's work which I couldn't write on, no margins to participate in with paper too smooth and too thick. Such books are also too heavy to carry around in order for it to function in lieu of a device.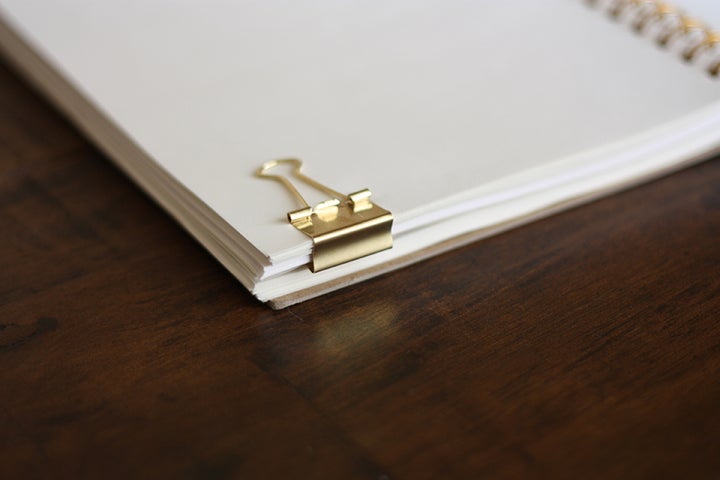 Unlike the Week-at-a-Glance system, where the week is spread across two pages, I needed a vertical structure stacked day structure with the morning activities under the sun and evening activities under the moon to make it easier to avoid over planning too many evenings in a row. Downtime is essential for creative minds. This subtle difference made a huge impact on how I created uninterrupted time and a rhythms in my week. One year I tried no art and two vertically structured weeks side by side and instead of making me more productive, the lack of art stressed me out and space for each week. It only reinforced the need for art.
I developed The Creativity Notebook over several years to heighten my productivity, inspire me creatively and as a tool to avoid reaching for my device all throughout the day. It has truly changed my life. I'm excited about presenting it to the public for the first time. Yes, it means that everywhere you go, you will carry around a notebook that has all your thoughts, drawings, tasks and calendar in one place. You already carry keys, a wallet and a piece of metal and glass that is known and scientifically-proven to yank you away from your thoughts. Based on the people who I have already given it to, I know you will treasure as it is your own work of art.
I am currently offering two editions which are handcrafted in my studio in Venice, California:
Signed Limited Artist Edition of 100.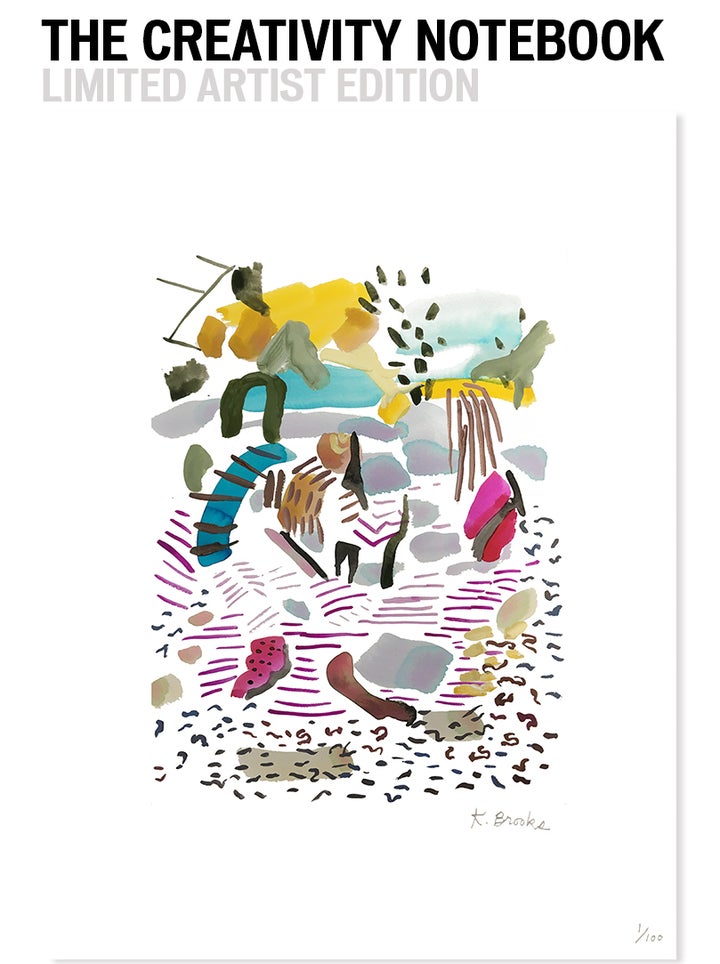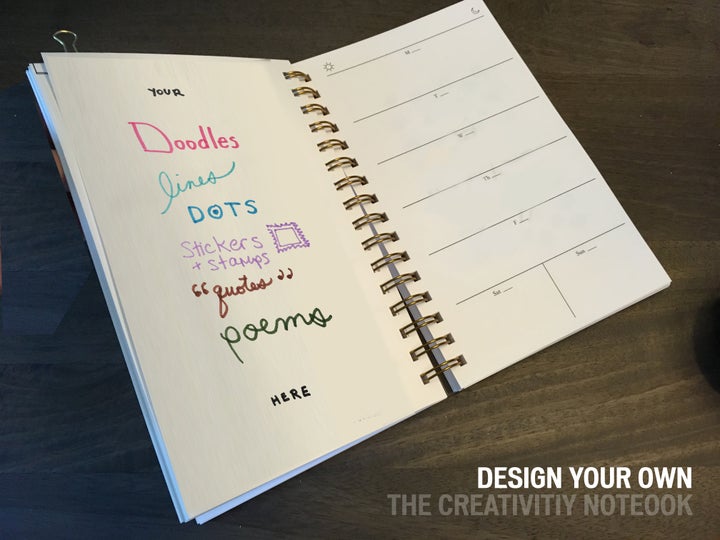 Each book has a 52 week spread, Calendars for 2017–19 and approximately 50 spreads for the segregated note systems. All notebooks measure 5.5 x 8 inches, 120 plus pages.
I have been beta-testing it with numerous artists, writers and entrepreneurs in California and they all tell me how it has streamlined so much of what they do and they treasure it. I would love to share this revolutionary new application with you.
Kimberly Brooks is a painter. She also founded the Arts, Science Screen Sense sections of the Huffington Post which she launched with an article about 10 commandments for Kids and Screens which she still stands by, but her kids are too old to listen anymore.
Calling all HuffPost superfans!
Sign up for membership to become a founding member and help shape HuffPost's next chapter