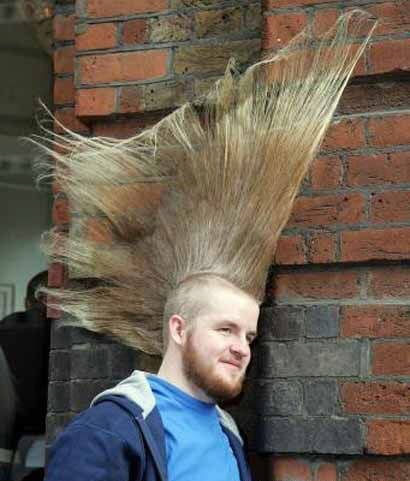 There I was, just reading along in Money magazine (Hey! I read stuff besides Fitness and Outside. Okay, fine -- it was free.) when an ad card dropped into my lap.
A man of indeterminate age -- he of the smooth forehead but also salt and pepper hair -- bracketed by a surf board and woman young enough to be mistaken for his daughter, held up two fingers in a peace sign and grinned knowingly up at me.
"THE BEST THING TO HAPPEN TO BABY BOOMERS SINCE THE BIRTH CONTROL PILL!"
Who could resist a lure like that? Surely, I thought, the best thing since an invention that made it so you could have sex without having babies would be the invention that made it so you could have sex longer and later in life. Viagra, right?
Nope. Hair Dye. Specifically, hair dye called A Touch Of Gray that apparently lets you dye your hair leaving some gray showing through. Who exactly is this product for? 30-something models that want to break into the AARP biz? If you are dyeing your hair aren't you doing it to cover up the grays? Who dyes gray INTO their hair? Where I come from this is reason enough to ask for your money back.
I know I'm from a generation not exactly known for its great taste in hair styles but if this is the best thing to happen to Boomers then I'd hate to see the worst thing. Which, incidentally, Money has answer to as well although it's not nearly as exciting: lack of estate planning.