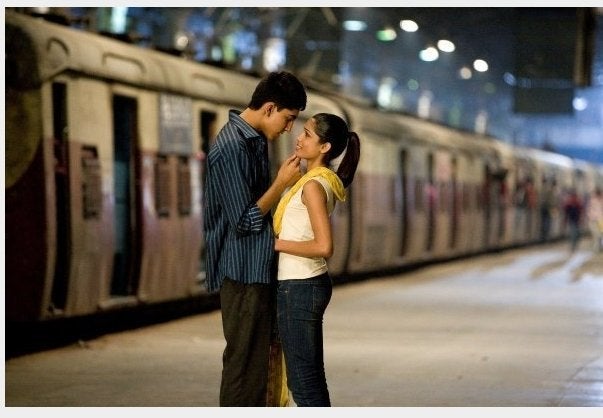 Great movies often reveal the drama or comedy lurking in the more mundane aspects of real life. As with literature and theatre, the normal, everyday quality of a story makes us believe, while the magic worked on it through the creative process makes us care.
Taking a train...what could be more mundane than that? Think about it though-the train experience is probably the most intimate forced gathering of community we have. Through overheard conversations (most frustratingly, via cell phone) and visual observations, we absorb the lives of our neighbors...the way they talk, what concerns them, their moods, their taste in clothes and books. We are voyeurs and silent judges, watching the movie of real life all around us. Sometimes it's tragic, other times comic.
Films and trains were actually joined together over a century ago, with Edwin S. Porter's eleven minute The Great Train Robbery (1903), one of our first truly narrative films. A few years later, D.W Griffith's The Lonedale Operator (1911), pioneered the intercutting of scenes: villains tie up heroine at railroad tracks, cut to speeding oncoming train, cut to the bad guys escaping on horseback, cut to the good guys on horses racing to the tracks to rescue heroine, cut back to heroine tied to tracks, etc. This technique speeded up the perception of elapsed time and built suspense. Reportedly, most audiences of the time leapt from their seats and fled in terror.
In a host of movies since, the train has served as a microcosm of modern society, and the individual's potential risk and conflict within it. (No director explored this theme to better effect than Alfred Hitchcock). With other outstanding titles, the train signifies a conduit to and from justice- or injustice.
And what about the use of trains in comedy? The sense of claustrophobia inherent in a moving train offers a host of amusing possibilities which some of our finest comedies have exploited.
The following titles highlight some of my own favorite train movies:
Twentieth Century (1934)- Broadway producer Oscar Jaffe (John Barrymore) creates a star in the beautiful Lily Garland (Carole Lombard), then alienates her, causing a decline in his own fortunes. He happens upon Lily (now embarked on a Hollywood career and on the luxurious Twentieth Century Limited train) and while she is a captive audience, attempts to woo her back into the Jaffe fold. One of the great early screwball comedies, and an opportunity to see Barrymore in his funniest performance as the desperate, histrionic Jaffe. As Lily, Lombard is leading lady gorgeous, and projects her trademark comic flair. The screenplay, by partners Charles MacArthur and Ben Hecht, moves as fast as that train.
The Palm Beach Story (1942)- Tom Jeffers (Joel McCrea) is a struggling architect whose shaky finances cause friction in his marriage to Gerry (Claudette Colbert). Gerry impulsively decides to leave Tom and travel by train to Palm Beach where quick divorces are possible. Unwilling to give Gerry up, Tom follows, but by the time he catches up with her, Gerry is being wooed by the mega-wealthy John D. Hackensacker, III (Rudy Vallee). Soon, John D.'s eccentric sister, the Princess Centimillia (Mary Astor), takes an active interest in Tom. Which will win out, love or money? Preston Sturges's romantic romp remains delightfully kooky and fresh. McCrea and Colbert create divinely combustible chemistry, and Astor almost steals the picture as the zany heiress. And watch out for Sturges's peerless group of comic stock players (including stand-by William Demarest), seen here in the guise of "The Ale and Quail Club".
Brief Encounter (1945)- Based on a play by Noel Coward, this is the simple, wrenching tale of Dr. Alec Harvey (Trevor Howard) and Laura Jesson (Celia Johnson) two people married, but not to each other, who meet by chance in a train station and embark on a short, intense romance. This subtle, heartfelt British gem will still drench most anyone's Kleenex over sixty years after its release. Performances by Howard and Johnson are impeccable. Direction and script are suitably understated, and the use of Rachmaninoff's Second Piano Concerto throughout the film heightens the sentiment. Even with the British reserve much in evidence, the overall effect is intensely moving. This film yielded director David Lean's first Oscar nomination.
Strangers On A Train (1951)- Tennis ace Guy Haines (Farley Granger) plans on a career in politics, but first must secure a divorce from his first wife so he can wed Ann Morton (Ruth Roman), a Senator's daughter. Then, on a train, Guy meets unbalanced socialite Bruno Anthony (Robert Walker), who wants his own despised father out of the way. Bruno comes up with a brilliant idea: to eliminate motive, the two men should simply exchange murders. Bruno will kill the first Mrs. Haines, and Guy the senior Mr. Anthony. And he's deadly serious. Hitchcock's riveting nightmare plays out the danger inherent in random connections made in public places. Granger has just the right clueless, pretty boy quality to seem the ideal victim, while Walker electrifies as Bruno, an evil, manipulative psychopath who we sense may be wily enough to escape suspicion.
3:10 To Yuma (1957)- The sad-eyed Van Heflin plays Dan Evans, a local cattleman in need of cash due to a drought. To save his livelihood, Evans takes on the dangerous task of guarding and escorting outlaw Ben Wade (Glenn Ford) to the train which will carry him to the halls of justice. The hitch: Wade's gang is headed for town, and they're determined to prevent their boss from catching that 3:10 to Yuma. Based on an Elmore Leonard story, Delmer Daves's film (now in a new special edition) is a sharp psychological western in the vein of another better-known classic, "High Noon." Taut and suspenseful, "Yuma" also tells a very human story, as Evans's own self-respect and principles are as much at stake in this situation as money. And Ford gives the most interesting performance of his career playing (against type) the smooth, predatory Wade. "3:10" is intelligent and skillfully paced, boasting top-notch turns from the two leads. Also- subtler and less violent than the recent remake.
The Train (1964)- Cold-blooded Colonel Von Waldheim (Paul Scofield) wants to remove a a cache of priceless art from France by train in the waning days of the Nazi occupation. With the help of some gallant friends in the Resistance, railroad worker Paul Labiche (Burt Lancaster) takes on the dangerous task of derailing this mission. Based on a true story, John Frankenheimer's pulse-pounding war film is lean and riveting, as Lancaster's character works intrepidly to foil Von Waldheim's exacting plans. Lancaster is restrained and no-nonsense as Labiche- thankfully he doesn't even attempt a French accent, while Scofield (who'd win an Oscar two years later for "A Man For All Seasons") is icy perfection as the ruthless Von Waldheim. This is one of my personal favorites from the sixties and ranks among the talented Frankenheimer's best work. Look for the luminous Jeanne Moreau in a small but pivotal role.
Murder On The Orient Express (1974)- When a financier (Richard Widmark) is brutally murdered on the famous train-line, every passenger is a suspect in the eyes of punctilious Belgian detective Hercule Poirot (Albert Finney). With the train stalled between Istanbul and Paris, he begins to question the motley group, and gradually uncovers the most unlikely of culprits. Here, in another distinguished outing directed by Sidney Lumet, an unrecognizable Finney transforms himself into Agatha Christie's renowned Belgian sleuth. Beyond his astonishing portrayal, the magic of this whodunit comes from the fascinating assortment of characters he interrogates: Lauren Bacall, Ingrid Bergman, Wendy Hiller, John Gielgud, and Sean Connery among them. Predictably, in addition to Finney and Bergman (who snagged an Oscar), old pros Hiller and Gielgud really shine. "Murder" should be nirvana for any mystery lover, and the film bursts with '30s period charm.
Before Sunrise (1995)- En-route to Vienna to catch a flight home, twenty-something American tourist Jesse (Ethan Hawke) chats up Celine (Julie Delpy), a French student, on a Eurail train and finds they have much in common. When they arrive at his station, Jesse proposes that Celine disembark with him in Vienna and keep him company until his plane leaves the next morning. Impetuously, she agrees, and the two embark on a brief but unforgettable adventure. This intelligent and unconventional tale of talky romance borrows something from the work of French auteur Eric Rohmer, but director Richard Linklater - a master of meandering conversation - puts his own stamp on this character-driven drama with searching, tone-perfect dialogue. As the two wander the streets discussing love and sex, history and politics, Hawke and Delpy make attractive kindred spirits whose youthful, sometimes argumentative exchanges really seem to echo life.
Kontroll (2004)- Bulscu (Sandor Csanyi) has left his life above ground to work as a ticket inspector in Budapest's vast subway system. There, he executes a thankless job asking riders to show him their tickets. On the bright side, he forms a tentative relationship with Sjofi (Eszter Balla), a girl who rides the rails dressed in a bear suit. Then he learns of a sudden increase in people jumping in front of trains- or are they being pushed? Bulscu and his group of comrades continue to face the abuse of passengers and rival teams of ticket inspectors, as the bodies keep piling up. Will Bulscu ultimately cross the path of a killer? This highly original release has the nihilist feel of futuristic sci-fi, as the Budapest subway system gives off a decaying aura. Yet unexpectedly, the odd-ball fraternity of ticket-checkers manage to inject their bleak surroundings with a therapeutic dose of humor. Indeed, the film's black comedy is its most intriguing asset, with Bulscu's hilarious co-workers Muki (Csabu Pindroch) and the Professor (Zoltan Musci) worth the price of admission on their own.
Calling all HuffPost superfans!
Sign up for membership to become a founding member and help shape HuffPost's next chapter