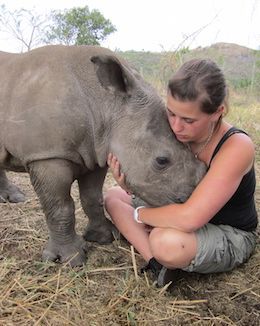 Forget curling up with a cat, the most amazing thing in the world is cuddling an orphaned baby rhino. (All photos: Khululu Care for the Wild)
There is almost nothing more heartbreaking in South Africa's war against rhino poaching than seeing a baby pachyderm standing watch over its dead mother, mourning. Many times the babies, too young to survive on their own, are also doomed; others are rescued -- their fate unknown. But now, there is a facility in the north of the country where these babies are, fed, cared for and ultimately released to the wild -- and it's guests (who pay for the volunteer experience) who are doing it.
It's the new hands-on wildlife experience.
At Khulula Care for the Wild, situated on the banks of the Vreek, Noord-Kaap and Queens rivers, in Mpumulanga, South Africa, you can actually cuddle, nurse, wean and play with orphaned rhino babies whose mothers have been slaughtered by poachers.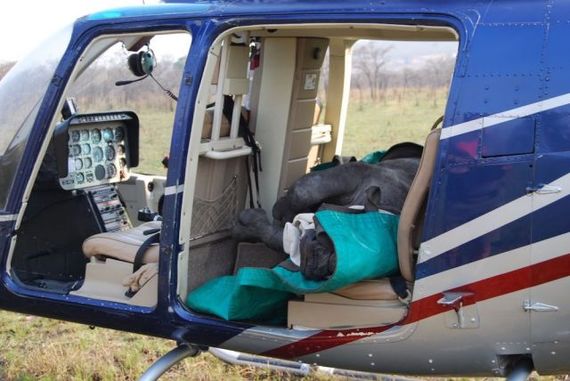 According to Ellen Sziede, the marketing manager for African Conservation Experience, which runs Khululu, "there are an estimated 20,000 white rhino and 5,000 black rhino left in Africa. South Africa has by far the biggest population of all African countries, being home to almost 90 percent of all African white rhino. So the current estimated population for South Africa is about 18,000 white rhino and just under 2,000 black rhino."

Related: On the Frontlines of the Rhino Genocide, Saving a Species on the Brink
Viktor Barkas, who runs the Rhino Protrack team, which patrols for poachers on privately owned land outside of Kruger, in Hoedspruit, South Africa, told me last year that in the small area he patrols there are 2,000 rhinos -- 126 of which were slaughtered in the first half of last year, leaving many rhino offspring orphaned.
"it is not a war on rhino," Barkas said. "It is a genocide."
The unlucky orphans (from all over the country, not just Barkas's area) end up at Khululu, where the rhinos are raised and eventually released back into the wild in a program reminiscent of the wildly successful David Sheldrick elephant orphanage, in Kenya.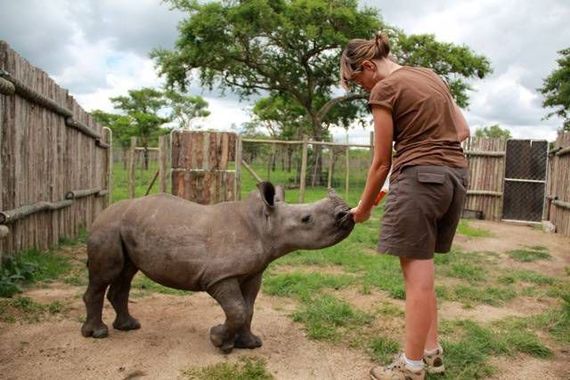 Volunteers are asked to stay for a minimum of two weeks -- although exceptions are made -- and during this time they rotate in and out of three teams.
The first team, the Baby Team, looks after the youngest rhinos, which are still fed by bottle. "Travelers in this team spend a lot of time preparing the special milk formula and doing the bottle feeds, mothering the smallest rhinos, as they sometimes need people to stay with them at night when they are very small, and also helping with the veterinary care for new arrivals," Sziede said.
After working with the smallest rhinos, guests move on to Team Rhino, which takes care of the weaned animals, including recording feeding behavior and preparing mud baths for the little guys.
And then there's Team Other -- which isn't as bad as it sounds.
"Care for the Wild looks after a lot of other species as well, not just the rhinos," Sziede explained. "They currently have two hippos, three lions, several birds of prey, various antelope, a baby vervet monkey and mongoose. All of these animals need feeding, enclosure maintenance and enrichment -- from playing with the monkey and mongoose to taking the hippos for a swim."
For more information on Khululu, how much it costs and specific details, CLICK HERE.