When you just have to bake, and eggs aren't an option, what next?
Blueberry Lemon Muffins. (Photo: Sophie MacKenzie)
Substituting in cooking is typically fair game: Having all the exact ingredients on hand is a rarity, then there are those times when you omit something out of preference and taste--or dietary restrictions. But when it comes to baking, people are typically a little more fearful to add ingredients or leave them out entirely.
That said, I've always been a fan of messing around with baking--including omitting eggs and trying out egg replacers. (Sometimes, your guests can't eat eggs, and sometimes, you just don't have eggs around). While there are commercial egg replacers on the market, I wanted to test out some ones you might already have in your kitchen. See how each fared below.
Blueberry Lemon Muffins. (Photo: Sophie MacKenzie)
For this test I used a classic Blueberry Lemon Muffin recipe and substituted the two eggs called for with four different egg substitutes. For each egg called for, I tried substituting:
- Banana (1/4 cup mashed)
- Flax egg (Made by mixing 1 tablespoon ground golden flaxseed with 3 tablespoons water and letting it sit for 5 minutes)
- More acid and base (1 tablespoon apple cider vinegar and 1 teaspoon baking soda)
- Chickpea water (3 tablespoons of the water from an unsalted can of chickpeas, also known as aquafaba)
From left: Chickpea water, banana, flax, acid/base. (Photo: Sophie MacKenzie)
Out of all the muffins, the banana one clearly looked the most appealing. The extra sugar from the fruit helped the muffin top brown and gave it a caramelized chewy top. The texture was ever so slightly dense with a moist crumb. The only characteristic of this muffin I found problematic was the fact that it really tasted of banana. If this was a plain blueberry muffin, that might have not been so bad, but it was competing too much with the lemon.
The flaxseed batter was the runniest of the bunch, which caused the blueberries to bleed, resulting in a grey muffin. The top remained pale with very little browning and caramelization. Much like the banana muffin, the flax muffin was ever so slightly dense and moist, yet the flax remained totally undetectable. The end result was ugly, but pretty tasty.
This one was an utter failure! Firstly, the batter was super stiff, so I had to add a splash more milk to bring it to the consistency of the others. Once in the oven, these muffins over-proofed, leaving a flat-topped muffin with a sunken middle and a strange yellow color. The texture was crumbly and dry and the flavor was overwhelmingly acrid and bitter. These headed straight for the compost.
Chickpea water (aquafaba)
To be honest I felt awkward adding bean water to my muffins, but the chickpea water batter seemed the most like an egg-based batter than the rest of the muffins--neither too runny nor too stiff. The baked muffins had uniformly domed tops, with a slight golden color (still not as golden as the banana), a much lighter structure than both the banana and flax, and a nice bouncy crumb. And surprisingly enough, there was zero bean flavor!
From left: Chickpea water, banana, flax, acid/base. (Photo: Sophie MacKenzie)
4th Place: Acid and Base. Maybe it works in another recipe, or in a smaller proportion, but not here. No way.
3rd Place: Banana. Tasty, but also pretty banana-y. Possibly best in something chocolaty, or as a plain banana muffin.
2nd Place: Flax. Pretty good all around, just not the most attractive looking.
1st Place: Chickpea water. I amazed to admit it, but this yielded a soft and fluffy muffin that nobody would suspect of being egg-free.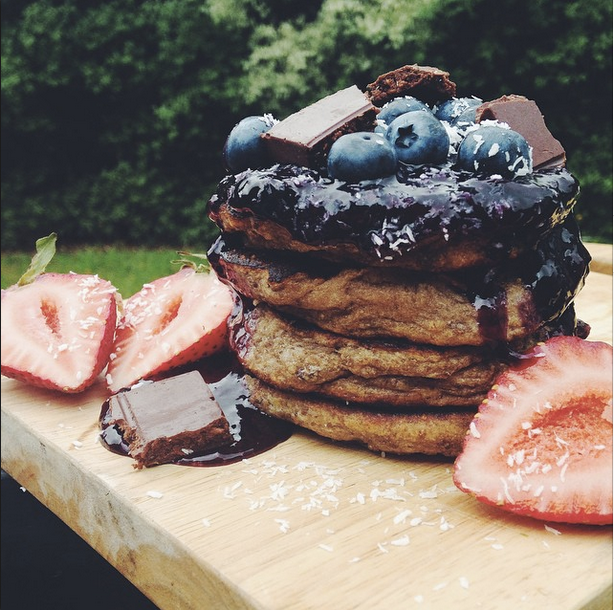 Vegan Instagram Accounts
Related