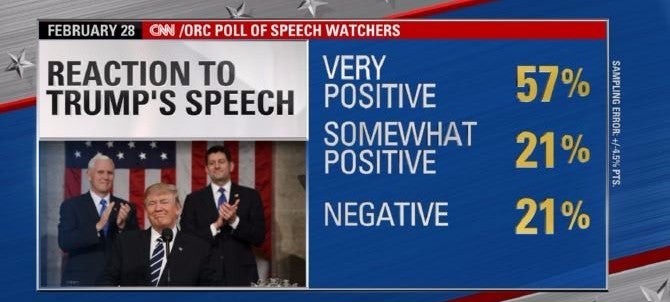 Starting early this morning, Vice President Mike Pence will embark on a day-long bonanza of media interviews, starting soon with segments on five top morning shows, to hype Donald Trump's speech last night to a joint session of Congress.
If the graphic above from Brian Stelter's excellent Reliable Sources tipsheet this morning weren't bad news enough, here are the other shows Pence will be appearing on today, from the same tip sheet by Stelter:
VP Mike Pence will reiterate the president's points on TV and radio all day long on Wednesday... He'll be on MSNBC, NBC, ABC, CBS, and Fox News (not CNN) in the morning... Plus Rush Limbaugh, Laura Ingraham, Michael Savage, and Sean Hannity's radio shows... And "The O'Reilly Factor" and "For the Record with Greta."
Yikes. In other words, Pence will sit for give-or-take eleven major broadcast interview segments today. Each interview could be anywhere from seven to thirty minutes long. We can reasonably assume that the three network morning shows booked on NBC, ABC, and CBS, resp., are probably TODAY, Good Morning America, and CBS This Morning. The two cable news morning shows booked on MSNBC and Fox News are almost surely Morning Joe and Fox & Friends.
From a tactical perspective, Democrats (or progressive orgs, the Resistance, anyone capable) should look to have pundits on all five of morning shows where Pence is appearing, plus pundits on as many national timeslot counterparts as possible, as far and wide.
On a day like today, Democrats/progressives/The Resistance should have talking heads in all the obvious places in major cable and network news programming, as well as Fox Business, CNBC, CNN Money, and CNN International and so on; plus every national radio station our pundits can phone into to practice their talking points between their key morning show segments.
Of course, this tactic should be repeated every weekday media cycle, then doubled-down on during weekends were, besides the half-dozen coveted Sunday politics shows, audiences are smaller and untested pundits can be developed accordingly.
Opposing Trump in broadcast media is a war that never stops, at all, really. After a nearly two years of working against the Trump team one of the top broadcast media bookers in progressive politics, I know that even if it's Rush, Ingraham, Savage, and Hannity (Pence's four mid-day radio interviews), Democrats can no longer afford to pass on opportunities to engage with conservative media as a means to opposing Donald Trump.
Lastly, on another note, this one more-central to the titular claim about Gay Democrats in the title of this post ... Pence is a huge homophobe. Trans people too. Big time. Given the Pence's weird obsession with transgendered bathroom rights, last week's executive order attacking the rights of transgendered students reeks of Vice Presidential priority. Not only that, Pence is a huge homophobe.
Wait, did I mention that already? Ah, I did. Well, there ya have it again. Dude is a homophobe on a biblical level. Nothing gets Americans fired up like being discriminated against. This dynamic holds especially true when the the gay men I know in politics talk about Mike Pence the homophobic oppressor. Given that the best pundits have passion and context, a power move for any #Resistance capability in broadcasting would be to leverage any nationwide LGBTQ network on national, local, and regional airwaves, to condemn and otherwise troll Pence's history of anti-LGBTQ intolerance. Go forth and rain all the snarky soundbites and opposition research down upon our homophobic Vice Presidency's biggest media day yet, which is today, starting like any minute.
REAL LIFE. REAL NEWS. REAL VOICES.
Help us tell more of the stories that matter from voices that too often remain unheard.