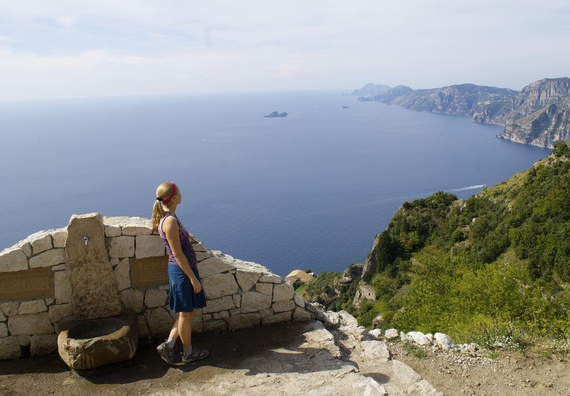 Italy's Amalfi Coast is stunning and very crowded from June through September. With its dramatic vertical landscape of mountains and dizzying sea views, beautiful white towns, lemon scented terraces, fantastic seafood and lots of fun in the sun, this coast is not to be missed. But how to get away from the crowds?
Kayaking and hiking will give you a respite from the busy beaches and tourist-laden towns. On a recent visit I did just that.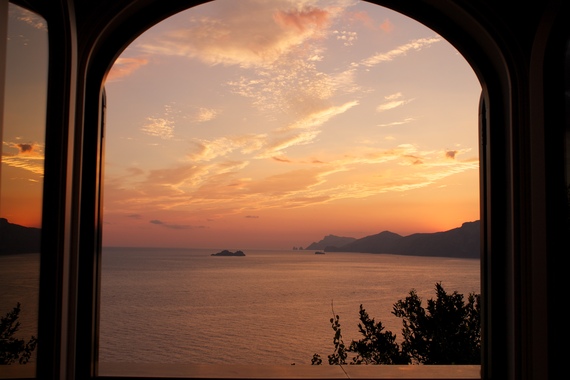 My rental apartment in Praiano had a view of the Li Galli islands, and a vast expanse of sea and an orange sky at sunset.
Praiano, a small town near Positano, is not as gorgeous as Positano, but it gets you removed from the masses, and it has a happening beach club called One Fire. More personable and not as inundated as Positano's beaches, One Fire is run by the gregarious Piccoletto, whose aim is to ensure that a great time is had by all.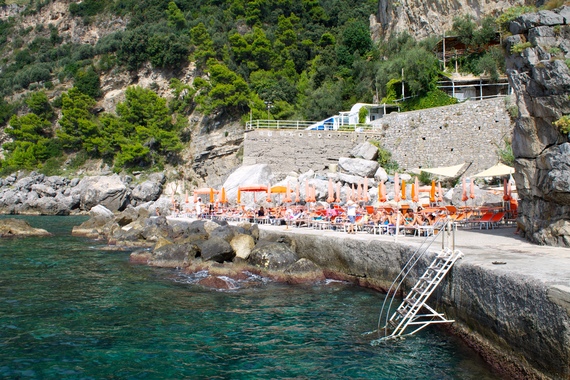 If you want to rent a kayak, or a paddleboard, or a private boat, just ask Picoletto. To get me a kayak, Piccoletto called a guy who sped up by motorboat an hour later, towing a kayak.
Kayaking was a dream. The sea was calm and full of emerald and indigo colors. I rowed past the deluxe Hotel San Pietro, perched on a particularly precipitous cliff, and then past the villa that used to be owned by the film and opera director Franco Zeffirelli. Stone walls sprouted from cliff edges holding in terraced gardens, Linden trees, and jasmine fringed pathways.
I paddled to a cove with a pebbly beach that sported a smattering of orange lounges and an airy trattoria on stilts, called Bagni D' Arienzo.
"Tell Peppe I sent you." Piccoletto had instructed me.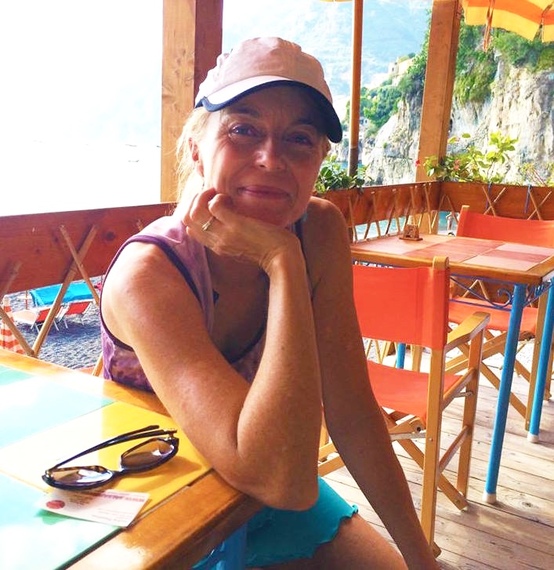 Photo Credit: Jacira Paolino
Bagni d'Arienzo is simply perfect--on its own little beach, run by the casual Peppe and Adriano in their board shorts. Have the catch of the day and the local white wine and then nap on their lounges. Oh, and the water is absolutely luscious for swimming.
Whether you kayak, SUP, or take boat ride, don't miss getting out on that gorgeous sea and viewing the caves and precipitous cliffs from the water.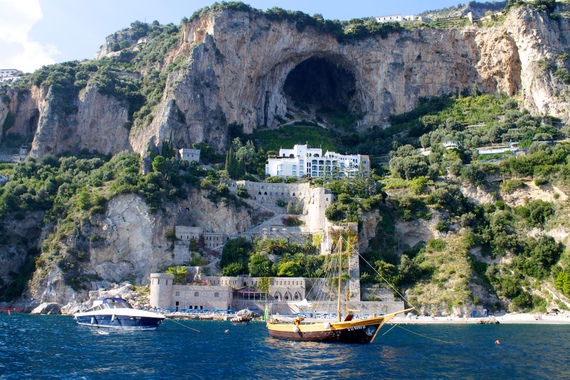 And for even more dramatic views and even further removal from the crowds, a hike on The Pathway of the Gods will make you feel like you're walking with the Gods.
To do this, take a bus to Amalfi and then another that climbs high into the mountains to the town of Agerola. (From Praiano there's a trail heading up to The Pathway of the Gods. But that would be a vertical climb. Far better to start up at the top, from Agerola, on a horizontal rather than a vertical path.) Wear sturdy shoes and sunblock, and bring at least 24 oz of water, and an appetite for dramatic landscapes.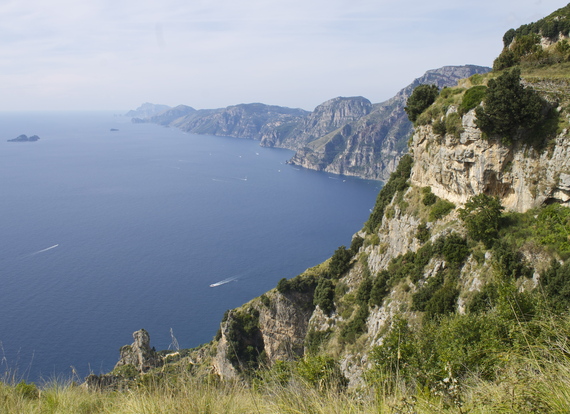 The trail will treat you to panoramas of the long promontory of the Monti Lattari snaking out into the dramatic blue of the Tyrrhenian Sea, with the isle of Capri like the dot of a question mark--the last point of land the eye can see.
These are the best views you can get on a peninsula that overflows with stunning views. Far below you'll see the white villages of Praiano and Positano, and if you're lucky, a Peregrine falcon may float by at eye level. Bring a panino and have a picnic in this exhilarating landscape.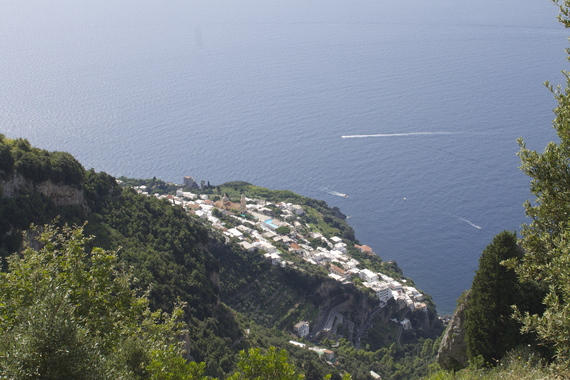 In about three and a half hours you'll get to the hamlet of Nocelle and in another thirty minutes you'll arrive Montepertuso. If your legs are holding up there are stairs down to Positano. Or take a bus down if your calves are done in like mine were. Stop in Positano for a cooling Lemon Granita--their version of slushy made from local lemons. Kick back at your caffe table, watching the throngs of tourists who don't have a clue about the magical mountain top place where you just were.