You don't have to abandon your stable desk job to start making money online. (Honestly, you don't even have to leave your house if you don't want to.) Whether you are looking to start an e-commerce business for specific products or services, or just want to sell some homemade goods or used items on the side, there's a number of ways for you to do so. Which is the best? It depends.
When it comes to selling online, there are three main options:
Create and manage your own website
Sell through major online marketplaces
Sell through a custom, online-storefront
Before deciding which is right for you, you need to first consider what you are looking to sell, what kind of budget you're working with, and whether or not you want this to be a long-term, on-going endeavor. Once you establish your e-commerce goals, you'll be able to better weigh the pros and cons of each method.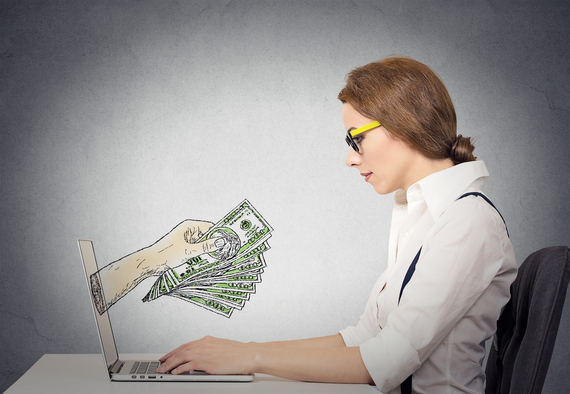 Personal e-commerce website
Whether you are looking to sell products, services, or both, there are many advantages to creating your own website. In addition to having full control over your brand, customer interactions and transactions, you don't have to rely on the limitations of third-party services. However, if you are looking to establish a stable online business, this method will likely take some time.
The thought of having to create a website alone is enough to discourage some people from starting their own side business. If you are selling products or items, you'll need a responsive website with secure hosting, as well as a user-friendly design and functionality for a shopping cart and payment processing. There is always the option of hiring a web designer, but this can be costly.
Then you need to consider how your site will be found online. With more people today buying products and services online than ever before, search engine optimization has never been more important. Ranking high on Google can be difficult for large companies--let alone a new e-commerce business.
If you don't have a lot of time, are on a tight budget, or aren't familiar with web design, SEO or online marketing, this method may be more trouble than it's worth.
Major online marketplaces
If you're not selling a service, but rather a product or item, you could sell through major online marketplaces such as Amazon, eBay or Etsy. With Amazon being the largest online retailer and eBay the largest consumer-to-consumer online, using these sites can be very beneficial because they already have a large audience.
However, there is no guarantee your product will be noticed. You need to consider the category you're selling in, the competition, and the site's restrictions. If you are on a tight budget, the listing fees and sale deductions can end up hurting you. On Amazon, sellers can sometimes lose as much as 25 percent of the item price.
Sites like eBay are tailored to benefit the buyers more than they are the sellers. Etsy is great if you have homemade crafts, goods or vintage items. But, again, you need to consider your competition. While you will have the ability to set up your own "shop," you are very limited on your customization options and, therefore, personal branding.
While the advantages major online marketplaces offer--credibility, wider audiences, etc.--ultimately you act as a commodity. If you want to establish yourself as an e-commerce business and one of your goals is expanding and enhancing brand exposure, this may not be the outlet for you, since major online marketplaces often focus more on the products being sold than the person/company selling them.
Custom online storefront platform
The third option is kind of a happy-medium. Sites like gospaces.com allow you to create a simple landing page to sell products, goods, digital downloads, or services, all in one place--without having to deal with the hassle of creating and managing your own self-hosted website, or dealing with the inflated fees and aggressive competition of other online marketplaces.
The flexible, extendible platform offers online sellers a custom storefront to grow their business and exercise full control. With an easy-to-use, nontechnical interface, you can build your "store" in a matter of hours and benefit from secure hosting, fast servers and unlimited bandwidth. Most online storefront platforms also offer processing capabilities for all different payment methods, as well as inventory management, and marketing and customer relationship management assistance.
This is a great option for people who are not especially tech-savvy, because it simplifies many of the challenges people new to e-commerce face--and allows them to easily and affordably start a business selling online.
Again, when it comes to making money online, it's not so much about finding the best way as it is about finding the right way--the one that makes the most sense for you.
Calling all HuffPost superfans!
Sign up for membership to become a founding member and help shape HuffPost's next chapter